Last updated:
25 Jan 2023
GordonsToolsBlog is reader-supported. When you buy through our links, we may earn a commission at no cost to you.
Do you have any DIY projects to complete or any leakages you want to seal? Then you are probably on the market looking for a sealant. But finding a sealant won't do you any good if you don't have a tool to apply it with. Sealants (more commonly known as caulk) are mainly applied using a gun mechanism.
A caulking gun is manufactured to seal the joints between two surfaces. It is the handiest device to fill the gaps between the glass windows, frames, and jambs. These are easy enough to find in any hardware store or even online.
But don't think you can buy any caulking gun and be done with it, after all this is a highly specialized tool. Before shopping for any hardware tool you should always do your research and find what kind will fit your needs most.
After all, if you are just doing some DIY projects or simply sealing your bathtub or if you are a professional worker, all three will have different needs for what they want from their gun.
We have compiled an ultimate buyers guide, jam-packed with information so you can make the best decision for yourself. It is important to understand what to look for and what not to look for when buying a tool. Here is a pick of our favorite caulking guns so you can shortlist your search per your need.
*We care about our readers and have compiled the best products to cater to their individual requirements. Each caulking gun has its specific advantage so keep an out for the one which is best for you.
---
The Best Caulking Gun Reviews
1. Newborn 250 – Manual Caulk Gun for Smooth Application
Best Choice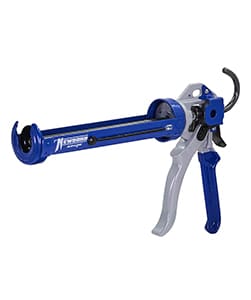 Newborn 250
Drip-Free Super Smooth Manual Caulking Gun
Type of Power: Manual
Compatible With: 10 oz Cartridges
Weight: 1.9 pounds
Check Price
Newborn Brothers is a well-established renowned company since the mid-20th Century and as expected their products are top-notch. The Newborn 250 is a professional-grade high-thrust caulk gun that will put all others in your collection to shame. For a single push of the trigger 18 times, the force will be applied on the cartridge, making it perfect for use with thick viscosity substances like acrylic and cement but can also be used for thinner sealants as well.
This caulking gun has a built-in nozzle cutter on the side. On top of that, you are going to get a belt hook at the end of the rod. One of the best and most useful features is going to be the revolving barrel. And the smooth pressure rod ensures that the caulk is pushed out in one fluid movement rather than stiff increments.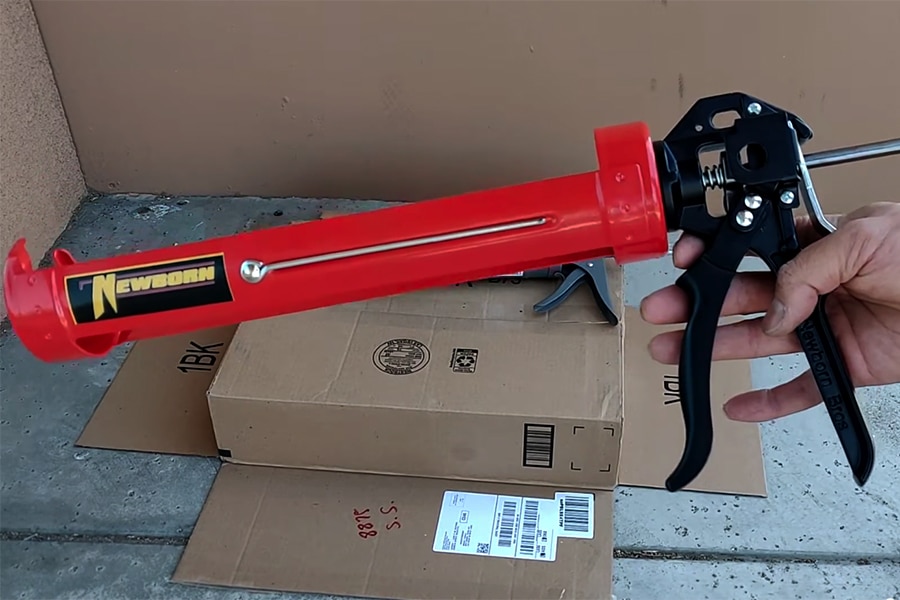 Of course, this also means the gun is not drip-free and meant for fast use otherwise you will end up wasting caulk, or you will have to invest separately and install an anti-drip guard. The entire build of the gun ensures durability so if you are looking for a lifelong companion, you may find one in this product.
An all-steel body with corrosion-resistant zinc handles and trigger so it will last through all kinds of conditions. The Newborn 250 is a bit heavier than other guns, but for me, it is not such a big problem.
The tool isn't only good at its job, it also offers comfort to its users. It has built-in puncture and cutting tools so the gun will tear away the seal of the cartridge for you and you don't need to worry about making them perfectly sized holes or wasting caulk when you try breaking the seal yourself.
However, investing in this sealant gun may be overkill if you are not a professional. If you are a beginner buying a cheaper model with a lower thrust ratio may be more fitting, after all, there is no point in spending more on something that you will never use to its full extent.
Features
Drive System: Manual Drive
Thrust Ratio: 18:1
Capacity: 10 oz
Weight: 1.9 pounds
Zinc Alloy Handle & Trigger
Spout Cutter
Ladder Hook
Pros
Thrust Ratio 18:1
Corrosion Resistant handle and trigger
Manual Power source
Smooth Pressure Rod
Puncture and Cutter Tool installed
Cons
Not drip-free
Overkill for beginners
2. CJGQ – Sausage/Cartridge Caulking Gun for Long-Lasting Durability
Best Universal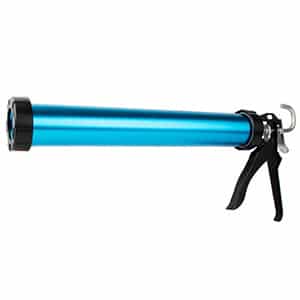 CJGQ
Caulking Gun for DIY Use
Type of Power: Manual
Compatible With: 20 oz Sausages / 10 oz Cartridges / 20 oz Bulks
Weight: 1.9 pounds
Check Price
If you are in search of the golden key to caulking then here it is. A single push of the trigger applies 18 times the force to the cartridge, making sure it works just as well with thicker substances as it does with thinner ones. And what makes this gun the best caulking gun is its compatibility with different-sized cartridges. So no matter if you are equipping a 10oz cartridge or a 20 oz one, this will support both of them. Usually, guns restrict their users to one side of the cartridge but this is compatible with all of them.
When it comes to the use itself, this gun is a bit on the larger size and will sit a bit awkwardly in your hand. You will surely need to get used to its unusually bulky shape and hold it with a very steady hand if you don't want caulk going everywhere as you work. But despite its size, it is light thanks to its aluminum body and won't tire you out at all even when it is equipped with a full 20oz cartridge.
The gun also has a 360◦ rotating handle which allows you to have perfect precision as you work in tight spots and reach the most awkward angles as you work. However, something that may affect your precision is the noise emitting from the gun as you work so you will have to keep the oil with you at all times to offer lubrication or just invest in noise-canceling headphones to keep your headspace clear as you do the job.
Features
Drive System: Manual Drive
Thrust Ratio: 12:1
Capacity: 20 oz Sausages / 10 oz Cartridges / 20 oz Bulks
Weight: 1.9 pounds
360°Rotating Handle
Pros
Thrust Ratio 18:1
360◦ rotating handle
Manual Power source
Compatible with different sized cartridges
Lightweight
Cons
Large size
Noisy when in use
3. COX 41004-XT – Manual Caulking Gun for PRO
Best Weight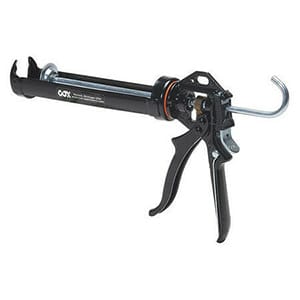 COX 41004-XT
Caulking Gun for Heavy Duty Use
Type of Power: Manual
Compatible With: 10 oz Cartridges
Weight: 1.6 pounds
Check Price
COX is a well-known manufacturer of quality caulk guns and epoxy applicators across the world. It is the leading the market with the vast range of its premium quality products. The primary intention of this industry is to provide solid reliability and durability and to satisfy its customers.
COX 41004-XT is one of its industry-leading products. It has many features and pros that make it the best manual caulking gun. These features include a thumb-activated instant pressure release, switchable flow control, and a built-in ladder hook. 41004-XT is a cradle manual caulking gun with a standard capacity of a 10 oz cartridge and a mechanical advantage of 18:1. It is a seal puncturing as well as a wear compensating device. Moreover, it is a composition of thick and durable material. So you can call it a beast of reliability.
You can use this manual caulking gun in doors, windows, sinks, faucets, RV, and many other applications. No doubt, it lacks a few special features that are present in many other caulking guns, such as a tip cutter. But, the presence of a seal puncture tool compensates for its absence. All in all, it is one of the most exceptional USA-made caulking guns available on the market in this price range. If you are constantly struggling with low-end caulking guns, COX 41004-XT is a worth considering device for you.
Features
Drive System: Manual Drive
Thrust Ratio: 18:1
Capacity: 10 oz
Weight: 1.6 pounds
Built-in ladder hook
Switchable flow control
Pros
Durable made and long-lasting
Easy to use and provides better results
Capable of handling medium to high viscosity materials
All of its components are replaceable
Offers excellent control and tremendous pressure
Cons
The Thumb pressure release button is very difficult to push down
A bit heavy to hold for a long time
4. Belaroko 3100A – Pneumatic Caulk Gun for High-Volume Applications
Best for Pro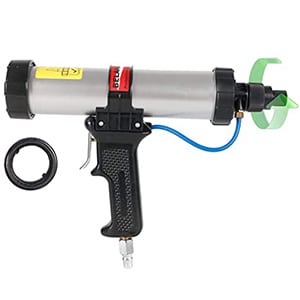 Belaroko 3100A
Professional Air-Power Caulking Gun
Type of Power: Pneumatic
Compatible With: 10 oz Cartridges
Weight: 1.98 pounds
Check Price
Pneumatically powered and cheap as well. It sounds like a dream but Belaroko made it a reality. The 3100A uses compressed air to push caulk out in precise beads. Yes, the cord attaching the gun to the compressor will restrict your motion as you work but the lightweight feel of the gun in your hand will make up for it. Compared to battery-operated counterparts it has fewer costs after purchase.
But unlike most pneumatic guns, the Belaroko 3100A is not very durable. Its extra lightweight build is a drawback on its own because the body of the gun tends to dent and crack easily. However, if you live in warm climates and don't mind a cord limiting your movement, this gun is great for beginners and household use. Our favorite feature is the anti-drip guard that stops the flow of caulk when you release the trigger so no more leaves the gun that you don't want to.
Features
Drive System: Air-powered
Capacity: 10 oz
Weight: 1.98 pounds
Max. Air Pressure: 87psi (6Bar)-120psi(8 Bar)
Working Pressure: 0.4 – 0.8 mpa
Pros
Lightweight
Anti-Drip Guard
Pneumatic Powered
Cheap
Cons
Not for high viscosity materials
Not durable
Has a cord
5. Makita XGC01Z – Cordless Caulking Gun
Best Electric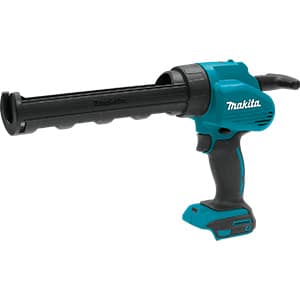 Makita XGC01Z 18V LXT
Ergonomic Caulking Gun for Cordless Convenience
Type of Power: 18V Li-Ion battery
Compatible With: 10 oz Cartridges
Weight: 5.1 pounds
Check Price
Buying from a renowned manufacturer is always a good idea because they offer warranties to back up the reliability of their claims. Makita, a market leader when it comes to hardware tools, doesn't let us down with a one-year warranty on all its products including the Makita XGC01Z 18V LXT.
This is our favorite battery-operated caulking gun for those who don't like to have a cord getting in their way as they work. Of course, to use it regularly, you should be prepared to be constantly recharging batteries and replacing used ones. This caulk gun combines the ease of forcing the caulk out with an anti-drip mechanism to prevent over-consumption. This ensures that the moment your fingers leave the trigger, the rod will pull all the way back so not even the slightest excess pressure is placed on the cartridge.
Makita is careful to consider user needs has made sure their gun is compatible with all sizes of cartridges and is equipped with 360◦ rotation to get into all those difficult nooks and crannies you can't access normally. However, their customer-centric attitude fails when it comes to the trigger. The trigger is made of weak material that easily cracks under stress.
Features
Drive System: 18V Li-Ion battery
Capacity: 10 oz
Weight: 5.1 pounds
360° Rotatable Cartridge Holder
Drip-reduction
Rubberized soft grip handle
5 speed
Pros
Cordless
360◦ rotating handle
Compatible with different sized cartridges
Anti-drip mechanism
1-year warranty
Cons
The trigger is not durable
---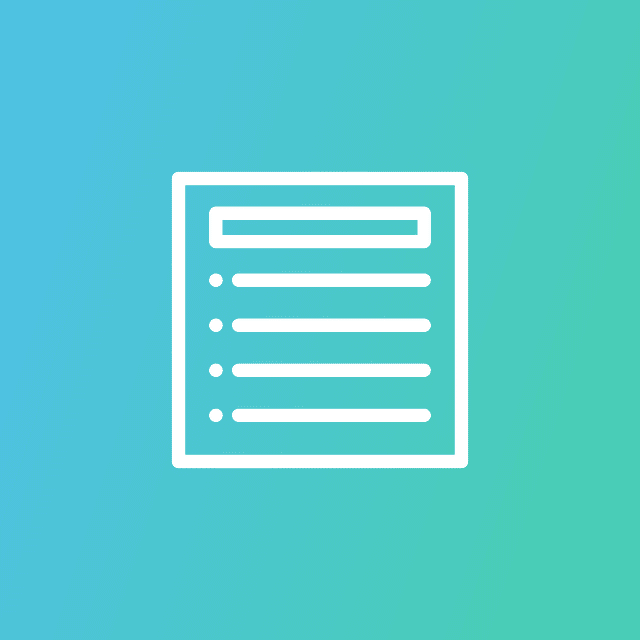 Caulking Guns 101: Understanding the Different Types and Features
Power Source
When it comes to using caulk guns the way they are powered can make a huge difference in the gun's capabilities and how easy it is for you as the user to handle them. There are two major types of caulk gun power sources on the market.
Pneumatic
A pneumatic power source is very unique because these guns have close to no back-end costs after the initial purchase. Lighter than battery-operated guns they are easier to use and offer more precision when working. However they must be connected to an air-compressor at all times, and the cord ends up limiting the user's mobility. But it is undeniable that a pneumatic-powered tool is a long-term investment thanks to its durable style.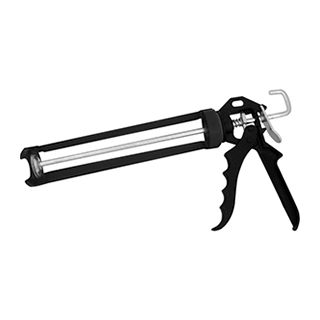 Battery Operated
As a DIYer or hardware store worker, you may prefer the extra mobility these cordless guns offer. However, they are heavier to lift and work with. You will find yourself having to put down the gun multiple times during a job due to the toll on your wrist. Not to mention the constant expenses as you run through batteries even if you use rechargeable ones. Depending on the batteries you use you can definitely limit these back-end costs.
This is a traditional battery and we have mentioned it in our run-down so you know what to stay away from. These are available cheaply so you may be motivated to buy them to limit costs but these will end up hurting your wallet more. They are heavy and end up making it even more difficult to use the gun. Not to mention they take a long time to charge but will quickly discharge, so you will find yourself taking long breaks as you wait for your gun to be reusable again. These batteries also deteriorate quickly as well so you won't be able to use them for a long time before having to find a replacement.
These are the most common batteries available on the market, and the ones you will have heard of the most. They are light, have very little recharge time but even a short charging time lets you use the gun for longer than you would expect. While Lithium-Ion batteries have a much greater lifespan than Nickel-Cadmium ones you will still have to replace them often. Not to mention as these batteries grow closer to their demise they recharge more slowly but discharge faster. This is an easily available good option for most users.
These batteries are very rare and similarly very expensive. Because of their multi-metal built they are also quite heavy which results in restricted movement while working. However, their durability is nothing to laugh at. This battery will last you a long time and even shows minimum deterioration despite multiple recharges.
We don't recommend this battery to most users because it does make it more difficult to use the gun. However, if you are a professional and want something that you won't have to put down during a job and don't have to replace regularly this is the one for you.
Precision and Efficiency
Usually, caulking guns are used for intricate work that requires a steady hand and a trusted tool to complete the job. The tool should be able to provide a constant flow of caulk or silicone and have a strong trigger. Here are a few features you should look out for when making your final purchase:
Smooth Pressure Rod Advance
Some sealant guns have an increment pressure bar installment which moves the caulk in small sets so a small squeeze will end up releasing more caulk than needed. Instead, make sure the gun has a smooth mechanism so you can stop the flow of caulk whenever you want. This means it will be easier to control the release of a plunger and there will be no excess consumption.
Thrust Ratio
Typical caulking guns have thrust ratios of 3:1 up to 18:1. Now you may be wondering what these numbers are, and they are very important because they tell you how much force the plunger is exerting on the cartridge with each pull of the trigger. The thicker the material you are using, the higher the ratio should be. Of course, higher ratio guns are more expensive as well so only buy them if you know you'll be using such a thick caulk.
Cutting Tube Tip and Seal
When you are cutting a caulk tip, you may hurt yourself or end up wasting caulk in the process. Both are situations you want to avoid so we recommend buying a gun with a built-in cutter that precisely removes the tip of the caulk tubes to fit perfectly inside the gun. If you buy caulk tubes whose seal needs to be removed via a wire look for guns with a built-in wire rod to make your life easier.
Trigger
Make sure your gun has a sound trigger because it is key in controlling the advance of caulk. No matter how skilled you are if the trigger is loose then you will end up wasting. And if it's too tight you will end up using more force to squeeze but little caulk will come out.
Ease of use
Especially if you are a beginner then using a caulk gun will be a difficult task for you. Modern technology has allowed innovation in basic hardware tools to make them easier to use and we should use them to our advantage.
A Trigger Lock
As you can guess, this feature locks the trigger so only the correct person uses it. This is not only great for making the device useless in a kid's hand, but it also stops caulk from dripping out of the body when not in use.
Needle for Unclogging Cartridges
In a worst-case scenario, the clogged cartridge prevents the caulk from coming out as you are working. To avoid this make sure your gun comes with a needle for unclogging the tip quickly.
Anti-Drip Guard
As you can guess from the name this is an in-built ergonomic guard that makes sure your gun doesn't waste any caulk while you are not using it.
Loading Indicator
This is a rare feature but if you can find it is definitely useful. Especially for beginners who are still learning how to correctly load a caulking gun, this will tell you when the cartridge is in place and you can begin working.
---
How to Use a Caulk Gun
The secret of my caulking method is dishwashing liquid. The other thing that I like to do before I start caulking is to a piece of gum. Because when you have leftover caulk in the tube the gum makes a perfect seal on the end. A lot of people try to use painter's tape. It never really does the job and you have hardened caulk in the tube. But the gum works perfectly and stays pliable. The next time you want to use your caulk you take it off and the caulk inside is perfect for work.
When you're ready to use the caulk you just want to take your utility knife or razor blade and just cut the tip at a 45-degree angle. That's all you need. The closer you cut to the tip the smaller the opening will be. After we've got the caulking gun loaded we need to do is squeeze the plunger until you can feel a little bit of resistance. And you can see the caulk start to come out just a little bit.
The other thing you need to make sure of is that the 45-degree angle is facing downwards here. You also need to have a paper towel handy in case you have any excess coming out of the caulking gun that you need to wipe up.
Final Thoughts
Buying the perfect tool depends on a lot of things like what kind of project you plan to use it for, what kind of sealant you'll be using, and your personal preferences. If you are still unsure after going through this guide, then we recommend the Belaroko 3100A (Pneumatic) if you are a professional and the Newborn 250 if you are just starting. Newborn 250 is undoubtedly the best caulking gun for the money so far. It is highly durable and long-lasting.
Customers are well-satisfied with its performance, features, quality, and price. It is extremely convenient and provides the best results. No doubt it also has some flaws. But its all other features make it worth buying. You will not regret buying it. If I left something out or you have any more questions please let me know down below.
---
Video Tutorial: How To Setup and Use a Caulking Gun
---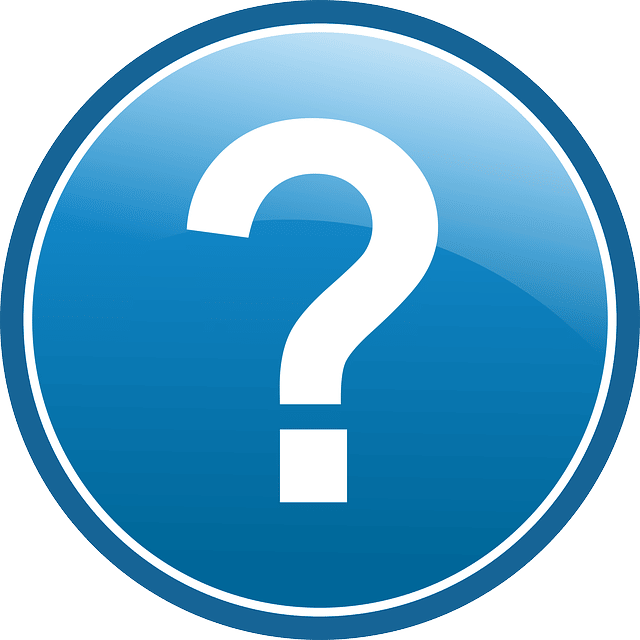 FAQs
Do you need a caulking gun to apply silicone?
You may be able to find a squeezing tube to apply silicone. While those are not only rare, they are also not as precise as caulking guns so while in theory, you could apply silicone without a gun we wouldn't recommend it.
How do you stop caulking from coming out of a gun?
Installing an anti-drip guard or trigger lock is the best way to stop caulk from oozing out. However, you may also turn the gun upside down and pull the rod back to disengage it but this is not a method that will work every time.
Can you use a caulk without a gun?
Squeeze tube caulk is available on the market and you can use it for small projects but we would not recommend it. Without a caulk gun, it can be difficult to dispense the caulk evenly and control the flow of the caulk. This can make it challenging to achieve a smooth, consistent seal and can potentially result in a poor-quality finish.
How long does it take for the caulk to dry?
The drying time of caulk can vary depending on the type of caulk, the temperature, and humidity of the environment, and the thickness of the caulk applied. In high humidity or cool temperatures, it may take longer for the caulk to dry and cure properly. In dry, warm conditions, the caulk may dry more quickly.
Acrylic latex caulk typically dries to the touch in about 30 minutes and can be painted over in about 24 hours.
Silicone caulk can take anywhere from 2 to 24 hours to dry depending on the humidity, temperature and thickness of the bead applied. Some silicone caulk may take longer to cure, up to 48 hours.
Polyurethane caulk dries to the touch in about 30 minutes and is fully cured in 24 hours.
It is important to follow the manufacturer's instructions and recommendations for drying times. In general, it's recommended to avoid using the area where caulk has been applied for at least 24 hours.
How long does caulk last after opening?
Most types of caulk have a shelf life of 1-2 years after being opened if they are stored properly. Proper storage includes keeping the caulk in a cool, dry place, away from direct sunlight and extreme temperatures. Once the caulk has been opened, it's important to keep the nozzle clean and sealed to prevent the caulk from drying out or getting contaminated.
It is always recommended to check the expiry date on the package, and if the product has exceeded it or if you notice any discoloration, lumps, or bad smell, it should not be used.
---
Just Read: How To Caulk Like a Pro
Reference: