Last updated:
18 Sep 2023
GordonsToolsBlog is reader-supported. When you buy through our links, we may earn a commission at no cost to you.
The term "hot glue gun" often brings to mind the word "ouch" due to the painful burns that can occur when accidentally touching the hot glue. This is especially common in woodworking, where wiping away excess glue is a common practice. Despite this, hot melt glue is highly effective in bonding soft materials and can serve as an alternative to tacks or staples in upholstery.
People loving art and crafts know the importance of the hot melt glue gun. A glue gun is an electrical device that uses a heating element to melt the glue stick; the user pushes this liquid hot glue either by using the trigger on the gun or with finger pressure. It works quickly and delivers a flow of liquid hot glue for binding objects. This hot liquid glue, after a few seconds to a minute, solidifies without any mess on the surface.
You will find several types of hot glue guns on the market but choosing the one with the best performance, design, power, size, temperature, and other features is a bit confusing. Well, there is nothing to worry about now as we are providing you with the best five hot glue guns, describing their designs and features in detail, which will surely be a great help to you.
Finding a hot glue gun that suits your needs perfectly can be a difficult task. This review will list some of the best models available on the market as of 2023, helping you to decide which one would be the best fit for you.
You must know the intricate details of each product and its features so that you can make an informed decision. Hang tight as we explore these products in detail. And don't forget to buy Silicone Finger Protectors!
---
The Best Hot Glue Gun Reviews
1. Arrow GT300 – The Perfect Tool for All Your Repairs
Best Choice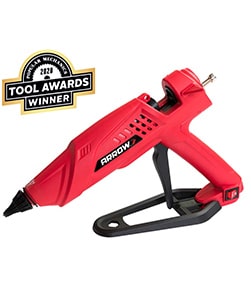 Arrow GT300
Durable Hot Glue Gun for Multi-Purpose use
The Arrow Fastener Pro is a durable and reliable product for both Pro applications and DIY home repair. Arrow GT300 lightweight, easy to use and ergonomic hot glue gun.
Check Price
I try and do tool reviews for things that are reasonably affordable for most of the readers, most of you guys. In this regard, I will say having used more than 20 hot glue guns over the years. And I like this one. I like the trigger aspect because I use long sticks and I don't have to replace them that often.
Arrow GT300 is a high-temperature glue gun, has a slim body that has a red and black color combination. It has an extended long nose tip with a drip-resistant nozzle and an adjustment knob at the very back of it, which are some of the top features that this hot glue gun offers. Arrow Fastener GT300 is a lightweight device , weighing around 1.5 pounds. It comes with a sturdy base stand and wing stands, completing the overall structure of this hot glue gun.
The Arrow Fastener GT300 is a robust and dependable hot glue gun designed for professionals. With a power output of 300 watts and the ability to reach temperatures exceeding 400°F, this glue gun is ideal for tackling demanding jobs. The GT300's drip-resistant nozzle and precision adjustment knob are two standout features that enable users to accurately apply small dots and smooth lines with ease.
In corners or tight areas that are hard to reach, the gun's extended nose design is conducive as it can easily get to those areas, making it worthwhile for users in many ways. The sturdy base stand with wing attachments helps to avoid mishaps during glue application. Moreover, it has an oversized trigger that is easy to squeeze while using the gun. Other than that, it uses 12 mm sized glue sticks, and this heavy-duty tool is ideal for carpentry, upholstery, home repair, and craft projects.
Features
Glue Sticks Size: 0.43 inches
Max Temperature: 410 °F
Heating Time: 2-3 minutes
Working Power: 300 W
Power Source: AC Source
Weight 1.5 pounds
Pros
Safety nozzle avoids burns and injuries
Heats up quickly
Durable and lightweight
Impressive maximum temperature
Cons
Contains harmful chemicals
Requires an AC supply; no battery is available
2. FastenMaster Pro HB220 – Hot Glue Gun for Pro
Best For Pro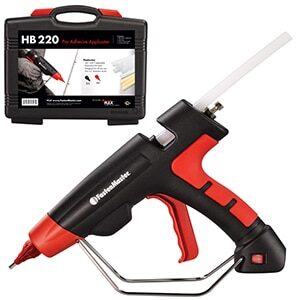 FastenMaster Pro HB220
Professional Grade Hot Glue Gun
Heating Time: 2-3 minutes
Max Temperature: 428 °F
Glue Sticks Size: 1/2 inches
Check Price
The FastenMaster Pro HB220 is a highly sought-after hot glue gun that stands out from typical models. It is perfect for professional-grade work and has a wide range of applications, such as floor installations, repairs, carpet tack strip installation, hardwood flooring start and finish rows, remodeling, modeling, and more. Its innovative features include a long, ergonomic handle, an adjustable temperature control, and a removable cord that makes it easy to use and store.
FastenMaster hot melt glue gun comes with a heavy-duty plastic case and an extra glue gun nozzle at a great price. The plastic casing adds to its durability and reliability. Moreover, it is extremely light in weight and easy to use. FastenMaster Pro glue gun offers a 1.5 to 2.6 lbs. melting rate, depending upon the temperature and adhesives.
The temperature adjustment feature allows working with both the standard and low-temperature glue sticks. Its maximum operating temperature is 428°F, while the minimum is 248°F. FastenMaster glue gun permits you to manage the operating temperature easily by using the integrated digital display and control. So, it can also work with glues that need a super high temperature to function, such as Polyamides.
The 4 figure trigger and on/off power switch adds to its value. It is most common and favorite in the flooring industry and used with FMFLEX40 and FMFLEX180 hot melt sticks. Although it also has some flaws and the irritating smell is one of them. So, if you are sensitive to smell, avoid buying it.
Features
Glue Sticks Size: 1/2 inches
Max Temperature: 428°F
Heating Time: 3 minutes
Working power: 220 Watts
Power Source: AC Source
Weight: 16-oz
Pros
Standard nozzle
Its adjustable trigger maximizes output and reduces fatigue
Temperature adjustments
Heavy-duty plastic carrying case
Stays hot for a long time
It is reliable and long-lasting
Cons
There is no space to clip in the tool positioner
Drips a lot that is a bit frustrating
3. PROkleber EX-1 – Hot Glue Gun for Crafting
Also Great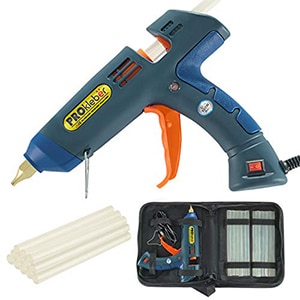 PROkleber EX-1
Hot Melt Glue Gun Kit
Heating Time: 3 minutes
Max Temperature: 392 °F
Glue Sticks Size: 0.43 inches
Check Price
PROkleber's hot melt glue gun is a versatile tool suitable for both professionals and DIY enthusiasts. It is constructed with sturdy materials such as plastic, aluminum, and metal. The working power of this glue gun is around 100 watts, and it takes only 2-3 minutes to warm up, making it an efficient and reliable option for various projects.
This hot melt glue gun adheres to German quality standards and comes in two colors: blue and green. It weighs about 1.5 pounds and uses a glue stick with a diameter of 0.43 inches. Moreover, the nozzle size of PROkleber is 0.07-0.11 inches in diameter, and its cable is 50 inches long.
It is a universal tool, and both professionals and amateurs can use it. With high heating temperature, PROkleber EX-1 quickly melts the glue within 2-3 minutes, and with its strong adhesive property, you can carry out smooth and reliable operations. The ergonomic structure of the glue gun, made up of durable plastic and aluminum, helps it to serve you for many years. You can use it for several materials, including wood, plastic, paper, rubber, leather, textile, fabric, metal, and glass.
PROkleber glue gun is often used in kids' toys, hand-made products, jewelry, PC boards, and electronics, etc. This full-size glue gun perfectly fits in the hand along with its comfortable trigger and nozzle that make the appliance of the glue much more comfortable. The best feature of EX-1 is that it comes with a high-quality travel bag that includes a glue gun, 12 glue sticks, and three silicone finger protectors, which helps to carry it and other accessories safely.
Features
Glue Sticks Size: 0.43 inches
Max Temperature: 392 °F
Heating Time: 2-3 minutes
Working Power: 100 W
Power Source: AC Source
Weight: 1.5 pounds
Pros
Comes with a handy storage case
Full-sized glue gun
Ergonomic handle
Safe operation
Cons
Tends to get too hot
No charging facility
4. NEU MASTER FQ-009 – Cordless/USB Hot Glue Gun
Best for DIY
NEU MASTER FQ-009
Cordless Hot Glue Gun for Crafts and DIY
Heating Time: 3 minutes
Max Temperature: 400 °F
Glue Sticks Size: 0.27 inches
Check Price
NEU MASTER is a wireless glue gun that comes with a micro USB cable. This mini hot glue gun has a dripless design with a protective silicone cover. Unlike other hot glue guns, NEU MASTER has an ON/OFF power switch located on its handle and a battery indicator LED.
The NEU MASTER hot glue gun is a convenient wireless option that comes with some great features. It has a heat-resistant nozzle and a foldable stand, making it easy to use and store. The two-finger trigger propulsion adds to its ease of use. It is lightweight, weighing about 7.2 ounces, and has an attractive pine green and black color combination. Additionally, it comes with ten pieces of mini glue sticks, each measuring about 0.27-0.28 inches.
You can use the NEU MASTER glue gun at home and in the office and for arts and crafts, DIY projects, and quick repairs. The best feature of this glue gun is that it is cordless, which provides you with mobile and convenient operations.
It charges with a standard micro USB cable for suitable cord-free operations. Once you charge this glue gun fully, you can use it for around 45 minutes. This mini hot glue gun with high-tech electronic PTC heating technology takes only 3 minutes to heat up.
The maximum temperature is 400 °F, and after reaching a certain temperature, it maintains that level accordingly. For safety purposes, it features a secure ON/OFF power switch and an LED working indicator. It has a slip-resistant grip design, ergonomic rubber-covered handles, and detachable support. The heat resistant silicone nozzle avoids accidents, and the rubber-coated handle is there for support. This mini hot glue gun is the best choice for light-duty jobs.
Features
Glue Sticks Size: 0.27 inches
Max Temperature: 400 °F
Heating Time: 3 minutes
Working Power: 10 watts
Power Source: Chargeable via micro USB cable
Weight: 0.45 pounds
Pros
Portable and lightweight tool
Cordless gun with a compact design
Safe operation
Impressive maximum temperature
Cons
Possible charging issues
Questionable battery durability
5. Gorilla 8401508 – Mini Hot Glue Gun for Small Projects and Repairs
Best Price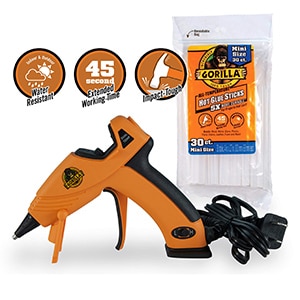 Gorilla 8401508
Dual Temp Mini Glue Gun
Heating Time: 3 minutes
Max Temperature: 374 °F
Glue Sticks Size: 0.27 inches
Check Price
The Gorilla dual temp mini glue gun is used with mini-sized glue sticks that are 0.27 inches in diameter. Gorilla glue gun features a dual temperature setting having 311 °F and 374 °F temperatures, which you can manage with the help of a switch located at the handle. It is a 20-watt mini glue gun with a long insulated nozzle, side fins, a built-in stand, and an extended trigger completing its overall structure. This orange and black colored mini glue gun is manufactured with materials including plastic, silicone, and rubber, weighing about 5.6 ounces. Also, it has a cord that is 4.5 ft long.
The Gorilla mini glue gun is perfect for crafts and repairs. It has a wide base and is lightweight, making it comfortable and easy to use. The gun has side fins with a handle, trigger, and base made of rubber for a better grip and comfort.
Its structure includes side fins that help the gun to lay on its sides and a long insulated nozzle that allows you to glue with precision, while its insulation protects you from burns. Gorilla stands out because of its dual temperature setting; you can carry operations with this gun at low and high temperatures as per your need.
Its integrated stand helps you to keep the nozzle away from your work surface, desk, etc., without any hindrance, while its long trigger allows you to squeeze the trigger with ease. The cord protector at the back of the gun prevents cord shortening. This mini glue gun is worth your investment if you are looking for a multipurpose compact product.
Features
Glue Sticks Size: 0.27 inches
Max Temperature: 374 °F
Heating Time: 3 minutes
Working Power: 20 watts
Power Source: AC Source
Weight: 0.35 pounds
Pros
Dual temperature settings
Enhanced safety features
Integrated safety fuse
Silicon rubber for feeding the glue stick
Cons
Glue sometimes backs up and comes out of the middle – a burn hazard
It is not chargeable
---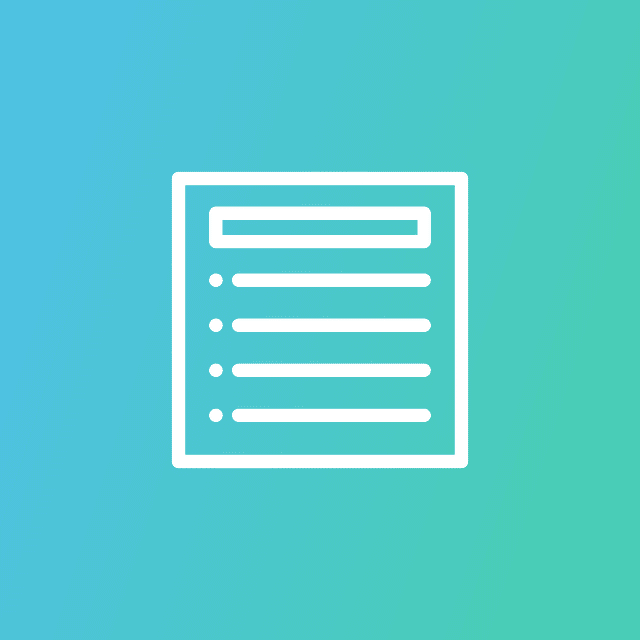 Hot Glue Guns 101: A Beginner's Guide to Choosing and Using the Right Tool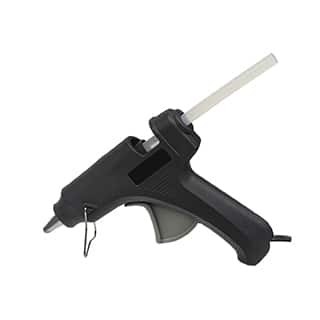 Before you purchase a hot glue gun, it is important to consider certain factors to ensure that you make the best choice for your needs. These factors include the temperature range of the glue gun, the type of glue sticks it uses, the size and weight of the gun, the nozzle size and shape, the type of stand it comes with, and the additional features it offers such as drip resistance and adjustable temperature settings. By considering these factors, you can choose a hot glue gun that will provide you with reliable and efficient performance for all your projects.
Temperature Range
The first and most important thing to consider before buying a hot glue gun is its working temperature. A high-temperature glue gun heats glue to about 350 Fahrenheit while low-temperature ones heat it to approximately 250 Fahrenheit. Whether you buy a glue gun with either high or low temperature depends on the material which you are working with.
If you are going to work with heavy material like wood, glass, stone, metal, etc., then you should buy a high-temperature glue gun; however, if the material is soft like fabric, foam, ribbons, etc., then you should go for a glue gun with low temperature.
Also, some glue guns come with dual temperature features in which you can adjust the temperature as per your wish, offering the best option for the user who needs to work with a variety of materials.
Gun Size
The hot glue gun offers both mini and full-sized models. The full-sized glue gun is considered to be best for heavy-duty work. However, it does not provide the precise application of glue, but it delivers more volume of glue, helping in-home repairs and significant operations.
Unlike the full-sized glue gun, the mini glue gun helps you with detailed work that demands glue application with precision as it is lightweight and with a compact design. This is the reason that mini glue guns are the choice of lots of craftsmen involved in handy work.
Wattage Factor
The next important factor to consider while buying a glue gun is its power. The wattage of the glue gun is vital as the speed that the gun melts the glue at depends on its power. Glue guns with high wattage take a short time to melt the adhesive while glue guns with low power take more time to warm up.
Power Source
Along with this, another factor to consider the power supply of the glue gun. Some glue guns use an electrical cord for power, while some are cordless, using rechargeable chargers for power. If you work on the roadside or at any place where glue guns with cables are hard to use, then you should go for cordless glue guns.
Nozzle Tips
If you are willing to work with several materials, then you might need multiple tips. You will require small nozzle tips for detailed work, offering less amount of glue, while large nozzle tips provide high amounts of glue, helping you to carry out extensive operations. For your convenience, you should look for hot melt glue guns with interchangeable tips.
Sleeved Tip
Glue guns providing safety measures feature heat-resistant sleep that covers most of the metal tip, protecting you from any mishaps or burns that might happen.
Glue Stick Size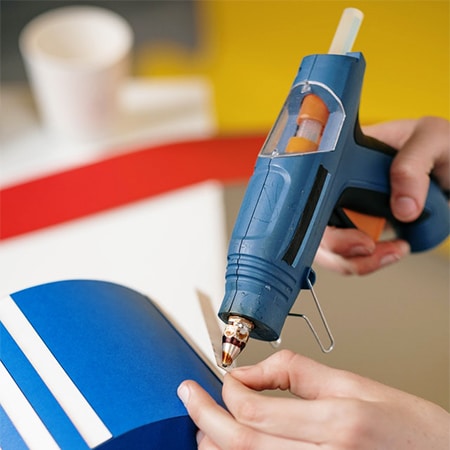 Along with the glue gun, glue sticks are an essential tool for its usage. Alongside buying the glue gun, you must purchase the glue stick with the correct size, ranging from the thinner one at 12 mm to thicker ones with a 15 mm size. Before purchasing the glue stick, carefully check the size that is compatible with your glue gun, so you don't make a mistake by buying an incorrect size.
Stand
Hot glue guns have a stand that holds them. With a lot of the lower-cost versions of hot glue guns, the stand falls off. And everyone starts laying the hot glue gun down and hot glue eventually starts to seep out and they just start to deteriorate. It's just a terrible situation. Buy only quality products!
Price
The price depends on the features of these glue guns. The more the features, the higher the price, and vice versa. Hot melt glue guns are quite affordable, and they are worth the investment if you're doing something where they would come in handy.
Final Thoughts
Hot melt glue guns are handheld devices that can quickly and easily tackle a variety of tasks related to arts and crafts, DIY projects, and home repairs. These devices can work on various materials, such as wood, plastic, rubber, fabric, stone, metal, glass, and more. However, before buying a hot glue gun, it is important to consider which materials you will be working with to ensure that you select a gun that is compatible with those materials.
Secondly, concentrate on the job you need a glue gun for. By analyzing these factors, you will be able to choose the glue gun with the desired power, performance, and design. Remember, always give priority to the product with which you are comfortable. If you have an entry-level hot glue gun that you have found to be robust and excellent I would like to know about it. Please post links to these in the comments below.
FastenMaster Pro is the best hot glue gun so far and is worth investing money. Adam Savage's favorite hot glue gun! Professionals and DIYers are quite happy with its performance. Moreover, it is durable. Overall, it is the best product you can ever get.
---
Video Tutorial: How To Use A Hot Glue Gun
---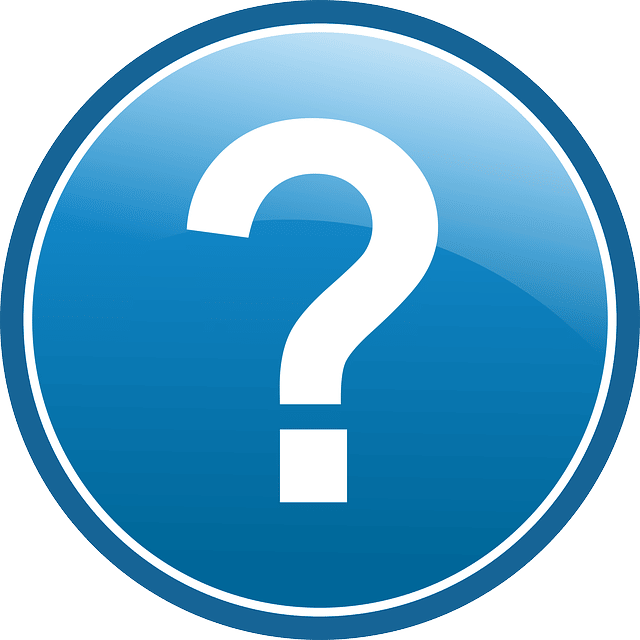 FAQs
Which materials can glue stick or bind together?
You can use glue guns on a variety of materials. These materials include both soft and sturdy surfaces. Soft materials include foam, fabric, ribbon, plastic, paper, rubber, etc. At the same time, you can use it on hard surfaces like stone, metal, wood, glass, and many others. This is a specialty of hot melt glue guns; craftsmen, professionals, and amateurs use it due to its ability to stick to a wide range of materials.
How much time does a hot glue gun take to heat up?
The time it takes to warm up the glue depends on the power of the glue gun you are going to buy. If you choose a hot glue gun with high wattage, then it can take around 1-2 minutes to heat the glue while one with low power usually takes 3-5 minutes to warm up. The wattage plays a huge role in the warming up of the hot melt glue gun.
Are hot glue sticks waterproof?
The answer to this question is No (the glue is not waterproof).
While hot glue is a strong adhesive, it is not designed to withstand exposure to water or other wet conditions. If it is exposed to water, it can become weak and lose its adhesive properties, which can cause the materials it is bonding to become loose or fall apart. If you need a waterproof adhesive, other types of adhesives are specifically formulated to resist water and other wet conditions.
What is an alternative for a hot glue gun?
The two best alternatives to hot glue guns are adhesive spray, fabric glue, double-sided tape, and liquid glue. The adhesive spray is a type of glue that you spray on the surface in the form of droplets, while liquid glue has the same texture as hot glue, but you can use it at room temperature. Fabric glue and double-sided tape are the substitutes of hot glue, particularly when making crafts and dealing with delicate items like jewelry and papers.
What is better, hot glue or super glue?
Super glue, known as cyanoacrylate adhesive, bonds quickly and with a variety of substrates, but generally, super glue is not suitable for foamed plastic and is a terrible filler. Unlike super glue, hot glue is way better as it tolerates more flexing.
You will find varieties of superglue with different viscosities which provide little help in gap-filling performances; however, hot glue, with its high viscosity, can bond uneven surfaces together and is excellent at filling gaps. The choice between hot glue and super glue will depend on the specific needs of your project.
The main differences are:
Hot glue sets more slowly than super glue.
Super glue generally has a stronger bond than hot glue.
Hot glue is generally more versatile than super glue. It can be used on a wide range of materials, including paper, wood, plastic, and fabric.
Hot glue is generally easier to use than super glue, as it does not require the same level of precision and can be applied using a hot glue gun.
What is the use of a hot melt glue gun?
All of us, including all professionals and amateurs in our jobs or daily routine, need glue either for fixing or repairing things or making new projects of art and crafts. But everyday glue does not firmly stick objects, or if it does, it only lasts for some time.
In contrast with other forms of glue, hot glue guns hold and bond materials together, and with the help of this device, you can put the glue with efficiency without making any mess. With the compact design and safety measures of the glue gun, you can apply the glue safely without making any kind of contact with the skin, avoiding mishaps, and protecting you from burns.
Does hot glue work on wood?
Yes! I think the one I find invaluable and unique to the hot glue gun is for temporary fixing of wood frameworks. In other words, using it as an extra pair of hands. It's straightforward: a small blob of glue, push the pieces of wood together, check the surfaces of flush, hold for a few seconds and you can then build an entire framework. Now the whole framework can be quickly joined together with screws.
Is hot glue permanent?
In my experience using a hot glue gun for permanent bonds is not advisable. What happens after a couple of years or so and especially in a damp environment is that the hot melt glue will peel away. It is little fiber penetration than conventional wood glues have.
There are a few factors that can affect the permanency of hot glue, including the materials being bonded:
The condition of the surfaces
The environmental conditions
Although hot glue is generally considered to be a strong and durable adhesive, and it is often used in a wide range of applications where a permanent bond is needed, it may not be as permanent as some other types of adhesives (such as epoxies or certain types of structural adhesives).
Can hot glue freeze?
Hot glue is not suitable for use in extreme cold temperatures. If hot glue is exposed to freezing temperatures, it may become brittle and lose its adhesion properties. If the glue is frozen and then thawed, it may become soft and lose its shape, making it less effective for bonding purposes.
Does hot glue work on glass?
Hot glue may not provide a permanent bond on glass, and it may not be suitable for use in applications where the bond needs to be extremely strong or where the glass will be subjected to high temperatures or stress. In these cases, it may be necessary to use a more permanent adhesive, such as a silicone sealant or a epoxy.
Does hot glue work on metal?
Hot glue is generally effective at bonding metal to a variety of surfaces, and it is widely used in a variety of applications, including crafts, DIY, and light-duty repair work. However, hot glue may not provide a permanent bond on metal, and it may not be suitable for use in applications where the bond needs to be extremely strong or where the metal will be subjected to high temperatures or stress.
What is better hot glue or liquid nails?
Liquid nails and hot glue serve different purposes and have different advantages depending on the application. Liquid nails is a construction adhesive that provides a strong, permanent bond between surfaces and is ideal for heavier applications.
Hot glue, on the other hand, is a versatile adhesive that can be used for a variety of materials and is ideal for quick fixes or temporary solutions. Ultimately, the choice between the two depends on the specific project and materials being used.
How easy is it to remove hot glue?
To remove hot glue, you can use a solvent such as isopropyl alcohol, ethyl alcohol, or acetone. Simply wet the glue stain with the solvent and it will dissolve, making it easy to remove with a rag or tissue. Isopropyl alcohol is the best option among the listed solvents.
How to remove the hot glue from my hands?
To remove hot glue from your hands, you can use vegetable oil. Simply apply a small amount of room-temperature oil or margarine to the glue stain on your skin and wait for 10-15 seconds. Then, rinse the area with warm water to remove the glue.
How long does hot melt adhesive last?
Hot melt adhesive can have different durability depending on various factors such as the materials being bonded, the environmental conditions, and the application method. Generally, hot melt adhesive can have a strong bond that lasts for a few years, but it may degrade or weaken over time due to exposure to heat, moisture, or other factors. It's important to follow the manufacturer's recommendations for storage and usage to ensure the longest possible lifespan for the adhesive.
---
Reference: