Last updated:
23 Jan 2023
GordonsToolsBlog is reader-supported. When you buy through our links, we may earn a commission at no cost to you.
Do you have any DIY projects that require fastening different materials to each other? Then you are probably in the market looking for some staples to do the job. But staples are useless without a tool to place them. But don't worry, we have your back because staples are mainly applied using a gun mechanism and we know all about it.
These manual stapling guns are easy enough to find in any hardware store or even online. But don't think you can buy any stapling gun and be done with it, after all this is a highly specialized tool.
Before shopping for any hardware tool you should always do your research and find what kind will fit your needs more. After all, if you are just doing some DIY projects or if you are a professional worker, both will have different needs for what they want from their gun.
Here is a pick of our favorite stapling guns so you can shortlist your search per your need. We know that there are tons of models available on the market, and consumers often get stuck in making the right choice.
We care about our readers and have compiled the best products to meet to their individual requirements. Each manual stapling gun has its specific features so, to help you with your problem, we are here with an unbiased review of the top 5 staple guns. We are pretty sure that this guide is going to help you. Lets go!
---
The Best Staple Gun Reviews
1. Arrow T50 – Handy Staple Gun for Every Budget
Best Choice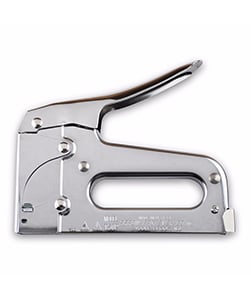 Arrow T50
Heavy Duty Staple Gun for Home Improvement Projects
The Arrow T50 is America's number one selling and best inexpensive staple gun for upholstery. Best choice for homeowners and DIYers!
Check Price
We haven't just called this the best staple gun for nothing. It has an all-steel construction for maximum durability and a chrome finish that makes the body resistant to any kind of abrasion from the weather. This strongly built gun will last you for years to come.
Arrow T50 is the classic manual staple gun. It's not easy fired so you don't need to worry about it accidentally going off and shooting in your hand or something. But you just want to make sure that you have a good grip on it at all times. It is fairly simple to use. The first thing to remember is to put a lot of pressure on the end and then push the fire button and the staples will come out. Because it shoots out with a lot of force and you want to remember to not let staples bounce back up.
Arrow is a brand with a very customer-centric attitude and has built the gun to make it easier for you to handle it. While the gun is manually powered and will require a lot of force from you to bring out the staples, Arrow T50 made sure to install an easy-squeeze trigger. This trigger allows you to place more pressure on the staples while exerting less force yourself. The handle also uses a special anti-slip system which ensures a tight grip on the gun which doesn't tire you out either.
And it gets better! Unlike most staple guns, this one is compatible with multiple sized staples. This way a single investment will make sure you can work on almost all heavy-duty projects, you just have to plug in the right staples. Unfortunately, you can't use them with delicate materials like cloth because they aren't compatible with fine wire staples.
The Arrow stapler even comes with a staple remover, so even if you make a mistake you can easily pull them out. This is especially useful for beginners who are just learning the hang of using such hardware tools. This staple gun is good if you do DIY-projects or you're running some cables or do upholstery. You can do a lot more with it that's fantastic. We use this all over the apartment to hang a lot of posters and whatever else.
Features
Material: Metal
Staples: T50 staples, 1/4″ to 9/16″
Staple Crown Size: 3/8″
Dimensions: 11 x 3 x 2″
Weight: 2.02 pounds
Pros
All steel construction
Chrome finish
Easy-squeeze trigger
Compatible with different sized staples
Anti-slip grip handle
Staple Remover Installed
Cons
Manual force
Tends to jam easily
2. BOSTITCH T6-8 – Upholstery Staple Gun
Also Great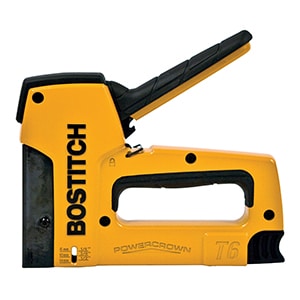 BOSTITCH T6-8
Stapler-Tacker Gun for Upholstery Projects
Material: Metal
Compatible With: 1/4 - 9/16 STCR5019
Weight: 1 pounds
Check Price
BOSTITCH T6-8 is one of those few models of manual guns that can meet your expectations as well as needs. It is an ideal choice for every DIY enthusiast. As compared to the complex designs of other models, it is an ergonomic, simple, and lightweight design. In addition to a quality build and remarkable features, it is also surprisingly affordable.
When it comes to its construction, it has a metal build. Its handle is neither stiff nor soft. Instead, it is pretty easy to squeeze. And big thanks to its patented squeeze mechanism, aged people can also use them.
Bostitch staple gun is so easy to use that you can cope with many large projects without any hassle. Its reloading mechanism is also quite simple. You need to pull it out and load it with supplies. The inside spring of the unit can manage the rest.
Moreover, its steel magazine is chrome-plated and provides a smooth surface for the supplies to slide. You can use it conveniently even if you don't have any prior experience. This staple gun also stands out in high terms of safety. Its rubberized components ensure a firm grip. It also features a lock system behind the handle to lock and store it safely after usage.
Features
Material: Metal
Staples: 1/4 – 9/16″ STCR5019
Staple Crown Size: 7/16″
Dimensions: 8.9 x 6.9 x 1.5″
Weight: 1 pounds
Pros
Perfect for upholstery, duct insulation, and various other applications
Comfort grip
Anti-jam magazine
The aluminium design makes it incredibly lightweight
Easy squeezing mechanism
A rubber grip protects your hand from strain
Affordable price
Cons
This staple gun requires unique BOSTITCH staples that are expensive as compared to standard staples
Sometimes it jams
It does not have an initial load factor
3. Arrow Fastener T50ACD – Professional Electric Staple Gun
Best for Pro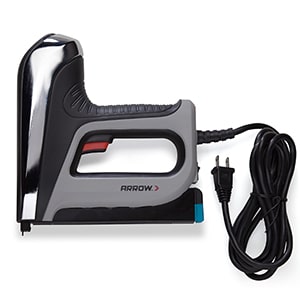 Arrow Fastener T50ACD
Electric Staple Gun and Nailer
Material: Metal
Compatible With: T50 staples, 1/4 to 9/16 Brad nails: 18GA, 5/8
Weight: 4.16 pounds
Check Price
When you get to a certain age and you got to start looking at getting something electric what for make your job easier you discover a new world of tools. Once a time I was younger dumber and full of comer and I've been asking myself why would ever need a battery-operated tool for work which you can do manually? Ridiculous I know and yet my forearm thanks me.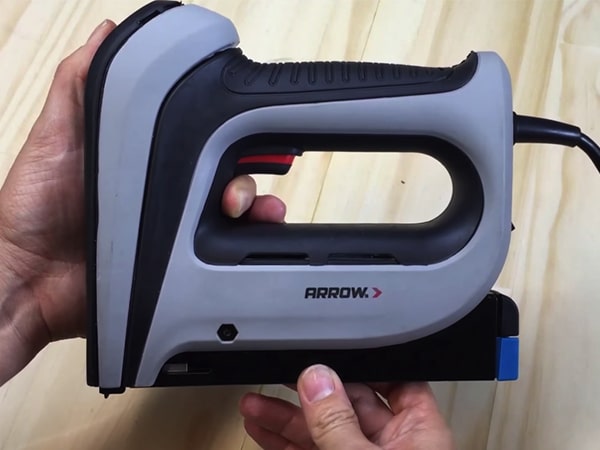 Durability and reliability are the factors that can never be compromised while looking for a staple gun. And we are happy to tell you that Arrow Fastener T50ACD is undoubtedly a perfect combination of these two factors. It comes with such high-quality and incredible features that you are going to love it.
Arrow Fastener T50ACD has quite a conventional design like most of the other staple guns. However, some notable differences and better performance make this unit stands out. It has sturdy steel construction and still manages to weigh just 1.4 pounds. So, you no longer have to worry about pain and fatigue while using this tool.
Chrome finishing over steel body makes its design attractive and functional. Moreover, the patented jam-resistant design adds to its durability. It is highly efficient for simple projects like stapling soft or hardwoods, but it is not suitable for heavy-duty construction tasks.
The handle of the T50ACD staple gun is neither too soft nor too stiff, but you should look for some other smoother model if you are dealing with some health issues. However, it is not the simplest and easiest tool on the market, somehow quite close. It would be best to consider its straightforwardness because no one wants the hassle of complex tools for small household tasks.
Features
Material: Metal
Staples: T50 staples, 1/4″ to 9/16″
Staple Crown Size: 3/16″
Brad nails: 18GA, 5/8″
Dimensions: 8.25 x 2.4 x 8.5″
Weight: 4.16 pounds
Pros
Can work with all sizes of T50 staples ranging from1/4 inch to 9/16 inch and 9/16 inches to 5/8 inch brad nails
An indicator light that alerts when the nails or staples are low
Quick reloading due to its easily accessible magazine
Integrated LED work light
Visual refill window
Double leverage squeeze operation
Spiral drive technology
Highly durable due to its steel construction
Affordable price
Cons
No adjustment for staple depth is available
Gets hot if you leave it plugged in for more than a few minutes
4. Stanley TR250 – Staple Gun for Heavy Duty Use
Best Value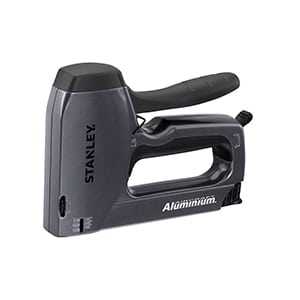 Stanley TR250
Heavy Duty Staple and Nail Gun
Material: Aluminum
Compatible With: TRA700 series or T50 staples, 1/4 to 9/16 Brad nails: 1/2, 9/16 and 5/8
Weight: 1.5 pounds
Check Price
Stanley TR250 manual staple gun is a perfect price-to-quality ratio. You cannot dream of more features at this price range. It is not only neatly-built but also highly durable. The TR250 has an ergonomic and usability design, so even beginners can use it without any difficulty.
When TR250 comes to construction, it is an aluminium housing that provides terrific durability and reliability. Its aluminium build also makes it considerably light in weight as compared to steel. Another major plus point of this staple gun is its easily squeezable handle. The other products reviewed above have moderate handles, but this one is famous for its soft handle.
Stanley TR250 anti-jam mechanism also works more effectively as compared to other manual staple guns. Hi/Lo power level is an incredible addition to this heavy-duty staple gun. It is quite a simple mechanism. You have to switch the mode to Hi while working with hardwood and to Lo while working with the softwood. So, it very convenient.
Features
Material: Aluminum
Staples: TRA700 series or T50 staples, 1/4″ to 9/16″
Brad nails: 1/2″, 9/16″ and 5/8″
Dimensions: 12.3 x 11.5 x 10.3″
Weight: 1.5 pounds
Pros
Can work as a staple gun, brad nailer, wire tacker, and cable tacker
You can quickly fix it even if you are not an expert
Lock-down handle
Quick view window
High/Low power lever for hard and soft materials
Requires very little force to squeeze and more driving power
The metal drive channel ensures better prevention
As compared to its quality and features, it is highly affordable
Cons
This gun has some trouble while stapling through some pieces of hardwood boards
The handle is more rigid to press than standard staple guns
5. DeWALT DWHTHT450 – Hammer Tacker for Professional Use
Best Value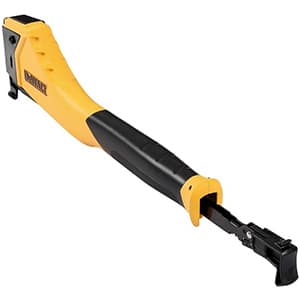 DeWALT DWHTHT450
Lightweight Hammer Tacker
Material: Aluminum
Compatible With: DWTTH700 staples, TRA700 Series, T50 staples, 1/4-inch to 9/16
Weight: 2.40 pounds
Check Price
How could our rundown be complete without including a hammer tacker, after all, it is the best tool to staple with speed. The DeWALT DWHTHT450 is our favorite because its entire built is designed to support this specific function. Its body was made using lightweight materials so it is easier for you to move the hammer with your arm with minimum strain.
Although the material is lightweight, it is still durable. This hammer is sure to last you a few years. And the best thing about this utensil is its anti-jam magazine. The most annoying thing about using any stapling device is that the staples tend to jumble and jam the whole tool. This anti-jam mechanism ensures you won't have to face this annoyance and will be able to work without stopping.
But this mechanism also makes it harder for you to reload the tacker. After sticking the new set of staples into the magazine you will find yourself putting a lot of force and effort into closing the loading area. This is almost as annoying as the jamming. Therefore, just like with all staple hammers this one is also not very precise but is used for more general stapling.
Features
Material: Aluminum
Staples: DWTTH700 staples, TRA700 Series, T50 staples, 1/4-inch to 9/16-inch
Dimensions: 12 x 4 x 1″
Weight: 2.41 pounds
Pros
Lightweight
Durable
Anti-jam magazine
Cons
No precision
Reloading is difficult
---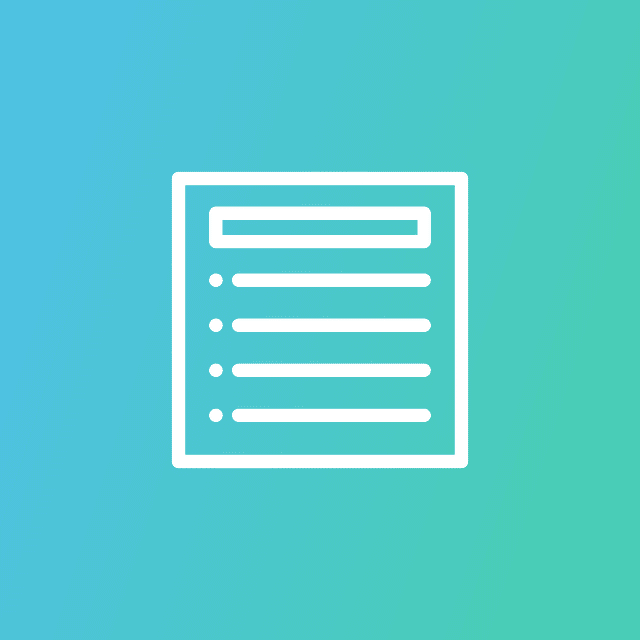 Staple Guns 101: All You Need To Know About The Staple Guns
Staples
When it comes to buying a stapling gun, your primary concern is what type of staples you will be using it with. Different staples have different capabilities and are used to fasten materials more suited to them. Heavy-duty construction uses staples with a wide shape, while narrower ones are used in projects like fences or cabinets. Then there are fine wire staples that are utilized in delicate applications like working with cloth and foam.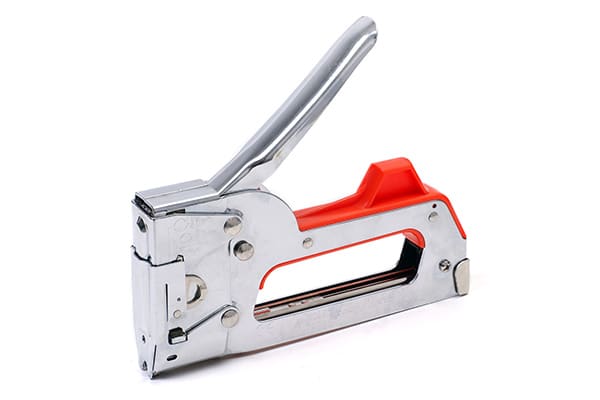 Most staples facilitate medium-sized staples. Make sure to analyze what kind of work you intend to complete with your staple gun and choose a staple size. And the gun you end up purchasing should be compatible with that staple, or else your purchase will be futile.
Power Source
When it comes to using staple guns the way they are powered can make a huge difference in the gun's capabilities and how easy it is for you as the user to handle them. There are five major types of staple gun power sources on the market.
As you can guess, these guns completely rely on your own strength to bring out the staplers. While other guns only have the trigger to bring out the staple, manual ones need you to put all your force to do the job. However, they are definitely a cheap and reliable option especially for beginners who are just getting used to the feel of the stapling gun in their hands.
A pneumatic power source is very unique because unlike electrical counter-parts these guns have close to no back-end costs after the initial purchase. Lighter than battery-operated guns they are easier to use and offer more precision when working. But they must be connected to an air-compressor at all times, and the cord ends up limiting the user's mobility. But it is undeniable that a pneumatic-powered tool is a long-term investment thanks to its durable style. Not to mention, these are the most powerful guns as well.
Now, battery operated and electrical guns are essentially the same in power and output but they have one major difference that sets the two apart. An electrical gun needs a cord to be always attached to a socket. This can really limit your mobility and how much area you can cover while working because you will have to stay near the socket, of course depending on the length of the cord. But a positive is that you can continuously work without having to take breaks to replace or recharge the batteries.
On the other hand, battery-operated guns are heavier to lift and work with thanks to the added batteries. You will find yourself having to put down the gun multiple times during a job due to the toll on your wrist and to replace the batteries. There will be constant expenses as you run through batteries even if you use rechargeable ones. However, we love the cordless freedom these guns offer.
This is another manual utensil to bring out the staples, but it is unique in its mechanism. Unlike staple guns that require the force from your grip to push out the staple, you use this exactly like a hammer and it uses the momentum from your whole arm to staple the material. Of course, this also means there is very limited accuracy. Hammer tackers are preferred for speedy projects where minimum precision is needed.
Included Components
When buying a hardware tool it is important to look past the shiny additional features and primarily focus on the major components of the gun. The built of the different parts is crucial we have compiled a list of the few features you should look out for when making your final purchase: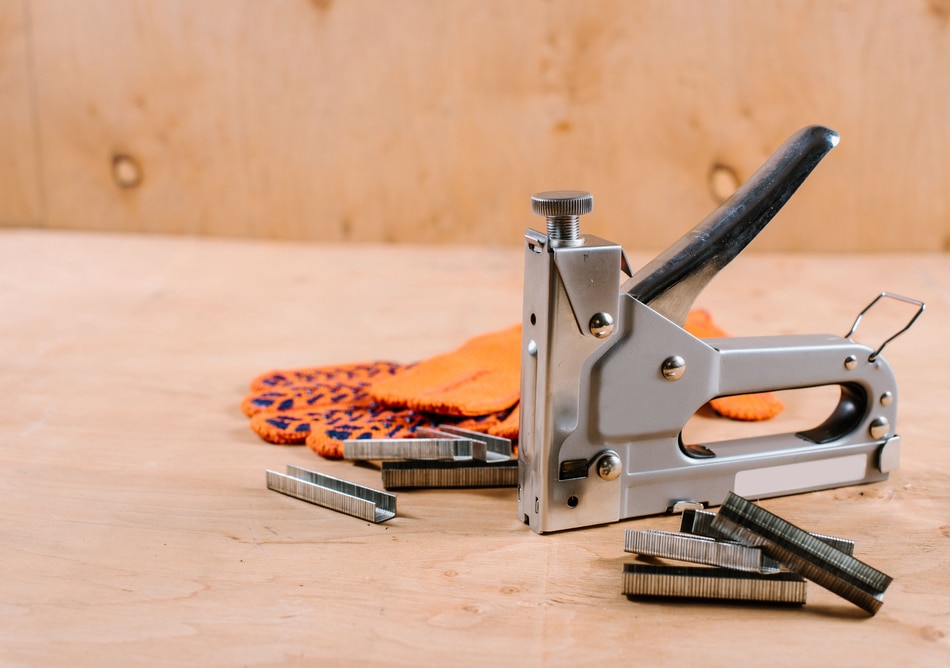 Handle
Make sure the gun you end up buying has a comfortable handle. The handle is one of the contact points between you and the gun so it must be comfortable. If the handle is too tight and digs into your palm then you will find yourself putting it down again and again. Make sure it is easy to grip and has comfortable padding for elongated use.
Trigger
Make sure your gun has a sound trigger because it is key in controlling the application of a staple. No matter how skilled you are if the trigger is loose then you will end up making mistakes. And if it's too tight you will need way more force to squeeze for lesser output. The value of a gun is always judged primarily off its trigger.
Additional features
Especially if you are a beginner then using a staple gun will be a difficult task for you. But even if you have been using such tools for a long time now, making sure your new gun is equipped with these additional features will be handy. Modern technology has allowed innovation in basic hardware tools to make them easier to use and we should use them to our advantage.
A Trigger Lock
As you can guess, this feature locks the trigger so only the correct person uses it. This is a great safety measure for parents or anybody who tends to leave their tools lying around and kids may end up messing around with the gun for entertainment.
Loading Indicator
This is a rare feature but if you can find it is definitely useful. Especially for beginners who are still learning how to correctly load a stapling gun, this will tell you when the cartridge is in place and you can begin working.
Staple Remover
For those of us who are prone to making mistakes, this installment is perfect. In case you place a wrong staple then don't worry because this will make sure you get it right out.
Final Thoughts
Staple guns have become a compulsory part of the tool kits for every upholstery or DIY project. But the most frustrating part of owning a staple gun is finding the right one.
Buying the perfect tool depends on a lot of things like what kind of project you plan to use it for, what kind of staples you'll be using, and your personal preferences. We are pretty sure that after going through this buyer's guide, you would have enough information to make a sensible choice.
All the products mentioned above are the best ones available on the market. But if you are still unsure after going through this guide, then we recommend the Arrow Fastener T50ACD if you have a large budget to invest in the tool. But on a cheaper budget, the Arrow T50 will provide almost equal benefits to you but only in manual mode.
---
Video Tutorial: How To Load Staples Into Staple Gun
Video Tutorial: How to Remove Jammed Staples From Staple Gun
---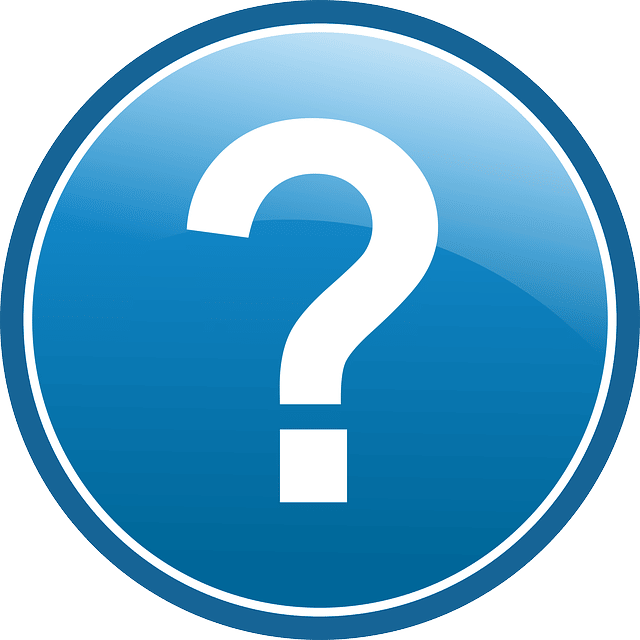 FAQs
What can I use a staple gun for?
If you want to make a quick job out of fastening two objects or materials together then a staple gun will do it for you. These guns are great for securing together most materials together, such as fabric, paper, or insulation, and are a useful tool for a wide range of projects.
A staple gun is a handy tool to have around for general repairs, such as attaching loose wires or fastening loose trim. It can be used to attach fabric or other materials to furniture, such as to upholster a chair or to recover a cushion. To fasten insulation to walls or ceilings, making it a useful tool for insulating a home. A staple gun can be used for a wide range of craft and DIY projects, such as making decorations or creating custom jewelry. To seal boxes and other packages.
What is the best staple gun for upholstery?
Arrow Fastener T50AC is the best in our rundown because it is specifically for upholstery jobs. But any gun which facilitates narrow crown staples is ideal for upholstery.
Can I staple into the wood?
Wider, heavy-duty staples combined with a powerful gun can staple into the wood if you want to attach something to it or fasten two pieces of wood together. But most guns and staples don't work very well with wood.
Are electric staple guns any good?
Electric staple guns are a cheaper alternative to traditional pneumatic guns and provide more power than manual ones. Electric staple guns are just as reliable as manual ones. They are generally easier to use than manual staple guns, as they do not require the same level of physical effort to operate.
This can make them a good choice for projects that require a lot of staples or for people who may have difficulty using a manual staple gun. Electric staple guns are generally faster than manual staple guns. They are often more versatile than manual staple guns, as they can be used with a variety of staple sizes and types.
What is a staple hammer?
Instead of using a trigger function to emit a staple, a staple hammer inserts a staple whenever it strikes an article. These are more convenient to use than the average gun but they offer very little in terms of precision.
How to load the staple gun?
The first thing that you have to do is remove the track. Then you can take your staples and you can load them into place. You need to take the staples and put them into the slot. They fit nice and sort of perfectly in the slot. Once you have your staples loaded you can simply press the track back into place and that will hold all of the staples in place.
---
Reference: