Do you have any DIY projects that require fastening different materials to each other? Then you are probably in the market looking for some staples to do the job. But staples are useless without a tool to place them. But don't worry, we have your back because staples are mainly applied using a gun mechanism and we know all about it.
Best Choice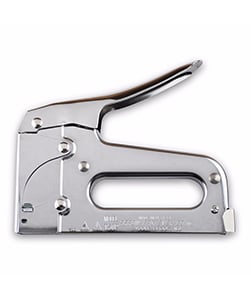 Arrow T50
The Best Heavy Duty Staple Gun
The Arrow T50 is America's number one selling and best inexpensive staple gun for upholstery. Best choice for homeowners and DIYers!
Read Customer Reviews >
These stapling guns are easy enough to find in any hardware store or even online. But don't think you can buy any stapling gun and be done with it, after all this is a highly specialized tool. Before shopping for any hardware utensil you should always do your research and find what kind will fit your needs more. After all, if you are just doing some DIY projects or if you are a professional worker, both will have different needs for what they want from their gun.
Here is a pick of our favorite stapling guns so you can shortlist your search per your need. We care about our readers and have compiled the best products to cater to their individual requirements. Each stapling gun has its specific advantage so keep an out for the one which is best for you.
Image
Product

Best Choice

Arrow T50 - Staple Gun

Type of Power: Manual
Compatible With: Arrow T50 staples from 1/4" to 9/16"
Weight: 2.0 pounds


Check Price

Also Great

DeWALT DWHT75021 - Electric Staple Gun

Type of Power: Electric
Compatible With: 1/4" to 9/16" DWHTTA700 DeWalt staples, or TRA700 Stanley staples or 1/2" to 5/8" brad nails, or 5/8" headless brad nails
Weight: 3.0 pounds


Check Price

Best for Pro

Makita XTS01Z - Cordless Stapler Gun

Type of Power: Cordless
Compatible With: 1/4", 3/8", 1/2", 9/16", 5/8", 3/4", 7/8" staples (3/8" crown) and Arrow T50
Weight: 4.41 pounds


Check Price

Best Value

Makita AT638A - Pneumatic Staple Gun

Type of Power: Pneumatic
Compatible With: 18 gauge, 1/4" narrow crown staples from 1/2" to 1-1/2"
Weight: 2.70 pounds


Check Price

Best Heavy Duty

DeWALT DWHTHT450 - Hammer Tacker

Type of Power: Manual
Compatible With: DWHTTA700 DeWalt staples from 5/16", 1/8", and 1/2", or similar range of Stanley TRA700 staples and Arrow T50 staples
Weight: 2.40 pounds


Check Price
---
1. Arrow T50 – Best Staple Gun
We haven't just called this the best staple gun for nothing. It has an all-steel construction for maximum durability and a chrome finish that makes the body resistant to any kind of abrasion from the weather. This strongly built gun will last you for years to come.
Arrow T50 is the standard staple gun. It's not easy fired so you don't need to worry about it accidentally going off and shooting in your hand or something. But you just want to make sure that you have a good grip on it at all times. It is fairly simple to use. The first thing to remember is to put a lot of pressure on the end and then push the fire button and the staples will come out. Because it shoots out with a lot of force and you want to remember to not let staples bounce back up.
Arrow is a brand with a very customer-centric attitude and has built the gun to make it easier for you to handle it. While the gun is manually powered and will require a lot of force from you to bring out the staples, Arrow T50 made sure to install an easy-squeeze trigger. This trigger allows you to place more pressure on the staples while exerting less force yourself. The handle also uses a special anti-slip system which ensures a tight grip on the gun which doesn't tire you out either.
And it gets better! Unlike most staple guns, this one is compatible with multiple sized staples. This way a single investment will make sure you can work on almost all heavy-duty projects, you just have to plug in the right staples. Unfortunately, you can't use them with delicate materials like cloth because they aren't compatible with fine wire staples.
The Arrow gun even comes with a staple remover, so even if you make a mistake you can easily pull them out. This is especially useful for beginners who are just learning the hang of using such hardware tools. This staple gun is good if you do DIY-projects or you're running some cables or do upholstery. You can do a lot more with it that's fantastic. We use this all over the apartment to hang a lot of posters and whatever else.
Pros:
All steel construction.
Chrome finish.
Easy-squeeze trigger.
Compatible with different sized staples.
Anti-slip grip handle.
Staple Remover Installed.
Cons:
Manual force.
Tends to jam easily.
2. DeWALT DWHT75021 – Best Electric Staple Gun
When you hear a DeWALT name, you know this brand will deliver excellent quality. Electrically powered, this gun pulls power from the socket and into your hand. It will help you deliver the staples easily into the material without any force from you. I like this staple gun because if you're doing a lot of work this is going to be a lot nicer.
This gun's greatest setback is that it is only compatible with one type of staple but that is also its strength. A very specific narrow crown staple is best for this purpose but it is hard to find a gun compatible with it. But the DWHT75021 is not one of those. The narrow crown staple sits perfectly in its loading area and it applies them with optimum pressure into the material. While this gun may not be compatible with other sized staples, it is compatible with nails. This makes perfect sense because nails are the second-most used medium in upholstery.
If you are an upholsterer, or just a DIY-er expanding into this field, this gun doesn't just offer specialized performance but also comfort. DeWALT stapler has a soft-grip handle which ensures a tight grip on the gun but doesn't tire you out either. When you've got hold of this staple gun it does grip in your hand because of the rubber on the handle. It also has an accurate meter that allows you to curb the electrical power to your specific need.
On the back is a knob for settings for putting the amount of pressure you want to put in. The highest setting is a pretty good kick and it's gonna be able to get through on even hardwood. Stapling into harder material will require more force, but using more force with weaker materials will end up causing them to shatter or crack. This meter allows you to fix the power according to the material you are working with so you make fewer mistakes.
Pros:
Compatible with nails as well.
Specifically for narrow crown staples.
Soft grip handle.
Adjustable power meter.
Cons:
Only compatible with one type of staple.
3. Makita XTS01Z – Best Cordless Crown Stapler Gun
With all the power of an electrical gun but none of the limited mobility, the XTS01Z is the best battery-operated staple gun on the market. And while you may fear to buy one of these because of the toll the added batteries have on your wrists, Makita made sure to create this one with special lightweight materials.
This special lightness allows you to hold the gun without any extra pressure on your wrist. Cordless and light like a feather, it is truly the ultimate tool for mobility. If you are someone who likes to work with speed for long periods, this will give you the maximum motion you have always wanted.
Just like the DeWALT DWHT75021 this one too is equipped with an adjustable power meter. Stapling into harder material requires more force, but using the same on weaker materials will end up causing them to shatter and your project to fail. So this meter is very important when it comes to external power sources to control how much force the gun is packing with each staple.
But the best is yet to come. This gun has a very special feature that lets you see how many staples you have left while you are working. If you often find yourself stapling away but nothing comes out then you will have to open the whole gun to see if it is jamming or you have run out of staples. But with this special indicator, with a simple flick of the wrist, you can check exactly how many staples you have left before inserting the next round.
And while this gun does indeed sound like a dream, this dream comes with a price. And a very steep one at that. Not only is the gun the most expensive in our run down it has many backend costs as well. You will have to continuously replace batteries. And what's more, this model doesn't even come with an initial set of batteries and chargers so you will have to buy those on top of the initial cost. This gun is definitely not for those on a budget. A pretty cool tool that will speed up your work.
Pros:
Adjustable power meter.
Shows the remaining number of staples.
Lightweight.
Cordless.
Cons:
Expensive.
Batteries and charger not included.
4. Makita AT638A – Best Pneumatic Staple Gun
Professionals recommend buying from a renowned company and for good reason too. Well-established brands defend the quality of their products with warranties so if they fail you can get your money back or get a free replacement. Makita doesn't disappoint because the AT638A comes with a 3-year warranty.
The best thing about pneumatic guns is that they offer the most power. So if you are a professional that works with heavy-duty material then this type is perfect. The AT638A lets you control this high impact with its specialized trigger that allows you to staple with precision. It even has a lightweight built to make holding it and maneuvering easier.
And the best thing about this gun is its ability to accommodate all kinds of staples, so you don't have to worry about buying different guns for other projects, this will handle everything. Just like the Makita XTS01Z this too has an indicator that lets you easily see the number of remaining staples inside.
However, this gun has many setbacks as well. The most obvious one is that it does have a cord that limits mobility, after all, it is a pneumatic gun. Of course, this means the gun is expensive too. And on top of the huge price point, the stapler has an annoying tendency to jam. So you will be forced to constantly stop work and fix the staples inside.
Pros:
Powerful impact.
Shows the remaining number of staples.
Lightweight.
High-control trigger.
Compatible with different sized staples.
3-year warranty.
Cons:
Has a cord.
Expensive.
Tends to jam.
5. DeWALT DWHTHT450 – Best Hammer Tacker
How could our rundown be complete without including a hammer tacker, after all, it is the best tool to staple with speed. The DeWALT DWHTHT450 is our favorite because its entire built is designed to support this specific function. Its body was made using lightweight materials so it is easier for you to move the hammer with your arm with minimum strain.
Although the material is lightweight, it is still durable. This hammer is sure to last you a few years. And the best thing about this utensil is its anti-jam magazine. The most annoying thing about using any stapling device is that the staples tend to jumble and jam the whole tool. This anti-jam mechanism ensures you won't have to face this annoyance and will be able to work without stopping.
But this mechanism also makes it harder for you to reload the tacker. After sticking the new set of staples into the magazine you will find yourself putting a lot of force and effort in closing the loading area. This is almost as annoying as the jamming. Therefore, just like with all hammers this one is also not very precise but is used for more general stapling.
Pros:
Lightweight.
Durable.
Anti-jam magazine.
Cons:
No precision.
Reloading is difficult.
---
Buyer's Guide: All You Need To Know About The Staple Guns
Staples
When it comes to buying a stapling gun, your primary concern is what kind of staples you will be using it with. Different staples have different capabilities and are used to fasten materials more suited to them. Heavy-duty construction uses staples with a wide shape, while narrower ones are used in projects like fences or cabinets. Then there are fine wire staples that are utilized in delicate applications like working with cloth and foam.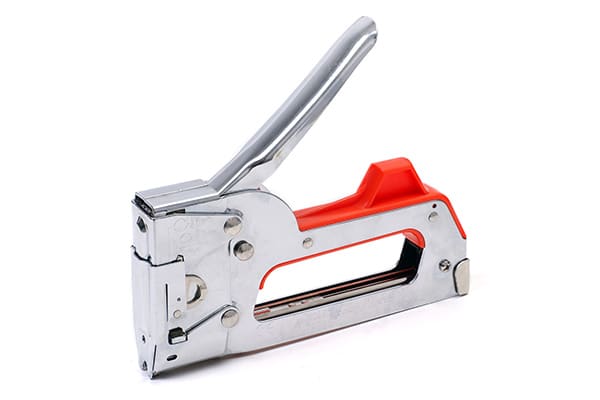 Most staples facilitate medium-sized staples. Make sure to analyze what kind of work you intend to complete with your staple gun and choose a staple size. And the gun you end up purchasing should be compatible with that staple, or else your purchase will be futile.
Power Source
When it comes to using staple guns the way they are powered can make a huge difference in the gun's capabilities and how easy it is for you as the user to handle them. There are five major types of staple gun power sources on the market.
As you can guess, these guns completely rely on your own strength to bring out the staplers. While other guns only have the trigger to bring out the staple, manual ones need you to put all your force to do the job. However, they are definitely a cheap and reliable option especially for beginners who are just getting used to the feel of the stapling gun in their hands.
A pneumatic power source is very unique because unlike electrical counter-parts these guns have close to no back-end costs after the initial purchase. Lighter than battery-operated guns they are easier to use and offer more precision when working. But they must be connected to an air-compressor at all times, and the cord ends up limiting the user's mobility. But it is undeniable that a pneumatic-powered tool is a long-term investment thanks to its durable style. Not to mention, these are the most powerful guns as well.
Now, battery operated and electrical guns are essentially the same in power and output but they have one major difference that sets the two apart. An electrical gun needs a cord to be always attached to a socket. This can really limit your mobility and how much area you can cover while working because you will have to stay near the socket, of course depending on the length of the cord. But a positive is that you can continuously work without having to take breaks to replace or recharge the batteries.
On the other hand, battery-operated guns are heavier to lift and work with thanks to the added batteries. You will find yourself having to put down the gun multiple times during a job due to the toll on your wrist and to replace the batteries. There will be constant expenses as you run through batteries even if you use rechargeable ones. However, we love the cordless freedom these guns offer.
This is another manual utensil to bring out the staples, but it is unique in its mechanism. Unlike staple guns that require the force from your grip to push out the staple, you use this exactly like a hammer and it uses the momentum from your whole arm to staple the material. Of course, this also means there is very limited accuracy. Hammer tackers are preferred for speedy projects where minimum precision is needed.
Included Components
When buying a hardware tool it is important to look past the shiny additional features and primarily focus on the major components of the gun. The built of the different parts is crucial we have compiled a list of the few features you should look out for when making your final purchase:
Handle
Make sure the gun you end up buying has a comfortable handle. The handle is one of the contact points between you and the gun so it must be comfortable. If the handle is too tight and digs into your palm then you will find yourself putting it down again and again. Make sure it is easy to grip and has comfortable padding for elongated use.
Trigger
Make sure your gun has a sound trigger because it is key in controlling the application of a staple. No matter how skilled you are if the trigger is loose then you will end up making mistakes. And if it's too tight you will need way more force to squeeze for lesser output. The value of a gun is always judged primarily off its trigger.
Additional features
Especially if you are a beginner then using a staple gun will be a difficult task for you. But even if you have been using such tools for a long time now, making sure your new gun is equipped with these additional features will be handy. Modern technology has allowed innovation in basic hardware tools to make them easier to use and we should use them to our advantage.
A Trigger Lock
As you can guess, this feature locks the trigger so only the correct person uses it. This is a great safety measure for parents or anybody who tends to leave their tools lying around and kids may end up messing around with the gun for entertainment.
Loading Indicator
This is a rare feature but if you can find it is definitely useful. Especially for beginners who are still learning how to correctly load a stapling gun, this will tell you when the cartridge is in place and you can begin working.
Staple Remover
For those of us who are prone to making mistakes, this installment is perfect. In case you place a wrong staple then don't worry because this will make sure you get it right out.
---
How to Remove Jammed Staples From Staple Gun
---
FAQs
What can I use a staple gun for?
If you want to make a quick job out of fastening two objects or materials together then a staple gun will do it for you. These guns are great for securing together most material depending on their power and are best for temporary or DIY projects.
What is the best staple gun for upholstery?
DeWALT DWHT75021 is the best in our rundown because it is specifically for upholstery jobs. But any gun which facilitates narrow crown staples is ideal for upholstery. 
Can I staple into the wood?
Wider, heavy-duty staples combined with a powerful gun can staple into the wood if you want to attach something to it or fasten two pieces of wood together. But most guns and staples don't work very well with wood.
Are electric staple guns any good?
They are a cheaper alternative to traditional pneumatic guns and provide more power than manual ones. Electric staple guns are just as reliable as any other on the market
What is a staple hammer?
Instead of using a trigger function to emit a staple, a staple hammer inserts a staple whenever it strikes an article. These are more convenient to use than the average gun but they offer very little in terms of precision.
How to load the staple gun?
The first thing that you have to do is remove the track. Then you can take your staples and you can load them into place. You need to take the staples and put them into the slot. They fit nice and sort of perfectly in the slot. Once you have your staples loaded you can simply press the track back into place and that will hold all of the staples in place.
---
Final Thoughts
Buying the perfect tool depends on a lot of things like what kind of project you plan to use it for, what kind of staples you'll be using and your personal preferences. If you are still unsure after going through this guide, then we recommend the Makita XTS01Z if you have a large budget to invest in the tool. But on a cheaper budget, the DeWALT DWHT75021 will provide almost equal benefits to you.