Last updated:
23 Jan 2023
GordonsToolsBlog is reader-supported. When you buy through our links, we may earn a commission at no cost to you.
Sometimes I spend a lot of time crawling around on my hands and knees and the biggest challenge the biggest struggle with having a job that requires you to crawl around and be on your knees so much is finding the right pair of knee pads. I mean finding a pair that legitimately keeps you safe and is also comfortable to wear. If you are going to work as a flooring contractor, you will need something to make the job a bit more comfortable. Working in the flooring industry involves kneeling all day long. Spending hours on soft and hard surfaces with regularity can cause acute and debilitating knee pain.
Without proper protection, your knees are at high risk. You can use them indoor/outdoor obviously with the landscaping or flooring works. I use them sometimes about seven hours a day six days a week. They last me probably about four to five months it's about the same as the working shoes.
People seeking to get the job done without hurting their knees in the process are bound to stumble upon knee pads. Knee pads for flooring limit the movement of joints and support the stability of knees to prevent injury.
When knee pads touch the ground they take the pressure to absorb it away from the knee redirecting it around the knee. That's a wonderful feature throughout the workday you're taking the pressure away from your knee.
Now, why is this important? Because I want to see men take better care of their bodies. Do you know the reason that women outlive us by seven years? Because they address problems and take care of their health much better than men do. So protecting your knees and protecting your hands and your shoulders is very important.
With this protective gear, your knees will not be affected by traction and pressure in general activities. When buying a knee pad, specific features should be kept in mind, based on your usage. On the other hand, it's still going to come down to your personal preference. This article aims to assist you in making the right choice.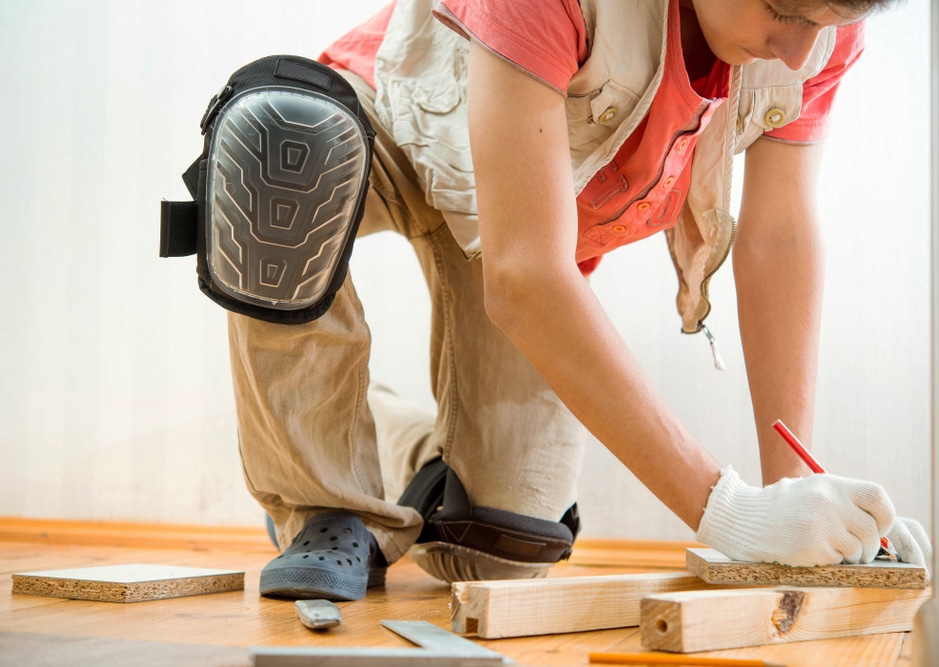 There's a lot of things that factor into getting just a decent set of knee pads and trust me you have got to invest in a good set of knee pads if you are going to be doing flooring work regularly. It's going to determine your future health and whether or not you can even walk right because your knees are at risk your feet are at risk your shins your lower back, every muscle that you use every bone that's being used they're all at risk.
This review is intended to dissect the claims of various reputable brands and help you identify the best option. We have picked the best options available on the market and prepared these top 5 picks to help minimize the selection hassle from your side. The knee pads listed below serve versatile features, and each excels in specific areas. Hang tight and let's explore the best knee pads for flooring in 2023.
Before you land on an online shopping page and browse randomly to find the perfect equipment, go through this list to make an informed choice. We have eased things for you by mentioning some of the best knee pads you can get for yourself.
---
1. NoCry – The Most Durable Knee Pads for Work
Best Choice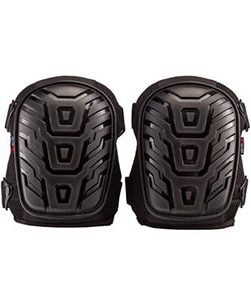 NoCry Professional Knee Pads
Knee Pads With Heavy-Duty Foam Padding
If you are looking for perfectly protective and slip-proof knee pads and are not troubled by rivets, then you should go for NoCry knee pads.
Check Price
What makes these knee pads so special ? They look like they have something to offer that most other traditional knee pads don't. Is that they hinge just like your knee does. So that makes them ultra-comfortable and they have a comfortable gel cushion and EVA foam for your knee. They have a great strap. With this strap, you got one on the bottom which goes underneath your knee and then another one goes on top.
And I noticed that it keeps my knee from bothering me when I'm squatting down and getting back up constantly up and down every day. And when I don't wear them even if I'm not on my knees if I'm squatting down I still notice a little bit of aching in my knees. I feel like they actually also helped keep my joints. Almost like a knee brace kind of.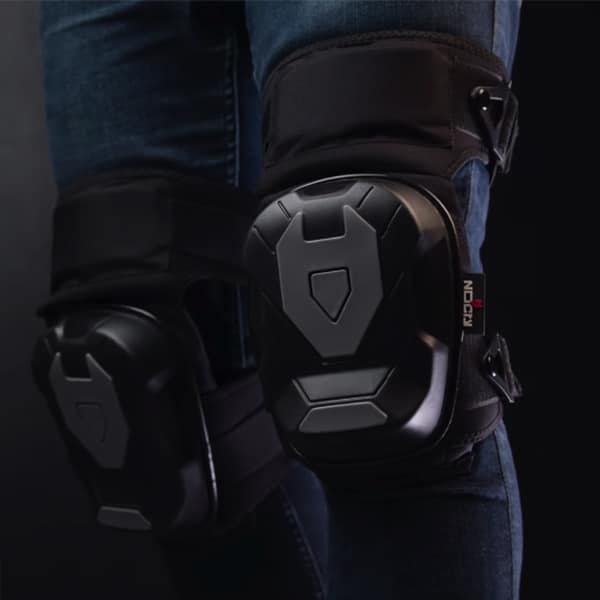 NoCry knee pads are one of the topmost available on the market as they are efficiently designed and user-friendly. This pair is available only in black color, and it weighs 1.21 ounces. The product is made up of high-quality materials like Polyvinyl Chloride (PVC), Ethylene Vinyl Acetate (EVA), Neoprene, 600D Polyester, nylon, and soft gel.
The pad incorporates a soft gel core and EVA foam padding which works as a set of cushions for your knees. It protects your kneecaps from fatigue, cuts, and injuries, ensuring comfortability for prolonged periods. Neoprene lashes provide a firm grasp to knees preventing the pads from moving around while working. NoCry pads have strap buckles which make them easy to wear.
Its durability is accredited to dense nylon thread with a polyester mesh allowing for proper aeration of the knees. NoCry pads are perfect for use on hardwood and concrete floors, for tiling, carpet installations, gardening, etc. They are non-scratchy when used on soft or thin surfaces like bamboo and are feasible to work without causing any damage to the floor. However, there are issues with the attachment rivets. The non-slip formula prevents users from rolling over or slipping on even surfaces.
Features
Gel: Soft gel core with EVA foam padding
Material: Nylon, PVC and assorted polymeric compounds
Non-Slip: Yes
Puncture Resistant: Yes
Side to Side Mobility: No
Stable Long-Term Kneeling: Yes
Pros
Perfectly fits most of the knee sizes
Adjustable and stretchable
They are slip-proof
Easy to wash
Long living and durable
Cons
Poor attachment rivets
Breathability issues
2. Thunderbolt – The Most Versatile Knee Pads for Work
Best for Work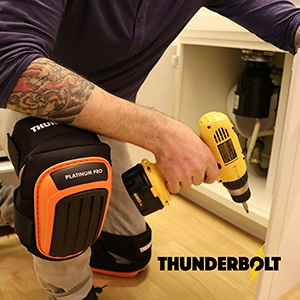 Thunderbolt
Knee Pads For Work With Double Gel Foam
Material: Nylon, Neoprene, PVC
Gel: Thick gel
Side to Side Mobility: No
Check Price
Are you looking for an all-rounder safety kit of knee pads? Thunderbolt Platinum Pro-2X is just that, it is highly versatile and fit to satiate all of your needs. The pads is available in a combination of orange and black color, it is slightly heavy, weighing in at 1.47 pounds with extended straps of 7 inches. Its structure is made up of Polyvinyl Chloride (PVC), Neoprene, and Ballistic Nylon. These Thunderbolt might be good because this has a flat surface too it has a strap that's a little higher than in NoCry. They feel very comfortable very solid going to stay in place and going to offer support.
The double coat of extra-thick gel is a massive improvement in this model. It provides maximum comfort and protection to your knees owing to its strong material and reinforced stitching. The rough and slip-resistant shield in these knee pads is quite an impressive feature preventing your knees from grazing. These shields also protect you from nails, screws, glass, and litter.
The ergonomic design of Thunderbolt provides extra ease to your tendons and quadriceps. The provision of superior defense is done using thick core and soft gel core. The best feature of these pads is their pro fastening system providing a secure fit to every size of the knee with their free extended straps of 7 inches.
The only downside is that the straps may itch the backside of your knees after prolonged use. Thunderbolt pads are very convenient to use in construction sites, warehouses, gardening, wood flooring, cleaning, and many more things.
Features
Gel: Thick gel layer present
Material: Nylon, Neoprene, and PVC
Non-Slip: Yes
Puncture Resistant: Yes
Side to Side Mobility: No
Stable Long-Term Kneeling: Yes
Pros
Fully adjustable
Highly breathable
Durable for long periods
Cons
Double straps are itchy at the back of knees
A bit pricy in comparison
3. Sellstrom – Knee Pads For Flooring with Foam Cushion
Best Professional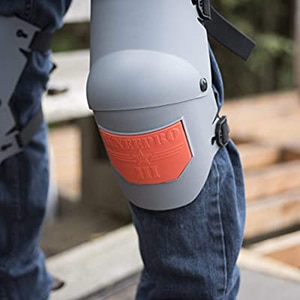 Sellstrom
Knee Pads With Hard Outer Plastic Shell
Material: Plastic, Foam
Gel: No
Side to Side Mobility: No
Check Price
Sellstrom KneePro Ultra Flex III knee pads consist of strong plastic outer shells including two metal hinged rivets extending above and below the knee. This pads is available in grey color, on the lower side, an orange-colored replaceable gripping strip is present. On the inside, they have a ¾" soft closed-cell foam adding a soft cushioning feeling to it. Soft and flexible woven straps with snap clips are available, and the whole structure weighs 1.19 pounds.
These heavy-duty knee pads are specifically designed for professionals working in tiling, flooring, landscaping, roofing, metal fabrication, and so on. The ¾" thick closed-cell foam pad consisting of a triple layer provides safety to the patella (kneecap). Moreover, this closed-cell foam restricts the entry of dirt and pollutants.
The solid plastic cover of Sellstrom knee pads is strong and long-lasting. It is provided with an articulating hinged structure, consisting of two metal hinged rivets, which permit ease of movement while working. The non-marking orange gripping strip facilitates a firm grip on surfaces where steadiness is needed and helps in maintaining the position of knee pads.
Knee pads cause no marks or scratches and hence can be used on any surface. The extra-wide woven straps are not fastened behind the knees. Instead, they remain aligned with the legs; this way, you will not feel itchiness or cuts behind the knees. The plastic frame may be uncomfortable for some people but all in all, this is an excellent product.
The way that these things go on is you simply put this around the top part of your leg and it snaps right in place. And then you simply put the strap around the bottom part of your leg and it snaps in place. And you don't even realize that you have these things on. They're made of hard plastic and they're super comfortable. But as I go down on one knee no pain whatsoever. These knee pads are fantastic.
Features
Gel: No
Material: Plastic and foam
Non-Slip: No
Puncture Resistant: Yes
Side to Side Mobility: No
Stable Long-Term Kneeling: Yes
Pros
Provide ease of movement
Replaceable components extend their durability
Convenient for elderly use
For portability comes with mesh carry bag
Cons
Non-adjustable straps
Plastic may be uncomfortable to some people
4. MaxxHaul – Rolling Knee Creeper Pads
Best for Workshop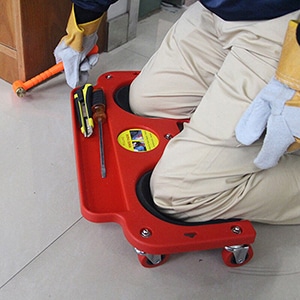 MaxxHaul
Rolling Knee Pads Creeper With Built-In Tool Tray
Material: Plastic, Foam
Gel: No
Side to Side Mobility: Yes
Check Price
MaxxHaul pads differ from usual knee pads as these have a rolling function. Its frame is made from durable ABS high-impact plastic along with pads that cushion your knees throughout your work. Moreover, the frame has five 2″ diameter swivel castors at the bottom and a holder connected with it.
It has a lightweight frame, weighing no more than 4 pounds, and available in a red-colored frame and black pads. MaxxHaul knee pads are best for repair and maintenance work, painting, tiling, detailing, baseboard installing, landscaping, and so on.
With the safety of your knees guaranteed , the rolling knee pads are also ideal for smooth movement from side to side with the help of five 360-degree mini swivel casters. The accompanying tool tray allows you to keep your small tools nearby while working. MaxxHaul also reduces the discomfort and knee stress due to its frame without straps which saves your time. Although some might complain that the absence of straps does not allow the pads to grip as firmly, you can't say that it itches.
Features
Gel: No
Material: ABS and foam cushion pads
Non-Slip: No
Puncture Resistant: Yes
Side to Side Mobility: Yes
Stable Long-Term Kneeling: No, it is meant for rolling
Pros
Allows you to move around easily
Save time and increase productivity
Easily washable
Comes with comfortable foaming on the inside
Cons
Does not provide a good grip to knees
No straps
5. ProPad – Knee Mat for Work
Best for Gardening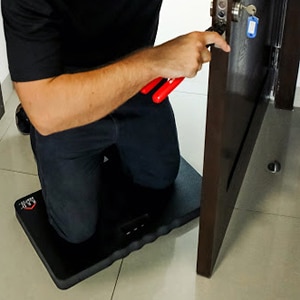 ProPad
Thick Kneeling Pad for Gardening
Material: High-density foam
Gel: No
Side to Side Mobility: No
Check Price
These patent-pending kneeling pads have about 1 ½ inches extra thickness, making them ideal for extended work sessions. Propad is made up of the high-density, non-recycled material, and is about 10.4 ounces in weight. The product is available in five different colors, including black, pink, grey, blue, and green.
Propad is a multi-tasker and is ideal for gardening, household chores, home installation, camping, exercise, yoga, auto repair. These pads are also a great help for tradesmen like carpenters, mechanics, plumbers, painters, floorers, and so on. ProPad kneeling pads with their extra layer provide unparalleled comfort and reduce stress to the knees while kneeling on hard and rough surfaces.
Propad is structured in a way that it will not break down or compress resisting the impacts of stones, rough and hard surfaces. Due to its high-density material, it is durable for years, the product will not deteriorate due to usage and is worth your money. Its innovative design accounts for its lightweight frame with a handle that helps in carrying it around easily. The material is water repellant and hence ideal for use on wet surfaces, though some may complain that it is a bit hard, this also reflects on its longevity.
Features
Gel: No
Material: High-density foam
Non-Slip: Yes
Puncture Resistant: Yes
Side to Side Mobility: No
Stable Long-Term Kneeling: Yes
Pros
Portable and lightweight
Easily washable and dries quickly
Durable for years
---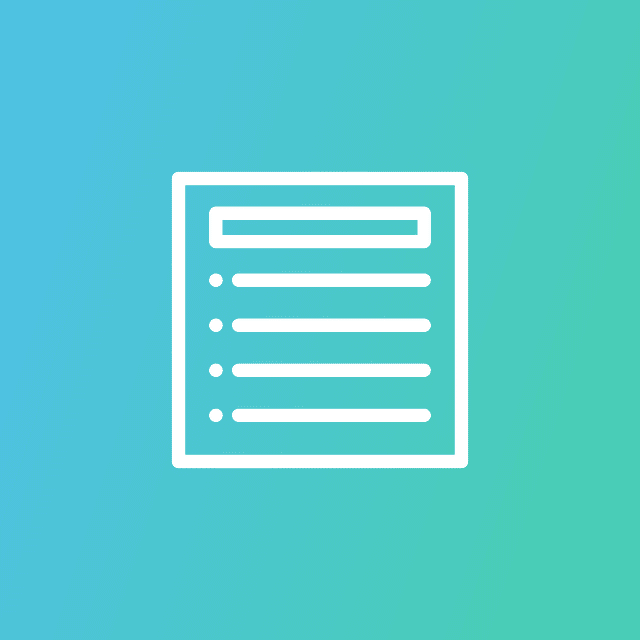 Knee Pads 101: How To Choose The Most Comfortable Knee Pads for Work
To get the best knee pad for flooring, you should be aware of the features that make an excellent knee pad. We have prepared a detailed buyer's guide to help to single out your selection from an expansive pool of options so that you end up with the most quality product.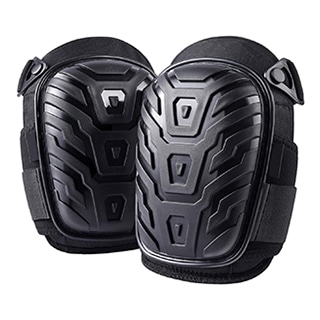 There are four different applications for wearing knee pads. Gentle surfaces that you don't want to mark. Rough surfaces like rocks and nails screws. You got laying tiles or stonework and you've got carpet. And within each one of those categories, we give the people the consumer the end-user the choice of the best knee pads.
Material
The comfort level and durability rely on the material used in the production of the kneepad. If you are looking for something robust, then you should get a hard-shelled option. Though hard-shelled kneepads are robust and sturdy, they can be painful for the wearer (try them on first to make an informed choice). They can also cause scratches on certain types of flooring.
Cloth-based knee pads are also a good choice as they do not damage the surface of the flooring. Few kneepads have gel padding which will flatten and adjust if you push against it. Rubber-based kneepads are best suited for surfaces like wood, concrete, or tiles. They have anti-slip qualities that help you in maintaining your posture while working.
If your work involves wet surfaces, you should buy a pair that has water repellant properties. There is no ideal or "one fix for all problems" material; all of them have their pros and cons. It is best to pick one that fits your work the best.
Size
You must know what size you should get for yourself. An ill-fitted knee pad will not only be uncomfortable but would be inconvenient while working. Most brands offer five sizes: extra-small, small, medium, large, and extra-large. The dimensions of these sizes are 10 to 12 inches, 12-14 inches, 14 to 16 inches, 15 to 17 inches, and 17 to 20 inches, respectively. You can use a soft tape to measure the size of your knee and then pick the size that best fits your knees' dimensions.
Durability
Flooring projects can be tough. You'll have to kneel for several hours on various surfaces in different conditions and drag yourself while kneeling. For such reasons, you must invest in a pair of pads that can sustain wear and tear and last for a long time. Such products may cost more, but it is advisable to make a one-time investment in something durable rather than buying cheaper models time and again.
Thigh support stabilization
While working, your body weight is concentrated on your knees. Your knee pad must provide you with sturdy support so that you can avoid injuries. If your knee pad does not stay in one place, then you will not only be uneasy every time you kneel but would also lack adequate support. You should look for a knee pad that wraps snugly around your knee and does not move from its place while working. The knee pad should provide you with stability without crumbling while working. Flexible pads would do this job effectively.
Flexible
The flexibility of work knee pads is not supposed to be like the athletic brands, but they should have enough flexibility to let you move around with ease and comfort. When testing the knee pad for the first time, make sure to bent your legs a bit to estimate its flexibility. A rigid product will cause strain on your joints and make work harder for you, on the other hand, something too flexible (rubber) may not be suited for hard surfaces, choose wisely.
Non-skid
Sliding over the floor may seem hilarious in a cartoon movie, but in reality, there is a fair chance of getting seriously injured this way. This can also cause significant damage to the finishing of the floor you worked so hard to make perfect. To avoid such problems, you should get a pair equipped with a non-slip outer shell. A non-slip pair will give string anchoring to your knees and ultimately ensure your safety.
Price
It is the conclusive factor whenever you go out shopping. The kneepad should not cause a huge cut to your pocket. Keep your affordability into account and consider what you are looking for in the product. Of course, we cannot endorse that you sacrifice quality to save a few bucks. What we are proposing instead is that you should find the perfect, above all, within your price range.
Final Thoughts
On the market, you will find many knee pads, however, there is a risk of buying them without knowing their features. All products described above ensure the safety and protection of your knees with additional exclusive features. If your work involves kneeling for hours, then you should go for a long-lasting and comfortable pad for flooring work. Remember, always prioritize comfort and quality but within the bounds of affordability and practicality.
---
Video: Extreme Testing NoCry Professional Knee Pads
---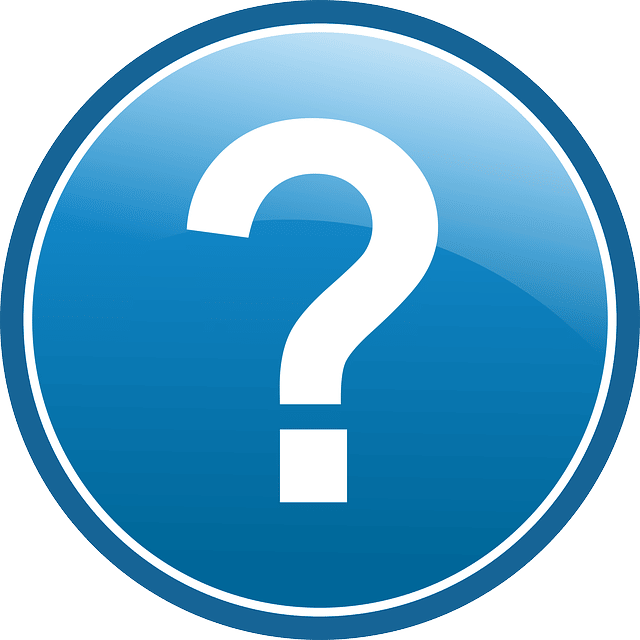 FAQs
How can I protect my knees while working?
Working without protective gear in any capacity that involves physical activity is never a good idea, especially for a part as fragile as the knee. Many jobs including painting, flooring, tiling, gardening, etc. involve kneeling for long periods which can cause serious damage to the knees.
For protecting your knees, you ought to invest in some decent knee pads which are by far the best solution to this problem. The choice of pads should be based on your personal preference, the type of surface you work on, and the comfort factor offered by the pads.
How do you wear knee pads for flooring?
Knee pads ensure safety by lessening the impact of hard surfaces by cushioning the front of the knee cap. You can find different types of knee pads on the market; some come with straps while others have alternative mechanisms.
The ones with straps can be worn by placing the knee pad on the knee region with the fastening of its straps behind the knee. Rolling knee pads such as that offered by Propad are not worn instead you just have to place your knees over their surface while working.
What size of knee pads will fit you?
To find the knee pad best fit for your size, you must first measure your kneecap's size. This can be done by outstretching your leg then measuring the kneecap by measuring tape. Once you know the dimensions of your kneecap, you can easily find the perfect size for them. Normally, pads come in extra-small, small, medium, large, and extra-large variants.
Can you wash your knee pads?
Yes, the majority of knee pads are washable. Depending on how frequently you use them, you'll have to wash them accordingly. Washing knee pads are necessary as you sweat while working. Hence you need to get them to be germ-free before use.
Before washing your work knee pads, be sure to check the care instructions provided by the manufacturer.
To wash the knee pads, use mild detergent and lukewarm water. Avoid using harsh chemicals or bleach.
It is generally best to wash knee pads by hand rather than in a washing machine.
Be sure to rinse the knee pads thoroughly to remove all traces of detergent and to avoid leaving any soap residue on the pads.
After washing the knee pads, be sure to dry them thoroughly before using them again. This will help to prevent the pads from becoming damp or moldy and will help to extend their lifespan.
Do knee pads get loose with time?
This depends upon the material of the knee pads. If the material is durable like PVC, Polyester, or another similarly sturdy polymer, then you should not worry about it stretching out. To help prevent knee pads from becoming loose, it is a good idea to choose a pair of pads that are well-constructed and made from durable materials.
It is also important to choose a pair of pads that fit well and are comfortable to wear, as this can help to ensure that the pads stay in place and provide the necessary support and protection. Work knee pads may become loose with time, particularly if they are worn frequently or are subjected to harsh conditions. If you notice that your knee pads are becoming loose or are no longer fitting properly, it may be time to replace them.
My knee pads are too tight, what should I do to loosen them?
If the knee pads are too tight, then consider stretching them out around a volleyball shoe or any object that might loosen them. Also, avoid putting them in the dryer or heat as they will shrink further as a result. The most prudent course would be to buy a product that fits perfectly in the first place.
---
Also Read:
The Best Work Socks for Steel Toe Work Boots & Work Shoes
Reference: