Last updated:
18 Sep 2023
GordonsToolsBlog is reader-supported. When you buy through our links, we may earn a commission at no cost to you.
Achieving a polished finish when painting requires a steady hand and expert cutting in techniques. However, using painter's tape can simplify the process and help ensure professional-looking results. If you're a DIY homeowner looking to paint your home, you understand the challenges of achieving a clean finish. Painter's tape is an essential tool for achieving crisp lines and protecting surfaces from unwanted paint drips or smudges.
Glass panes fixed inside doors, window frames, or the junction between walls and ceilings often end up being ruined in the process. When it comes to a paint finish prep is very important and using the right masking tape makes a huge difference. With painter's tape, you can save tricky spots, and paint on without fear.
Yellow tape, white tape, green tape, blue tape, black tape…If you haven't done this stuff for a living you might have a few questions about why there are so many different colored tapes and which one do you need for your surface.
Painter's masking tape is available in a variety of sizes and shapes, but they all serve the same purpose – to assist you in painting. After use, these tapes can be easily removed without leaving behind any messy residue. Whether you're painting walls, ceilings, or trim, masking tape is an indispensable tool that can help you achieve a professional finish by keeping paint lines clean and preventing unwanted drips or smudges.
Since every product has its utility and features, it is easy to become intimidated when having to choose one. Fret not, because we bring you a well-researched rundown of our top picks and buyers guide to help you make an informed choice. In this review, we will dissect these claims and help you choose the painter's tape for your needs.
We made comparisons from the vast amount of masking tapes available and have highlighted our best picks. These tapes serve various needs. Hang tight and let's get started.
---
The Best Painters Tape Reviews
1. Scotch #2093 – Multi-Surface Painter's Tape
Best Choice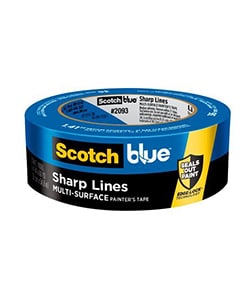 Scotch Blue - Sharp Lines #2093
Universal Painters Tape for Precise Edges Every Time
ScotchBlue 3M is another name for quality and this painter's tape is ideal for best results. Suitable for professional painters, homeowners, and DIYers. Removes cleanly without adhesive transfer or surface damage for up to 14 days.
Check Price
Scotch 3M is a highly regarded brand of painter's tape, known for its exceptional quality and performance. Their multi-surface adhesive tape features iconic edge-lock technology, which ensures that paint is perfectly sealed and delivers a crisp paint line once the tape is removed. This product is perfect for all your painting needs and is a must-have for DIY enthusiasts and professionals alike.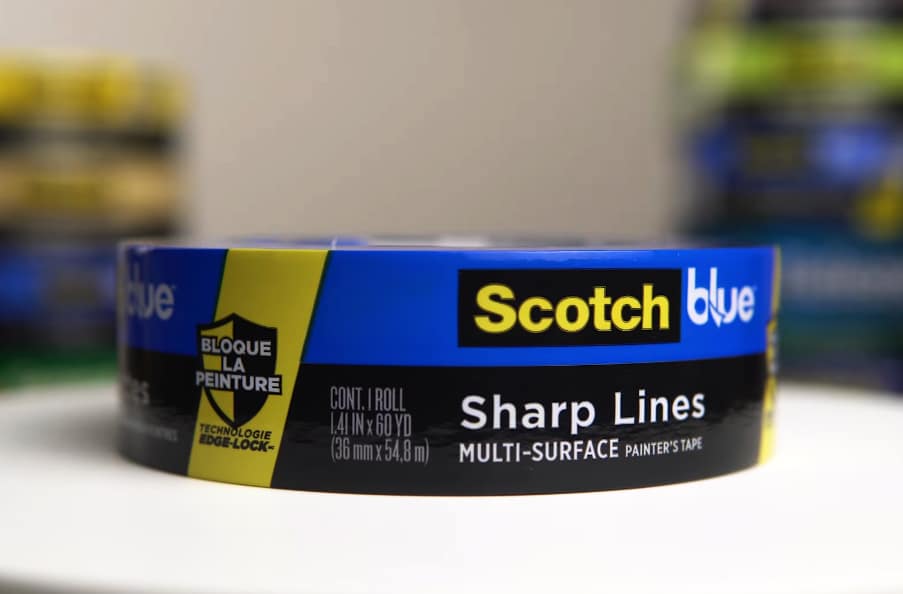 You do see contractors using blue tape a lot especially when they're painting the outside of your house there's a reason for it. The basic reason for using the blue tape is that it's usable in direct sunlight. If you put yellow tape on anything out in the sun it's going to bake it onto the surface and you'll have a really difficult time getting it off. You may have to scrape it off with a razor or use an alcohol-based tape remover.
So in other words you can use blue tape on the outside leave it in the direct sun for up to 21 days and it will still come off cleanly. Scotch Sharp Lines is a multi-purpose adhesive, suited for multiple surfaces. The tape is a medium adhesive meaning that it will not be suited for pre-painted walls and wooden structures.
If you want to save your window railings or glass panes embedded in walls or doors, this is the product for you. Scotch #2093 is suitable for most surfaces and does equally well outdoors. The tape also outshines conventional alternatives by not leaving behind any residue.
Features
Size: 1.41 inches in width and 60 yards in length
Adhesion level: Medium
Surfaces: Mostly smooth and sturdy ones like metal and glass
UV resistant: Yes
Outdoor use: Yes
Clean removal: Yes, guaranteed within 21 days of application
Pros
"Edge-lock" technology
Scotch #2093 can be peeled off, without leaving behind any residue, within 21 days of use
The tape is suited for outdoor usage as well, due to its UV resistance
Cons
Scotch Ultra Sharp Lines does not adhere equally well to all surfaces
2. FrogTape CF120 – Painter's Tape for Crisp Lines
Also Great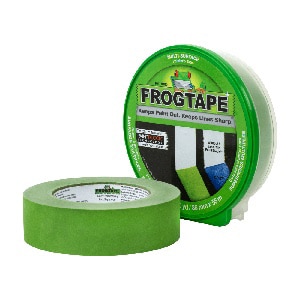 FrogTape CF120
Multi-Surface Painter's Tape for DIY Projects
Surface: Multi
Adhesive: Medium
UV resistant: Yes
Check Price
This FrogTape is the most expensive product which we tested. The manufacturer also claims to be the only tape with paint block technology. Have to say it is impressive. It keeps paint from reaching restricted parts and provides a flawless finishing with its exclusive Paint-Block Technology. This masking tape belongs to the professional tier and has been widely recommended.
FrogTape CF120 is a masking tape with medium adhesive properties that can be used on a variety of surfaces, including pre-painted walls, wooden panels, glass panels, and metal. However, it is not recommended for outdoor use as it is not UV resistant.
FrogTape is a perfect all-in-one indoor option and gives you flawless crisp lines. It also comes with a 21-days clean release system, allowing you to peel the layer off without any residue. There is one thing though, it is a bit hard to tear off, hence, be extra careful while doing so.
Features
Size: 0.94 inches in width and 45 yards in length
Adhesion level: Medium
Surfaces: Almost any indoor surface
UV resistant: No
Outdoor use: Not recommended
Clean removal: Yes, within 21 days
Pros
Exclusive Paint-Block technology
For indoor surfaces
Leaves no residue behind if taken off within 21 days
Cons
Tape does not have resistance to UV rays, hence not recommended for outdoor use
Tearing off is a bit hard
3. Duck Clean Release – Painter's Masking Tape
Best Indoor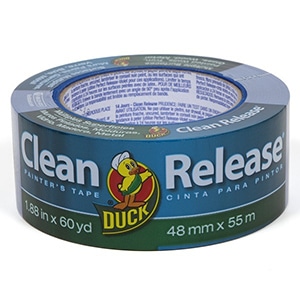 Duck Clean Release
Blue Painter's Tape for Multiple Surfaces
Surface: Multi
Adhesive: Medium
UV resistant: Yes
Check Price
Duck is also a well-known brand in the painter's masking tape market. Its multi-surface adhesive product is suitable for most materials, including glass, metal, wood, and pre-painted walls, and it can also be removed cleanly.
The tape is a medium adhesive and can be peeled off cleanly within 14 days of application. Duck Clean Release painter's tape is UV resistant, meaning that it is suitable for both indoor and outdoor applications.
The product is available in multiple sizes and offers almost all the features you could want in a painter's masking tape. It does lag in area, and that is its clean removal period, which is less than those of competing brands. However, it is still a decent option with a good mix of qualities.
Features
Size: Variable, available in many sizes
Adhesion level: Medium
Surfaces: Almost all indoor and outdoor surfaces
UV resistant: Yes, but not very strongly
Outdoor use: Yes
Clean removal: Yes, but only within 14 days of application
Pros
For indoor and outdoor use
UV resistance makes it extra useful in multiple contexts
Easy-peel-off, medium level adhesive
Cons
Duck Tape lacks any exclusive features
The clean removal time is lower than rival brands
4. Scotch #2060 – Painter's Tape for Rough Textured Surfaces
Best Strong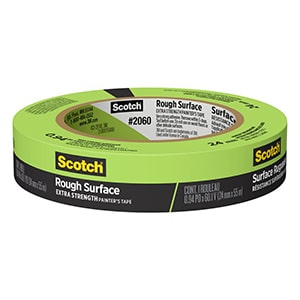 Scotch - Rough Surface #2060
Extra Strength Painter's Tape for Easy and Quick Application
Surface: Rough
Adhesive: Strong
UV resistant: No
Check Price
Scotch #2060 is an ideal option for rough surfaces. It excels where others are ineffective, it is the number one choice for textured surfaces. Green tape is mainly used for masking off brick walls, stonework, or rough wooden panels, but the surface must have a lacquer coating. Although it is a strong adhesive, it peels off effortlessly and cleanly.
Scotch #2060 is a great option for extreme needs and is available in an attractive green color. This tape is designed to stick to brick and stonework much better than other tapes, although it can also be used on other surfaces. Scotch #2060 forms a strong bond with the surface, and it offers a 5-day clean removal limit, which is decent for a strong painter's masking tape.
Scotch Rough Surface is excellent for outdoor use but has one limitation. Since it is a very strong adhesive, it will leave a tiny bit of residue behind. The tape has been designed to minimize this problem but it is unavoidable with strong adhesives.
Features
Size: 0.94 inches is standard, however, other widths are available too. 60 yards long
Adhesion level: Very strong
Surfaces: Lacquer coated rough surfaces
Outdoor use: Ideal, but for the short term
Clean removal: Almost clean, within 5 days of application
Pros
Perfectly for rough surfaces
Strong adhesive
Cons
Scotch #2060 leaves behind some traces of residue, no matter how carefully you take it off
A bit pricey in comparison to other products and is not suitable for general use
5. Scotch #2080 – Painter's Tape for Delicate Surface
Best for DIY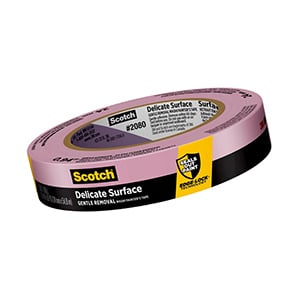 Scotch - Delicate Surface #2080
Gentle Removal Painter's Tape for a Hassle-free Painting Experience
Surface: Delicate
Adhesive: Gentle
UV resistant: No
Check Price
This painter's tape from Scotch 3M is specifically designed for delicate surfaces. Scotch #2080 is perfect for all your DIY operations and is also affordable. However, note that the tape is smaller than other options on the list.
Scotch Delicate Surface also boasts the famous "edge-lock" feature to ensure a perfect paint crease once the tape is taken off. It is very easy to peel off and comes off cleanly. It is ideal for both indoors and outdoors and is the only gentle adhesive on the list.
Suitable surfaces include all the delicately built materials which may be damaged by a regular painter's tape. UV resistance makes it effective outdoors as well, however, the tape is not meant for professional-grade use. But its price tag and utility make it a decent option.
Features
Size: 0.94 inches in width and 45 yards in length
Adhesion level: Gentle
Surfaces: Ideal for delicate surfaces
UV resistant: Yes
Outdoor use: Yes
Clean removal: Yes, clean and easy
Pros
One of the most affordable options on the market
Scotch #2080 features the edge-lock ability, giving you an ideal finishing
UV resistant and ideal for outdoors
Cons
Since it is a gentle adhesive, it will not adhere strongly
Shorter than other competitors
---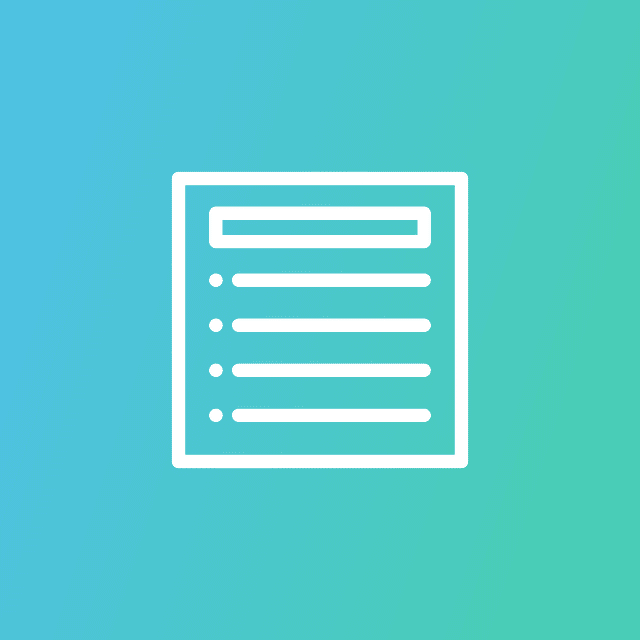 The Ultimate Guide: How To Choose a Painters Tape?
Many homeowners tend to reach for the blue painter's tape without considering if it's the right choice for their specific job. When selecting a painter's tape, there are several factors to take into account. Every individual has their preferences and goals, so it's essential to research products that meet your specific requirements. Luckily, this buyer's guide will assist you in making the correct selection. We won't be delving into technical details; instead, we'll focus on the primary features and distinctions.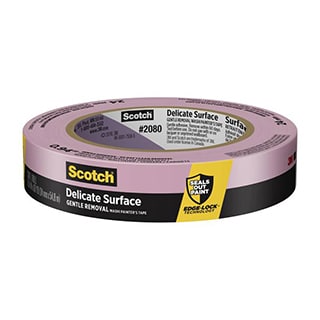 Size
There are multiple size options for tapes. Small-sized tapes are ideal for covering tricky spots while broader tapes cover more area. It depends on your preference and the circumstances. For instance, if you wish to cover the edges of window panes, a smaller tape, like the FrogTape CF120, would be good.
The total yardage is also an important factor to consider. Most tapes come with 60 yards long strips which is enough for medium use. However, others, such as the delicate Scotch #2080 tape, come at 45 yards long. This makes the tape a good fit for DIY but not for professional use.
Adhesion level
Tapes may be gently adhesive, medium, or strongly sticky. There is no good or bad when it comes to adhesion strength, all levels are useful in their context. A gentle adhesive, such as Scotch #2080 delicate surface tape, is ideal for DIY workers.
Medium adhesives are exemplified by most of the entries on this list, such as Scotch #2093, FrogTape CF120, and Duck Tape. These tapes are useful on multiple surfaces and provide the versatility of operation. Although gentle adhesives may come advertised as suitable for outdoor use, a medium adhesive is more suitable for the job.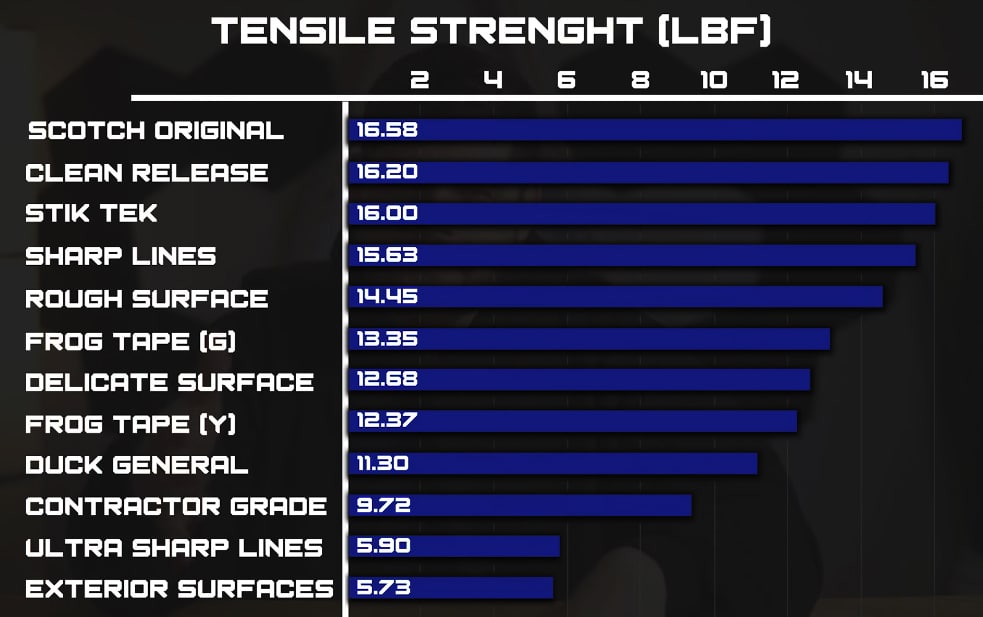 Strong adhesives, such as Scotch #2060, are meant for rough surfaces. They require lacquer-coated surfaces to adhere properly. Although they serve in areas where others can't, it comes at the price of residue. Strong adhesives can leave residue marks behind upon removal.
Surfaces
Not all surfaces are equal. While some are smooth and sturdy, others may be rough, while others may be delicate. Glass and metal are smooth and allow almost any painter's tape to adhere closely to them. Wood and pre-painted walls are rough surfaces that require a more versatile product. Surfaces like concrete, brick walls, or rough wooden panels require strong adhesives. Delicate surfaces, which may be damaged by pulling off the tape hardly, require a gentle adhesive.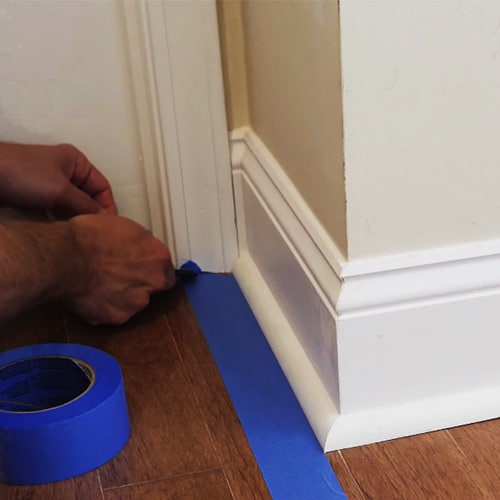 Scotch #2093 is ideal for most surfaces but will not work effectively on pre-painted walls or wood. In this case, FrogTape would be a better choice, given that the work is indoors only. Scotch has produced tapes for textured surfaces and delicate surfaces.
Clean removal
The whole point behind using a painter's masking tape is to preserve the look of objects. Most masking tapes have flawless, residue-free, clean removal. This feature is timed and will only work perfectly if the tape is removed within the said time.
In most cases, such as Scotch #2093 and FrogTape, the time is 21 days. It is better to remove the tape before this period, but only when the paint has dried up completely. Duck Clean Release masking tape comes with a 14 days clean removal period, which is comparatively lower but it makes up for it by its versatility. Strong adhesives, however, have a much lower clean removal duration.
Outdoor Use
There are a few things that determine whether a tape is useful outdoors or not. These factors include the level of adhesion, surface compatibility, size, and UV resistance. Only medium to strong adhesives can "hang-tight" outdoors, a gentle tape may peel off prematurely.
Surface compatibility, as discussed earlier, determines the usability of a painter's tape. If the outside surface is a brick wall, then a strong adhesive is needed. Outdoor tapes should also be bigger, i.e. Duck and Scotch #2093.
UV-resistant
Ultraviolet radiation from the sun poses a constant threat to tapes that are placed outside or in sunlit areas within the house. These rays can break down the tape and compromise its integrity, causing it to peel off or leave behind visible residue.
Only UV-resistant tapes like Scotch #2093 or Duck can be used outdoors without fear. Other products like FrogTape, although versatile in their action, are not UV resistant and hence restricted to indoor use. Never attempt to use indoor-oriented tape outdoors, it will destroy the paint job.
---
Guide: How to Properly Tape a Wall for Painting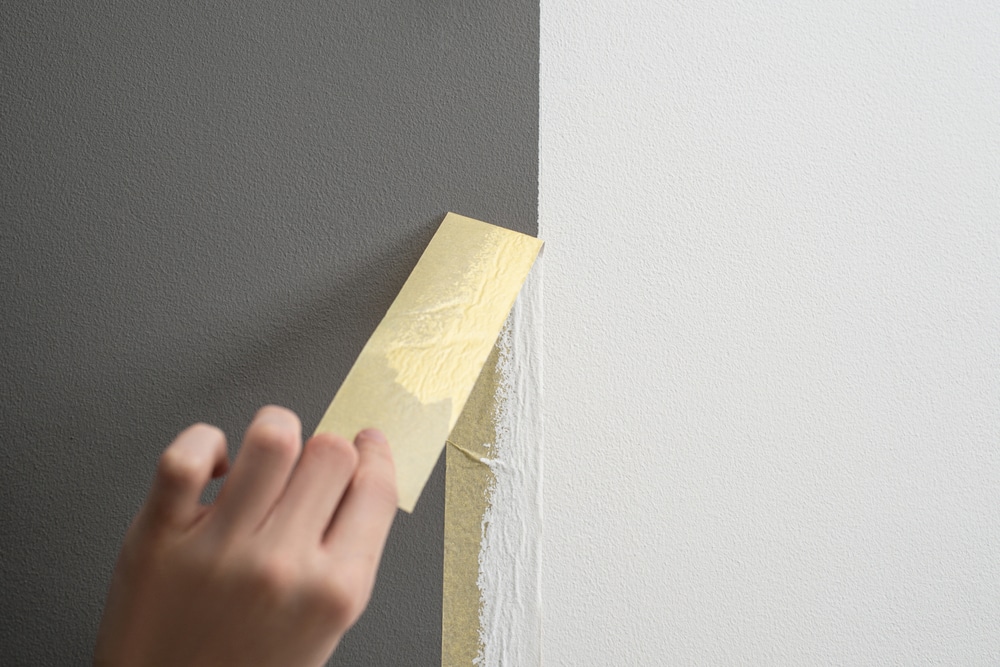 It's important to do this when you want to make sure that the paint you're gonna put onto a wall doesn't end up on areas where you don't want the paint. When it comes to taping off a wall you want to start by using painter's tape of course. When you go to the hardware store there's gonna be a lot of choices for different brands as well as different sizes and the sizes do matter depending on what you want to tape off.
The thinner tapes the reason you would use this is if you have a detailed area where you want to place some tape or maybe it's got to bend a little bit or that's a sharp edge on a piece of trim. Then you would use the thinner roll of tape because it's more pliable and easier to apply.
It's recommended to use a wider piece of tape on top of the initial layer to provide additional protection while using a brush to avoid getting paint on the area. Before applying the tape, it's important to wipe down the surface with a damp rag to remove any dust and ensure it's dry.
You're gonna apply the tape to that area carefully and then once you get that nice clean edge go back over it with that damp rag to set it. The whole idea is that you want to make sure that you press the tape into the spot where it gives you that. Some manufacturers call it an edge lock (you don't get any paint bleeding underneath the tape). It's very important to push down on that it sets their kit carefully.
The other thing you remember is painter's tape has a release time. Meaning that depending on the type of rolls that you buy they typically can be on the surface for about 15 days and then you need to remove it. If you don't you could get residue from the adhesive on the part that you place the tape on. Kind of keep that in mind about the release date and the painting project and how long that's going to take.
Final Thoughts
Painter's masking tapes have gained popularity in recent decades. The reason for this is that they make our work very easy. Professionals and ordinary people use them alike, although product preference is different. The products we share with you in this rundown were selected after a painstaking research process. We assure you that they are the best on the market and that you can trust these brands for quality, excellence, and versatility.
The most important thing is to consider your needs and to remember the context in which you intend to use these products. These tapes allow us to create a better finishing and leave behind flawless paint creases. If you're planning on painting your house or asking a professional to do so, you'll appreciate kicking in a few bucks for a painter's masking tape.
So if I had two semis smooth surfaces to paint I would choose Scotch Blue Sharp Lines. It provided some incredibly clean lines and did a tremendous job. Frog Tape and Duck Clean Release were very good tapes as well and I would consider using them on a smooth surface but for a semi-smooth surface, Scotch Blue is better.
---
Video Tutorial: When Should You Remove Masking Tape?
Video Tutorial: Using Scotch Painter's Tape to Prep Like a Pro
---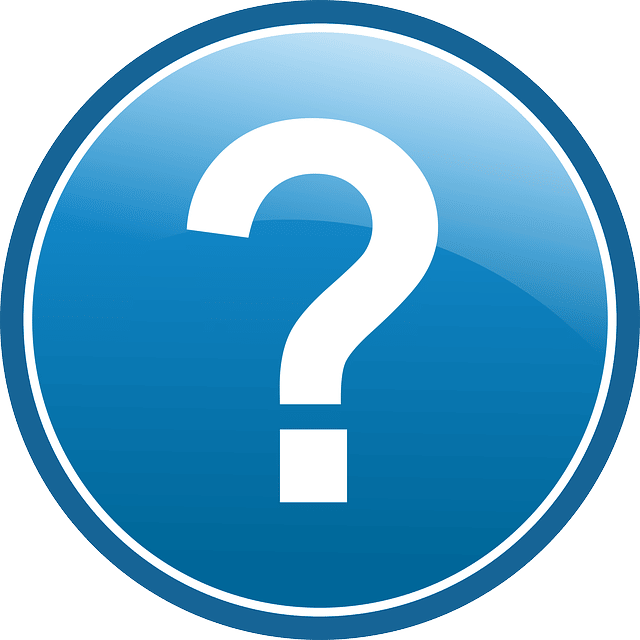 FAQs
What is a painter's tape?
A painter's tape or painter's masking tape is an adhesive strip placed on surfaces to guard them against paintbrush strokes. These tapes remain adhered to these surfaces and keep the paint from tainting them. Once the paint has dried out, they are peeled off to reveal the clean surface. They allow users to create better finishing with their paint job.
What tape do professional painters use?
Professional painters often employ Scotch #2093 or Duck because of their "all-in-one" features. These tapes are ideal for both indoor and outdoor settings. Both brands are highly reputed and their products are of high quality and are affordable. However, in the case of textured surfaces, Scotch #2060 strong adhesive tape is used. Other tapes like the delicate Scotch #2080, are suited for DIY operations but not professionals.
When is the best time to take off a painter's tape?
First of all, read the paint instructions carefully. Each wall painting comes with different drying periods and this is an important factor. Make sure that the paint has dried up (touch it with your finger to ensure that), and then remove it. Masking tapes also come with a time limit for clean removal. Observe this limit for clean, residue-free removal.
Generally, I always remove it the following day. The main reason for that is that if for some reason whatever you've been painting hasn't turned out quite how it should you've always got the opportunity to repaint it. Whereas if you take the tape off straight away you come back the next morning and have a look at it and it's not real good. And therefore you'll have to go through and do all tapings again before you repaint it.
That's the reason why you find a lot of professionals will leave the painter's tape on overnight. Just for the safety factor. You can however remove it a few hours after you've painted. The reason for being a few hours is you don't want to be peeling the tape off while the wall or what if you've taped is still wet because you do have the chance of leaking any dirt that may be on the tape onto the surface.
So you want to let the paint dry first. Normally with water-based paints, a few hours will be fine, and then remove the tape. In a lot of circumstances, it still pays to cut along between the tape line and whatever you've taped so it doesn't rip any other paintwork off. Because what can happen is the paint is stuck to the wall into the tape and when you rip it off it starts to pull the paint off the wall.
How to remove a painter's tape?
You have tape all around the edges of something to protect it from getting painted. Oftentimes you also paint to the tape. It's unavoidable otherwise you know you wouldn't tape. Sometimes when you remove the tape it will also peel up paint.
The first thing to do is to ensure that the paint has dried out. Touch the surface with your finger to check that the paint is dry. Once that's done, take a blade and gentle cut out the margin crease of the tape.
But that is very very tedious and time-consuming. A faster way to remove the masking tape without worrying about the paint peeling off your wall is to simply – pull the tape away from the corner and the right angle.
Occasionally where masking tape stuck you will get ripped tape. But at least you'll rip the tape instead of peeling it off your wall.
One important thing to remember is to remove the tape during the clean removal time limit given with every tape. This limit varies, i.e. for Scotch #2093 and FrogTape CF120, the limit is 21 days, while for Duck, it is 14 days.
What should I consider while buying a painter's tape?
To sum it up here is a brief rundown of things to consider, or rather questions to ask yourself while buying a painter's tape:
Where do I intend to use the tape? Outdoors or Indoors, or both?
On what sort of surfaces will I apply the tape? Some tapes are designed for use on smooth surfaces, while others are formulated for use on rough or porous surfaces.
Do I need to cover a small area or a larger one (both width and length-wise)?
Do I need a gentle adhesive (for delicate surfaces) or a medium one? (It is unlikely that you'd need a strong one, however, if you do, then go for it) Some tapes have a stronger adhesive and are better able to stay in place, while others may have a weaker adhesive and may be more prone to peeling or lifting.
Does the brand guarantee clean removal or not? And what is the duration for clean removal? Some tapes are designed to be left in place for longer periods of time, while others are intended for short-term use.
What happens if you take a masking tape on the wallpaper?
If you leave masking tape on wallpaper for too long, especially in the sun, the glue may dry out and it can become difficult to remove the tape without damaging the wallpaper. It is best to remove the masking tape as soon as possible after use to avoid any potential damage.
Can I glue masking tape to the ceiling?
Yes, you can glue masking tape to the ceiling. However, it is important to choose the right type of masking tape and ensure that it is applied properly. Paper masking tape is typically the best choice for this task, as it can be easily applied and removed without leaving any residue or damage to the surface. It is important to ensure that the surface is clean and dry before applying the tape, and to press it firmly onto the surface to ensure a secure hold.
---
Recommended:
The Best Double Sided Tapes for Indoor & Outdoor Use
Reference: