One of my most frequently asked questions across all of my social media platforms is what tool belt people should be investing in. It's the hardest damn question to answer too because there are so many variables that play into it. I can't tell you which tool belt is gonna be best for you. I don't know what you carry every day, I don't know what job you're doing it's just not something that I am physically able to tell every one of you guys.
But what I can do is make a short review about five belt systems right here. Explain what I like about each one of them to explain what I don't like about each one of them. And hopefully, by the end of this review, you have a better feel on which belt system you should go with.
Best Choice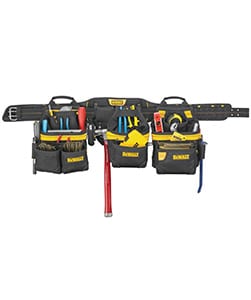 DEWALT DG5650
Best Tool Belt for Professionals
The Dewalt DG5650 is a 31-pocketed professional tool belt. The 11 prime pockets provide ample space to keep your supplies, tools, and wrenches within reach, and 24 small pockets to cart little tools like nails and bolts organized. It also has a zipper pocket keeping your important tools secure.
Read Customer Reviews >
A tool belt is not only essential to keep your tools sorted and within reach, but it is so handy that you can put it around your waist and cart it wherever you go. Tool belts prove beneficial for hazardous situations too because it gives you an extra hand to climb ladders carefully and saves you from a potential threat of accidentally stabbing yourself while trying to juggle a mess of small and large nails.
Now that we have covered how crucial a tool belt is for safety and staying organized, the next question that arises is how to find a tool belt that best serves its purpose but looks eye-catching too. No worries, because we care about you. Therefore we will review and discuss the pros and cons of the five best tool belts and what sets them apart from the rest. We will also answer your questions that you may have before purchasing a tool belt in our FAQS section below.
---
1. DEWALT DG5650 – Best Tool Belt for Professionals
If you want a tool belt that could carry every tool from your hammer to screwdriver, pocket knife, pencils, measuring tape, and even your wrench, then a double pocketed tool belt won't do it for you. The DeWALT DG5650 tool belt might turn out to be the tool holder of your dreams. I know a few guys that are wearing the same DeWALT all set up that they did 10-15 even 20 years ago. They may not look as good anymore but they still work.
The DeWALT DG5650 tool belt has 31 pockets ranging from 11 prime pockets and 24 little pockets to provide more room and cart your tools no matter how big or small. The pocket contains a zipper that will keep your tools, supplies, and things secure. This tool belt has a carabiner metal clip for twine or keys. The pouch clasp grants effortless belt modification along with hand-carrying and favorable storage.
This DeWALT belt has a 6-inches packed belt with Dri-Lex liner, which supports a double-tongue roller clasp to provide you with better constancy. DG5650 tool belt has a hammer loop and sleeves to organize your things more conveniently. It has a durable structure to keep sharp tools, including nails, pocket-knife, bolts, and parts, without damaging the material.
Features:
Material: Polyester
Pocket Count: 31-pockets (11 prime pockets, 24 smaller pockets)
Belt Size: Suitable for waist sizes from 29-inches to 46-inches
Product Dimensions: 5 x 14 x 23 inches
Color: Yellow and black
Weight: About 3.6 pounds
Pros:
Capacious 31-pockets ranging from 11 prime pockets to 24 small pockets
It has a sturdy structure to provide more endurance.
A zipper pocket to keep your stuff secure.
6-Inches packed Dri-Lex liner along with double-tongue roller clasp for more durability.
Sleeves and a hammer loop.
Carabiner metal clip helps hook keys and twine.
Cons:
It can be heavy, which may cause discomfort or muscle strain.
2. Bucket Boss 50100 – Best Carpenter's Tool Belt
An ideal tool belt is one that is spacious enough to carry every tool you need to nail your work (no pun intended). Having a hard time carrying around a load of weight on your waist? Then don't worry because the Bucket Boss 50100 will gladly give you an extra hand.
The Bucket Boss 50100 is a capacious tool bag that can cart all of your hefty tools. This Airlift tool belt is precisely manufactured for professional workers, making it an ideal tool belt for carpenters. The Bucket Boss 50100, with its adjustable suspender system, provides you with extra support and ease in carrying heavy tools to make your work a breeze.
Big open pouches you can drop an impact drill in there if you need to. You're not gonna have a problem carrying what you need to carry. Another great thing about these pouches is the right-hand pouch you have plenty of tool storage in here. You've got a ton of little spots you can stick chisels and here's scratch alls pencils markers whatever you need to carry safely to say you can put just about anything you want in this right-hand side.
Bucket Boss tool belt has a unit-body structure, which makes it considerably lighter and strong. The ample pockets supporting a cask-bottom makes room for more toolsets. It has a vast adjustable belt with steel grommets. Bucket Boss belt contains a changeable pouch and equipment arrangement, so you can detach and attach them according to your liking. This belt has an adjustable noose to carry tools with a long grasp and a precise steel holder for hammers.
Features:
Material: 600 denier polyester ripstop
Pocket Count: Two ample pouches
Belt Size: Modifiable 52-inches
Product Dimensions: Width: 23 inch x Diameter: 4 inch x Height: 11 inch
Color: Cocoa-colored
Weight: 3.35 pounds
Special Features: Capacious detachable pouches with cask-bottom
Pros:
Detachable supported suspenders with adaptable chest securing strap.
Steel noose for hammer and a web noose.
Steel clasp belt accompanied by strong grommets,
It can be adjustable to fit a waist size up to 52-inches.
Unit body structure.
Cask-bottomed, spacious pouches.
Cons:
Padded suspenders might be uncomfortable.
Pricey
3. TradeGear – Best Electricians' Tool Belt
For electricians, it is very crucial to keep each of their tools within reach and uncluttered. So, a tool belt that is not only stylish but spacious enough to cart every type of tool is all you need. TradeGear tool belt has 2 pouches ample enough to carry all your valuables and 27 capacious upgraded pockets to hold your tools without a cluttering mess. D-ring clamps and loops make it convenient for you to carry hammers, pliers, wrenches, pencils, pocket-knives, and so much more.
This electrician belt is convenient for more challenging work and long hours shift. Its cushy design with high-concentration, air-mesh foam wadding provides more relief. It has an adjustable hook and loop for a more suitable fit. Handles on this first-rate tool belt make it accessible to carry and make it remarkably favorable.
The material used in this tool belt is staunch 600D nylon to make it durable for years to come. Duplex stripes supported with metal rivets and bartack sewing results in ideal stability.
Features:
Material: 600D nylon
Pocket Count: 27 pockets with 2 first-rate ample pouches
Belt Size: Available in small and large sizes
Product Dimensions: 22 x 14.5 x 5.5 inches
Color: Greyish black
Weight: 4.74 pounds
Pros:
Made with 600D nylon material makes it convenient and squashy.
Has D-ring extenders capable enough to cart hammers, wrenches, pencils, and other tools.
Its cushy design makes it undeniably snuggly.
Modifiable hook and loop for a suitable fit.
Multipurpose with carrying handles.
Cons:
Hook and loop may not last long.
Unsafe tape measure noose.
4. CLC Custom I427X – Best Leather Work Belt
If you prefer a leather tool belt but hesitates to buy it due to its hefty price, then the CLC Custom Leathercraft I427X tool belt might be the one for you. This tool belt has a lot to offer on a pocket-friendly budget. It is made up of sturdy contractor-grade suede leather to make it more durable, and suede leather gives it a smooth buttery feel.
It has a 2-inch polypropylene web belt accompanied by an interconnecting clasp. The CLC Custom tool belt promotes four prime tools and nail pockets and eight shorter pockets to keep your nuts, bolts, and pencils organized. It has a metal loop to hold a hammer and long-handled tools. This belt has a holder discreetly made to hold nails. The double gusset pockets provide more room and convenient access for equipment.
The polypropylene web belt is adjustable. Hence it can be suitable for several body types. CLC Custom tool belt has a belt size fitted for waist sizes ranging from 29-inches to 46-inches.
Features:
Material: First-rate suede leather with polypropylene belt
Pocket Count: 12 pockets, 4 prime pockets, and 8 smaller pockets
Belt Size: Belt can be fitted for 29-inches and 46-inches waist sizes
Color: Beige
Weight: 1.9 pounds
Pros:
Capacious 12 pouches for tools.
Cost-effective leather tool belt.
Has a metal loop for hammer and similar tools.
The suede leather material makes it more durable.
Roomy double gusset pouches.
Modifiable polypropylene belt.
Cons:
May feel stiff in the beginning.
5. CLC Custom IP489X – Best Leather Tool Belt
When it comes to purchasing a tool belt with much endurance and eye-catching design, nothing can beat the CLC Custom Leathercraft IP489X leather tool belt. This belt has a ton of remarkable characteristics. The material used in this tool bag is a 2-inch webbed-polypropylene with an effortless release buckle. The staunch suede leather makes this tool belt more durable and prevents it from getting easily torn.
This leather tool belt has two bigger pockets to keep your nails, screwdrivers, bradawl, wire cutters, and anything necessary in a tool belt. One smaller size pocket gives you the advantage of keeping your grippers, bolts, and nuts separately, which helps you keep your things more organized. The CLC Custom IP489X has a hammer holder made with leather to carry your hammer or wrench without having to go through the hassle of holding them with your hands. It also supports a clip discreetly made for a tape measure.
Features:
Material: First-rate suede leather with polypropylene belt
Pocket Count: 3 pockets
Belt Size: Ranging from 29-inch to 46-inch waist
Product Dimensions: 11 x 13.12 x 3.25 inches
Color: Beige
Weight: 12.8 ounces (0.8 pounds)
Pros:
It has three pockets, which are beneficial to keep your things organized and within reach.
The 2-inch polypropylene web material makes it water repellent and easy to clean.
The suede leather used in this tool belt makes it softer and sleek.
This tool belt is quite lightweight. So, you would not have extra poundage.
Cons:
The leather may start wearing off after some time.
The suede leather is made of animal skin. Hence it may get damaged if not properly taken care of.
---
Buyer's Guide: How To Choose The Best Tool Belt?
You should check a few things before purchasing a tool belt of your likings, such as material, durability, the quality, and feel of it, if it is convenient to use and how many pockets it has to keep your things organized.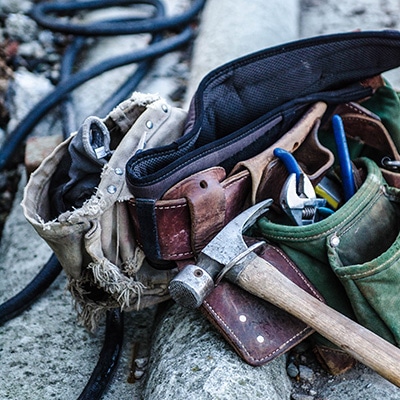 Material
Material is the first thing to look for when buying a tool belt. As tool belts are made of different materials, some are sturdier than others. Some popular tool belt materials include grease leather or suede, nylon, and polyurethane leather.
Grease Leather/Suede
Tool belts made with grease leather or suede material are the strongest, a bit hefty but last for decades.
Nylon/Polyester
Nylon or polyester tool belts are not as durable as leather ones but are good enough for basic tools, hence an ideal choice for occasional DIYers.
Polyurethane leather
Tool belts made from polyurethane leather offer durability and are lightweight than original leather, perfect for homeworkers.
Durability
The durability of a tool belt is important because of no matter how many pockets or lustrous material it has if it doesn't last long, what is the use of investing your money on a product like that.
Quality
Before purchasing a tool belt, take a quality test. Examine its material, check if the sewing is durable enough to carry your tools and the pockets are ample enough to secure and cart your valuables. 
Clasp/Buckle
When loaded with heavy tools, tool belts may cause pain and discomfort; therefore, a belt with an adjustable buckle is recommended. The material of the buckle should be sturdy to cart heavy tools.
Pockets
After quality checking and making sure that the material is stable, you should look for pockets. The more pockets, the more organized and uncluttered your tools will be. Considering all those benefits, the Gatorback tool belt may be an ideal fit for you.
So, if you're looking for an almost perfect tool belt, make sure to check the specifications above and make your work organized, clutter-free, and a bit less hectic.
---
How To Wear a Tool Belt
---
FAQs
What is a tool belt?
A tool belt is an essential item to cart your tools, keeping them organized and within your reach. Let's suppose you have to fix your air-conditioner. You may find it difficult to carry a hefty toolbox up on the ladder, which is quite dangerous in itself, or you are a professional worker, be it a carpenter or electrician who needs to carry innumerable tools supplies, that is when a tool belt comes in handy. It will not only keep your things within reach and organized but makes it convenient and safe for you to climb on and off of a ladder.
How does a tool belt work?
Tool belts are discreetly made to make your work convenient. Tool belts offer several advantages, such as capacious pockets that make carrying your hefty tools a work of breeze. Hammer loops to hold your hammers or similar tools, little pockets to keep your nuts, bolts, and sharp tools secure, uncluttered, and within reach.
Are the tool belts bad for your back?
Tool belts come in handy when it comes to organizing, carrying your tools, and keeping them within reach, but if you don't pay attention to the material your tool belt is made up of, then you may get back pain. Due to several hefty tools and your tool belt's stiff material, it weighs a lot, which might cause you muscle strain and discomfort. Therefore, it is crucial to buy a product made up of cushy material and remember only to wear a tool belt when necessary.
What are the basic tools you should carry in your tool belt?
The number of tools depends on the type of work you do, but some basic tools come in handy, and everyone must keep them in their tool belt.
– Pencils or markers
– Screwdrivers
– Adjustable Wrench
– Wrench
– Nuts and bolts
– Nails
– Pocket-knife
– Screws (large, medium, and small)
– Hammer
– Lineman's pliers
– Scissors
– Tape measure
– Bradawl 
– Drill
– Testers
What are the different types of tool belts?
Depending on the work you do, you may find a tool belt made just for you:

Waist tool belt
Waist tool belts, as the name suggests, are tool belts to be tied around your waist. Waist tool belts are one of the most common tool belts, as they offer convenience in carting your tools. Even though they're pretty common, if you wear a waist tool belt for longer, they might cause discomfort or pain around your hip bone and back.

Apron tool belt
An apron tool belt is suitable for you if you're someone who needs to carry hefty carpentry tools like a saw, ax, or mallet, etc. It is precisely designed to safeguard you against sharp and heavy tools. An apron tool belt doesn't cause any discomfort. Therefore it's perfect for those with hectic and long shifts of work.

Suspender tool belt
After the waist belt, the suspender tool belt is one of the most prevalent tool belts. Suspender tool belts offer a balance of weight between your shoulder and waist, which helps avoid muscle strain and back pain. They provide remarkable support in carrying hefty tools and bolts.

Electrician's tool belt
An electrician tool belt has capacious pockets and overall organized pockets to keep tools within reach as electricians need to work faster. One thing to keep in mind is that an electrician's tool belt must not be too heavy, as it may cause trouble in climbing poles.

Construction worker's tool belt
A tool belt for a construction worker comes with several pockets, as construction workers are required to do a lot of work on-site and therefore need a tool belt to keep tools and supplies coordinated and close by.
---
Final Thoughts
Over time I switched from one CLC Custom set to the next. Sold the first one got rid of the next one, bought another one, and then over the years this kind of happened. I wore a set from CLC Custom until the middle of 2018. And that is when I got my setup from DeWALT.
I was getting my DeWALT set up I had absolutely nothing to reference. I mean I can go off the pictures online I can go from what people say but how much do you trust what people say. Some people are biased accompanies depending on how much they've invested into their belt obviously if you put $500 into Occidental Leather you're not gonna want to walk around and tell people that CLC Custom or DeWALT is better than Occidental.
We hope you got some answers to your questions and now feel less puzzled. If you're looking for a durable and convenient tool belt, then DEWALT DG5650 and TradeGear tool belt may be the right choice for you. Tool belts, when loaded with hefty equipment, may cause pain and discomfort, so to avoid that, you should opt for a tool belt just like the Bucket Boss 50100, which has adjustable suspenders to provide you with extra convenience.
A durable leather tool belt can be pricey, but the CLC Custom I427X is a cost-effective leather tool belt with 12 pockets. A professional worker is always counted upon to carry a load of hefty tools. Therefore to keep tools and supplies organized, one needs a capacious tool belt like DeWALT DG5650, it has 31 pockets and an additional zipper pouch to keep your valuables secure. All in all, each aforementioned tool belt offers advantageous characteristics, so go for the one that fulfills your requirement better.