Last updated:
18 Sep 2023
GordonsToolsBlog is reader-supported. When you buy through our links, we may earn a commission at no cost to you.
Perhaps you recently purchased a tractor, riding lawnmower, or trailer that requires greasing. Alternatively, you may be new to the process of greasing altogether, and find the vast selection of grease guns and types of grease at the store overwhelming.
There's a lot of different grease guns it's a pistol grip grease guns, lever handle grease guns, electric grease guns, or pneumatic (air) grease guns. Which one is right for your situation? Maybe electric that looks easy or maybe a little lever handle pistol grip grease gun? So now we're going to go through all those and hopefully narrow it down to the right grease gun for the right situation.
Grease guns are incredibly useful tools to have if you own a tractor, heavy equipment, or any machinery that requires lubrication. As the name suggests, a grease gun is a tool used to apply grease or lubricant to mechanical parts. They are commonly used by mechanics, engineers, and hobbyists to provide lubrication under pressure and force it into areas with rotary bearings. Without a grease gun, applying grease in these areas would be a challenging task.
All of our picks and reviews are based on extensive market research and expert opinions. We offer honest and genuine advice to help you find the best product . We have compiled the best guns for our readers in this review and buyers guide. They're very easy to find they are at almost every gas station every hardware store.
The list includes grease guns for both easy and difficult jobs. We have tried to cover all possible aspects including size, price, grease holding capacity, and power type. Now that you know the necessary stuff, let's move on to our comparison list of the 5 best grease guns.
---
The Best Grease Gun Reviews
1. Bravex SW02 – The Top Choice for Industrial Use
Best Choice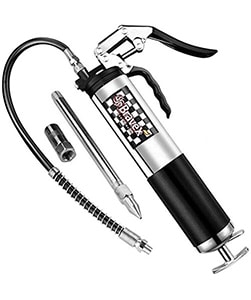 Bravex SW-02
Heavy-Duty Professional Pistol Grip Grease Gun
Bravex SW-02 is a powerful lubrication gun. Its ease of use and comfortable rubber grip makes it very convenient for professionals and beginners alike.
Check Price
The Bravex SW-02 is a handheld pistol grip grease gun that can be operated with one hand and has a capacity for larger grease canisters. It is an upgraded version of its previous models and is highly appreciated by users for its convenience and ease of use. This high-quality gun is suitable for both tough and easy lubrication jobs.
Its structure is rather simple with a non-slip rubber grip. This reduces the chances of dropping the gun and getting your hand numb. You can even hold this piston type gun with one hand due to its comfortable grip.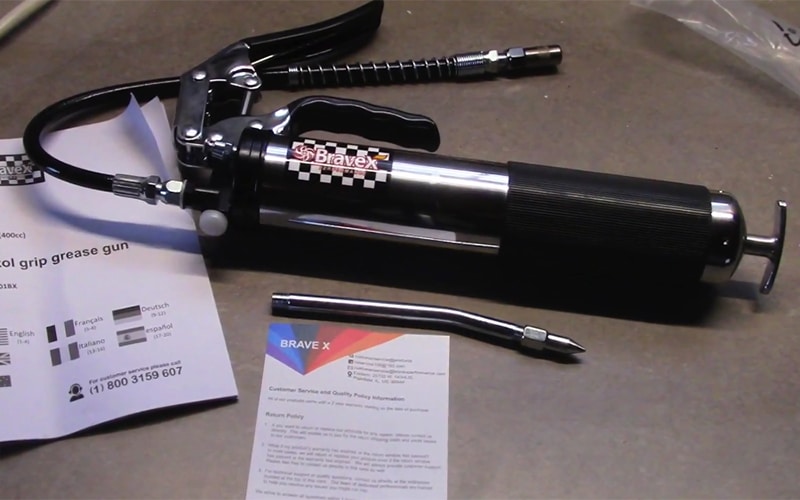 Bravex SW-02 has an o-ring sealed high-pressure piston design, which stops any lubricant from leaking from the pump head. The metallic head case is very durable and can easily survive a few falls. The air bleeder valve doesn't let air bubbles block the grease flow. The canister of the gun is built with cold drawn steel tube. The grease refill tubes can be installed in the valve with ease.
The package includes a grease gun your flexible hose, zerk fitting, hardline, and a grease tip. I would recommend adding the Lock and Lube quick coupler. Sometimes does zerk fitting gets stuck. This will help with that problem. The hose seems to fit many fittings. It also includes a 5-½-inch hard metal extension tube with a sharp nozzle. There is also a battery included.
Bravex grease gun provides you with both good performance and durability. It provides non-stop lubrication with ease. If you have never assembled a grease gun before, you may find it a bit challenging. Bravex grease gun has a pre-installed coupler, so that makes things a bit easier .
Bravex SW-02 comes with a 3-year warranty. It is very powerful and can even lubricate clogged fittings. Best results can be seen with automotive and trailer lubrication. Some may find the assembly a bit hard because grease guns have complex structures but the instruction manual will help.
Bravex SW-02 is a powerful lubrication gun and is also very durable. Its ease of use and comfortable rubber grip makes it very convenient for professionals and beginners alike. And it seems to work really well I have not had any problems with it. I have taken it off put it on several times and I do not have a problem with the threads stripping out.
Features
Max operating pressure: 6000 PSI
Hose length: 18 inches
Has a three-way grease loading system
Non-slip rubber grip
5-1/2-inch hard metal extension tube
O-ring sealed high-pressure piston design
Cold drawn steel tube canister
Weight: 3.49 pounds
Pros
The rubber grip makes it easy to hold for long lubrication jobs
Is powerful and stable
The air bleeder valve removes air pockets
Very durable
Comes with a 3-year warranty
Cons
The coupler can become problematic sometimes
Beginners may find the assembly a bit hard
2. Lincoln 1134 – Pistol Grip Grease Gun for Professional Mechanics
Also Great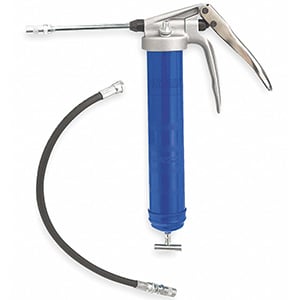 Lincoln 1134
Pistol Grip Manual Grease Gun with Rigid and Flexible Extension
Max Pressure: 7500 PSI
Type: Pistol Grip
Weight: 3.9 pounds
Check Price
Lincoln 1134 delivers where other models fail. It has the power to withstand the abuse of even the harshest lubrication environments due to its encased piston assembly and cast aluminum head. It is extremely durable as well as comfortable. Its usability design adds to its worth.
The Lincoln 1134 grease gun is a great investment with its superior build quality at a reasonable price. Although it may seem expensive initially, its features are worth the cost. The gun's cast head is made of highly durable metal that can withstand high pressure and sudden blows. It is also resistant to rust, making it suitable for storage in open spaces.
The product comprises an 18-inch hose with a coupler and 6-inch rigid extension that provides easy access to all grease fittings. The coupler functions very well and can be attached and detached from the Zerk fitting easily. Its package comes with the main parts and some replacement parts of the grease gun. Moreover, the parts are not in the assembled form and you have to assemble them on your own.
It develops the operating pressure of 7500 PSI which is slightly higher than the standard for most of the standard grease guns. The tube is quite narrow but sturdy. Although its installation is tight, it is easy to remove for cleaning.
All in all, the Lincoln 1134 pistol grip grease gun provides its users with a pleasant experience. It serves as a must-have tool for all technicians as it can work efficiently even in the toughest environments.
This type of grease gun is very easy to use especially if you have a minimal amount of greasing order. Lincoln 1134 is ideal for compact tractors lawnmowers and different things like that. You can use a locking coupler with these guns as well if you just kind of want to make it cleaner overall. But it's not as big of an advantage as it would be a lever-handle grease gun.
Features
Maximum operating pressure: 7500 PSI
The grease delivery rate: 1 ounce per 50 strokes
Hose length: 18 inches whip hose with coupler
The hose comes with a coupler and a 6-inch rigid extension
Comes with a combination filler nipple/air bleeder
Loading options: Cartridge, suction, or bulk
Weight: 3.9 pounds
Pros
Jam proof handle return mechanism
Bleeder valve/filler nipple combination
Offers three-way loading: cartridge, suction, and bulk that provides convenience
The "flip over" feature eliminates grease bypass
Rugged single-piece head casting
The extra heavy follower spring guarantees positive priming and uninterrupted pumping action.
Sturdy and durable built makes it the best grease gun
Easy to set up and use
Cons
Sometimes gets vapor-locked and could not pump
Rod is quite difficult to latch-up
Return policy and customer service are very poor
3. LockNLube 151 – Lever Grease Gun for Automotive Maintenance
Best Pressure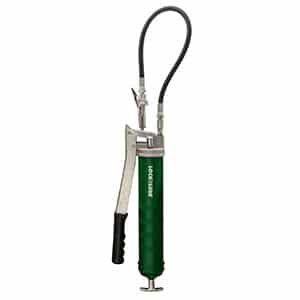 LockNLube 151
Lever Grip Grease Gun for On-the-Go Maintenance
Max Pressure: 10000 PSI
Type: Lever Grip
Weight: 3.9 pounds
Check Price
LockNLube has become a reputable brand over the last decade for producing high-quality and innovative grease guns. The LockNLube 151 is an ideal choice for professionals. This American-made grease gun enables you to lubricate without any frustration throughout the day. It has a maximum operating pressure of 10,000 PSI and, as the name suggests, it locks and doesn't leak when not in use. The handle has an integrated clip and a lock and loop system for added convenience.
This powerful grease gun comes with an in-line hose swivel and a 20 inches long whip hose. This pistol grip grease gun comes with the bestselling LockNLube grease coupler. It has an aluminum head which adds to the overall durability and lightness of the gun. The locking notch on the bottom plate makes reloading very fast and easy . It also reduces the risk of knocking the follower rod out of place. LockNLube 151 comes with a bulk-fill valve and an air bleeder valve.
LockNLube 151 can hold a maximum of 14.5 Oz of grease. The strokes per ounce rating is 28. It weighs about 3.9 pounds. It has a robust build and is very easy to use. The tip locks, so you won't have to use both of your hands. It locks tight enough so no grease leaks from around the fitting. It may leak if it's not tightened properly. Beginners may have difficulty assembling it.
LockNLube grease gun is durable, lightweight, and very easy to use. Its loop and lock mechanism makes carrying and storing it easy. Its long hose makes reaching any zerk fitting very easy. The replacement seal kit increases the life of this tool. It operates cleanly and efficiently.
Features
Max operating pressure: 10000 PSI
The grease delivery rate: 1 ounce per 28 strokes
Hose length: 20 inches
Grease holding capacity: 14.5 ounces
Comes with an in-line hose swivel
Comes with an air bleeder valve and bulk filler valve
Weight: 3.9 pounds
Pros
The loop and lock mechanism allows for secure and clean lubrication
The pistol handle is ergonomic and comfortable
The gun is light and durable
Can reach tricky fittings with in-line hose swivel
Cons
If not tightened properly, it may leak from various spots
Some users think that the locking tip is a tad bigger
4. DeWalt DCGG571M1 – The Best Cordless Grease Gun
Best Wireless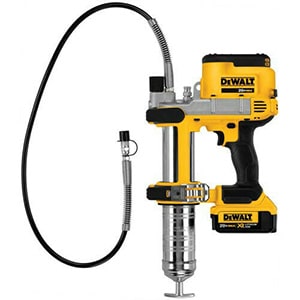 DeWalt DCGG571M1
Cordless Li-Ion Grease Gun Kit
Max Pressure: 10000 PSI
Type: Battery-Powered
Weight: 14.8 pounds
Check Price
The DeWALT DCGG571M1 cordless grease gun delivers just the right amount of grease. It uses a Li-Ion battery that lasts for up to 16 cartridges. Its maximum operating pressure is 10,000 PSI. It is suitable for jobs that require a high flow of grease. Its pump can deliver up to 5 ounces per minute.
The DeWALT 20V Max Cordless Grease Gun is a top-of-the-line product that comes with a variety of advanced features. One of its standout qualities is its precision grease application, which is made possible by the variable speed trigger. Additionally, this tool comes equipped with onboard lighting, which makes it easy to work in dark or dimly lit areas.
The flexible hose is also impressively long at 42 inches, allowing for easy access to hard-to-reach areas. The metal head casing is built to withstand harsh lubrication environments, ensuring that this 20V gun is built to last. The DeWALT grease gun comes with a kit box and includes a shoulder strap, charger, and a 20V battery, making it a complete package that is ready to use right out of the box.
It is most appropriate for use in automotive repair, heavy equipment maintenance, agriculture industry, and manufacturing, and MRO. Since it is cordless, you can easily operate it with one hand. It is user friendly and suitable for beginners. Its pump comes with a filter that keeps contaminants away from the pump.
DeWalt DCGG571M1 has a no-mar foot design so the user can rest it on any flat surface once they are done with the lubrication. The air bleeder valve removes air while the cartridge is changed. DeWalt DCGG571M1 cordless gun is rechargeable and lasts long in hard lubrication jobs. The LED lights allow you to work in poorly lit workspaces. It is durable and very powerful.
Features
Max operating pressure: 10000 PSI
The pump can push 5 Oz grease per minute
Comes with a 20V battery
The hose length: 42 inches
The pump has a filter screen for keeping dirt away
On-board LED lighting
Has variable speed triggers
Has an air bleeder valve
Weight: 14.8 pounds
Pros
Is user-friendly
The rubber grip makes holding it easy and comfortable
Has a 3-year warranty
Allows reaching hard fittings
Smart no-mar foot design allows resting it on flat surfaces
Cons
Some complain that the factory-installed coupler is hard to remove in case you want to put your own
May leak from some places if not tightened properly
5. Astro Pneumatic Tool 101 – Mini Grease Gun With Needle Nozzle
Best Mini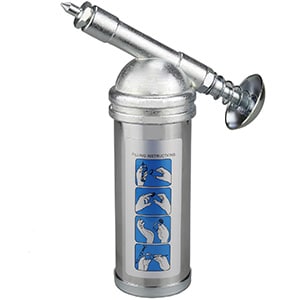 Astro Pneumatic Tool 101
The Perfect Solution for Tight Spaces
Type: Hand Pump
Weight: 9.6 ounces
Check Price
The Astro Pneumatic Tool 101 mini lubrication gun can even be used for greasing heavy equipment. It weighs only 9.6 ounces, which is very light. You can use this gun for lubrication in narrow spaces without hurting your wrists.
Since it has a traditional design and works by creating a vacuum in the tube to pull the grease, it doesn't require batteries or an adapter; this will save you from the extra cost. Astro Pneumatic grease gun needs to be filled manually, which is not hard to do at all. It can handle about 3 ounces of lubricant.
Astro Pneumatic Tool is very portable and can even fit in a toolbox but, if you want to use it for lubrication jobs that require more grease, then you might have to refill it multiple times. Astro Pneumatic grease gun performs efficiently with an uninterrupted flow. It is lightweight and very reliable. It is simple to use and doesn't need any assembly at all. Astro Pneumatic is a very useful tool to have around your house or workplace.
Features
Has a needle nozzle
Holds 3 ounces of lubricant
Solid metal construction
Warranty: 1-year
Weight: 9.6 ounces
Pros
Very simple and easy to use
Is very lightweight
Sturdy construction
Can be used with one hand
Can lubricate many kinds of grease fittings
Cons
Clean up may take more time if an oil change is required
Holds a small amount of lubricant
---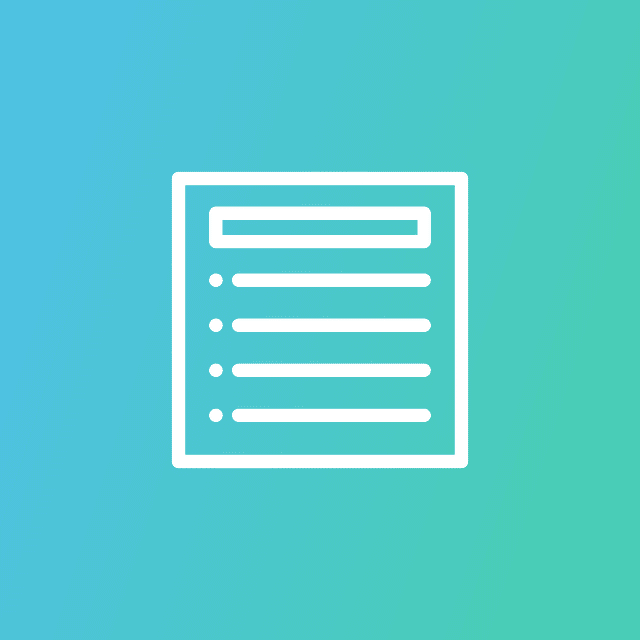 Grease Guns 101: Learning the Basics, Types of Grease Guns
Grease guns come in a range of sizes, formats, and configurations, and can be found in various types on the market. Some common types of grease guns include:
Lever Grease Gun
They are also known as manual grease guns. The lever handle gun is probably the most common design and the most popular style grease gun 10-20 or more years ago. These guns use a simple trigger mechanism to operate. The user can control the flow rate of the lubricant by managing his/her physical squeezing force.
They are rather simple and don't have to be connected to any external device. The problem is you need three hands to use this if you don't have a rigid tube. And with a rigid tube, you can't always get in where you need to get to greases fitting.
If you got a locking coupler it makes the lever handle grease gun pretty ideal. You can reach up to different zerk fittings that might normally be out of reach of a rigid tube.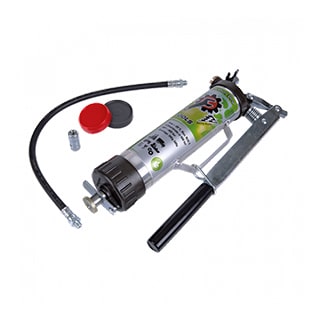 Hand Pump Grease Guns
These grease guns have a pressurized hand pump or piston. This hand pump is primed before use to build up pressure. There is a trigger mechanism in place which then releases the pressure and forces the lubricant to flow out through the fitting. This is why they are even marketed as pistol grip grease guns.
Pneumatic Grease Guns
These guns find greater use in commercial and industrial applications. These air-powered models use an external air compressor to force the lubricant out; that pressure is provided to the tool in a mechanized way, which is why they are also called automatic models. These models are quicker and easy to use as compared to the above two.
Battery Powered Grease Guns
The basic lubricant oozing mechanism of these types of guns is the same as the above-mentioned guns. The only difference is that they come with batteries that provide power to the gun to build up the required pressure for forcing out the lubricant. That's a great option if you don't mind spending a little extra money and you have a lot of greases to do or if you just want something easy and clean to grease with.
---
How to Choose the Best Grease Gun
When it comes to purchasing the best grease gun on the market, it's important to consider the key features that set it apart from other models. To select the ideal device for your needs, keep the following factors in mind:
Durability
You must consider the durability of the device. If it cannot stand the rigor of the job, then you should probably look elsewhere. Avoid a plastic build. Plastic grease guns will not be able to handle falls. A grease gun should be able to handle scratches and bumps.
Ease of Use
These devices must be user-friendly, especially if you have never used one before. Avoid grease guns with difficult assembly. The gun should be simple to use. A gun with multiple features may sound tempting but that will make it complicated to use. Ease of use saves time and unnecessary frustration.
Amount of Lubricant
Determine the amount of lubricant you usually need to use for your lubrication jobs. Do you need the grease gun for your DYI projects or is it for your automotive repair shop? Defining the purpose of the grease gun will let you know whether you need a high-end, high-volume gun or just a portable small gun such as an Astro Pneumatic grease gun.
Max Pressure and Strokes per Ounce
Manufacturers often mention the features of the gun in the product description – they vary from gun to gun. A more powerful and expensive grease gun will have more PSI rating and strokes per ounce. If you don't understand these things and buy a gun that is not suitable for the job, then you might end up under or over lubricating your machine.
Points to Be Lubricated
Identify the unusual areas that you need to grease. Some areas are much easier to reach with a certain type of grease gun. By identifying the lubrication points, you'll also find out what type of gun you need. You may need a rigid or flexible extension depending upon your purpose.
Fittings and Attachments
The type of grease gun you need can also vary with the type of fitting you may use. Different guns work best with some fittings. Some fittings have a ball check at the head, which prevents dirt from reaching the bearing.
Loading Manner
While reviewing the device you want to buy, also check its loading manner. Different guns use different manners of grease loading. It may be by bulk, suction fill, or cartridge. Choose whatever you find the most convenient and easy.
Final Thoughts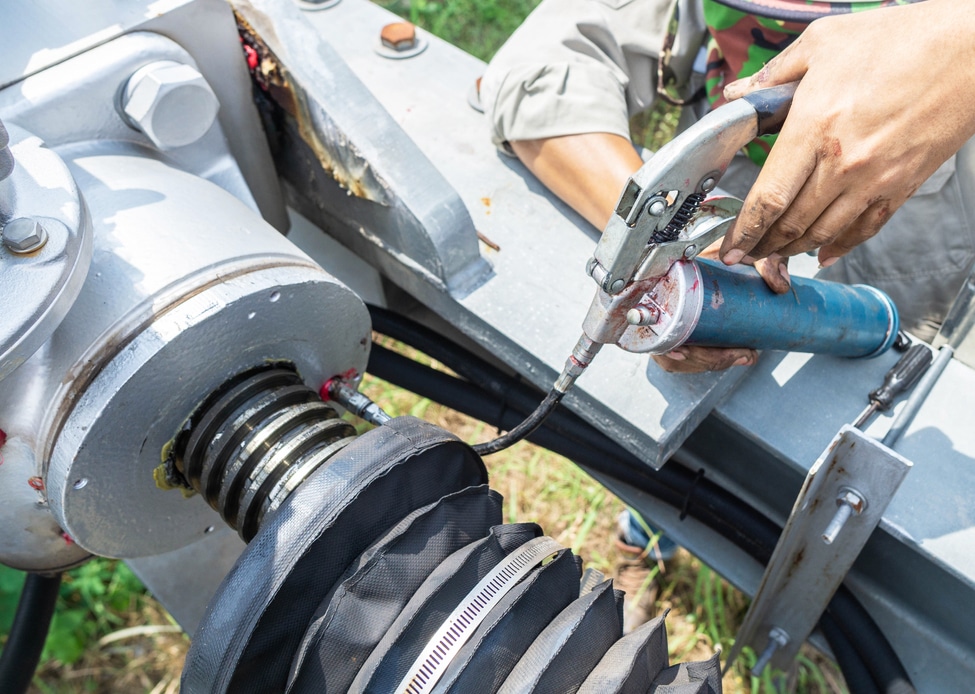 The Bravex SW-02 is widely considered to be the top heavy-duty pistol grip grease gun on the market. Many customers rave about its outstanding performance and exceptional features, such as the jam-proof handle return and versatile three-way cartridge loading. If you're looking for a best high-quality grease gun that won't disappoint, the Bravex SW-02 is definitely worth considering.
On the other hand, some customers are also complaining about the poor performance, but it may be due to the improper setup. Users should be very careful while setting it up so that they can get the maximum performance. All in all, this tool is worth your consideration, and you should go for it if you want to do some quality work.
Grease guns are very useful tools if you work with machinery a lot. They also come in handy in your daily life sometimes. There are various types of lubricant guns and we have enlisted the 5 best powerful and small grease guns in this review. Some are more portable, while others hold high grease volume and are large. We would recommend only selecting a gun that fits your needs. If you have any questions please let us know.
---
Troubleshooting: Removing Air Pockets
Sometimes when you're using the pistol grip if this doesn't bleed out the air. You can loosen the barrel. Give it a few pumps and it should prime taking their backup and once she has primed you're good to go stand. It's time you change your tube grease. It should not give you any more problems.
---
Video Tutorial: How To Set Up Your Grip Grease Gun
---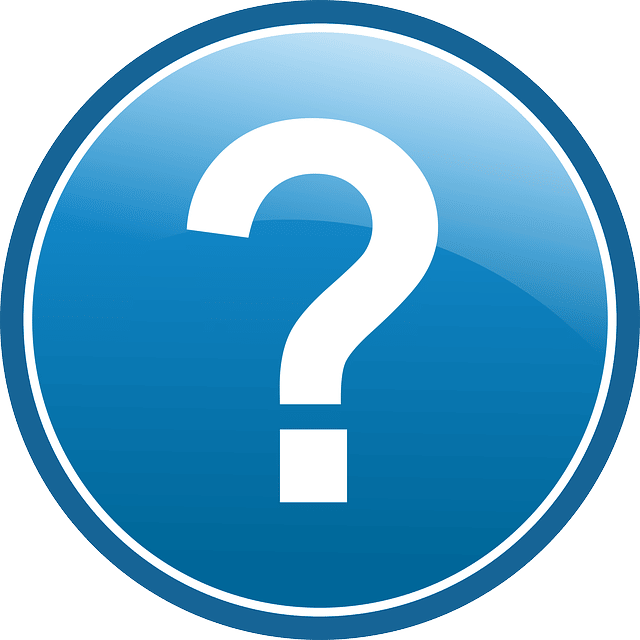 FAQs
How do grease guns work?
A grease gun is called a gun because of its shape and basic mechanism. Manual grease guns force the lubricant out of the gun. Triggers can also force the grease from the barrel to the hose. The barrel is the area where the grease is stored. This oil is initially supplied to the barrel from the cartridge.
Some grease guns have paths for the grease to travel to a fixed or flexible tube. Guns have a part called the filler nipple; this is where the fluid is instilled from the pump. When the grease enters the head of the pump, the air escapes it. Springs provide pressure for the plunger. The follower rod helps the plunger as it puts the necessary pressure on the tube.
How do I change the grease gun cartridge?
Twist the body of your grease gun to separate the head of the cartridge and gun. Remove the head. Remove the string in the back of the grease gun, this will help in popping out the cartridge. Use paper to remove the cartridge.
What are grease guns used for?
Grease guns lubricate the joints and bearings of your machine; this reduces friction and increases the life of the machine. Greasing is important for the proper maintenance of mechanical equipment. Grease guns provide an exact and efficient application of the lubricant fluid. Grease guns have a variety of applications in various industries and DIY settings, but the following are its more common uses:
Agricultural vehicles and machines
Automobile maintenance
Factory, plant, and processing systems
Lawnmowers and chainsaw etc.
How do I store grease guns?
Store the cartridge tubes upright. Depressurize the gun if you are leaving the cartridges in it. Wipe it clean and place it horizontally in a cool and dry place; this will prevent leaking.
What are the signs of under-greasing?
If you under-grease your machinery, the bearings will starve; this will lead to wearing and contamination.
There are a few signs that you may be under-greasing a mechanical system:
If you do not see any grease on the surface of the mechanical system or the grease fittings, this is a sign that you may be under-greasing.
If you notice that the mechanical system is experiencing excessive wear, such as if parts are wearing out faster than usual, this could be a sign that there is not enough grease in the system.
What are the signs of over-greasing?
If you apply too much grease, then you may notice ruined seals, high heat production, increased use of energy, and high oxidation of grease.
By being aware of these signs, you can help to prevent over-greasing and ensure that the mechanical system is properly lubricated:
If you can see excess grease on the surface of the mechanical system or the grease fittings, this is a sign that you may be over-greasing.
If the grease is being thrown off the mechanical system or is coming out of the grease fittings in a spray, this is another sign that you may be over-greasing.
If the mechanical system is making unusual noises or is vibrating more than usual, this could be a sign that there is too much grease in the system.
---
You May Also Like:
Things You Need To Know When You're Selecting a Grease
Best Grease to Lubricate Your Vehicles and Machinery
Reference: