Last updated:
4 May 2023
GordonsToolsBlog is reader-supported. When you buy through our links, we may earn a commission at no cost to you.
When working on plumbing projects, especially with PEX pipes, it's crucial to prioritize neatness and ensure that there are no leaks. Even a small leak can result in significant water loss and damage to surrounding materials.
This can have a devastating impact on the structure and foundation of your home. Water damage is a serious issue that can cause significant harm to any constructed material, so it's important to take the necessary precautions to prevent leaks and ensure that all plumbing work is done correctly.
When it comes to creating tight seals in PEX pipes, a PEX crimp tool is the best tool for the job. It is both easy to use and produces quick results. Using a PEX crimp tool is the most convenient and efficient way to ensure tight seals and prevent leaks in PEX pipes.
Pex is a unique type of tubing it tends to resist freeze breakage just because it is plastic and can expand a little bit. As far as installation speed it's very fast very durable and it's pretty simple. If you've never done this before, I recommend giving this awesome stuff a try.
I've done a lot of this and what's nice about this is even if the water is on as long as the pressure is off on the other side the water is going through you can repair it right while it's so on. All you gonna need is some crimping rings, some couplings, a cutter, and a PEX crimping tool.
Using a PEX crimp tool is a quick and easy way to install and repair pipes. Once you cut the necessary length of the PEX pipe, you simply attach couplings and crimp it using the tool. The tool seals the entire body of the crimp band, not just the tab, ensuring a tight and leak-free seal. This is the biggest advantage of using a PEX crimp tool in a PEX plumbing system.
Finding the best PEX crimp tool is difficult. People usually waste a lot of money buying many PEX crimping tools to find the one that works best for them and is suitable for their home or workplace setup. We formulated the following list to let you know that you don't have to waste one more penny on tools that aren't worth the money. We will show you which tools are best to buy when you're searching for PEX crimp tools.
See all the PEX crimpers that are worth your money and which can provide you the best quality service when you need it, wherever you need it. We will also reveal the top pick along with the reason that made it earn that tag. So, let's get to reading all about PEX pipe crimp tools so you will have a better understanding and a greater overview when you're out there searching for the ideal tools!
---
The Best PEX Crimp Tool Reviews
1. IWISS FA1807 – PEX Crimp Tool for ASTM F1807 Standards
Best Choice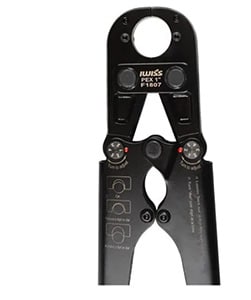 IWISS FA1807
The Top PEX Crimp Tool for Professional Plumbers
It is an all-in-one tool kit for plumbing renovations at your house. Be comfortable while installing pipes in confined spaces.
Check Price
If you're looking for a versatile all-in-one PEX crimp tool that meets USA guidelines, the IWISS FA1807 is a standout option.
This crimp tool can help you in with plumbing renovation at your house. It undoubtedly makes tasks easier, as well. Moreover, it comes with a case and is easy to carry. You can also expect this product to serve you for a long time.
The combination of an built-in crimper with three interchangeable jaws provides plumbing installation with different sizes. All jaws are well polished, which provides durability and security during operations. It is small, but the box contains all the tools you need to assist your plumbing needs.
When you purchase the IWISS FA1807 PEX crimp tool, you also get a bonus PEX pipe cutter and removal tool. I recently used this product for a client's bathroom project and found it to be user-friendly and effective. I pressurized the lines and did not experience any leaks, which is a testament to the quality of this tool. Additionally, IWISS products are reasonably priced, making them a great option for anyone doing plumbing work.
Features
Built-in one-inch crimper with three interchangeable jaws for regular size plumbing installation
Crimp ring removal tool to remove ½ inch and 1-inch copper ring
Dimensions: 19.13 x 8.66 x 2.6 inches
Weight: 5.7 pounds
Standard: ASTM F1807
Size: 1″, 3/8″,1/2″, 3/4″
Material: High-quality carbon steel
Pros
All jaws are polished to provide reliable compression without damaging the fittings
Secure to operate due to well-polished tools
Durable with a life of ten years if used properly
Four sizes available in one set at a low price
Built as per ASTM F1807 standards
Easy to carry
Cons
Might not work efficiently with smaller tools
2. SharkBite 23251 – PEX Crimp Tool for ASTM F1807
Also Great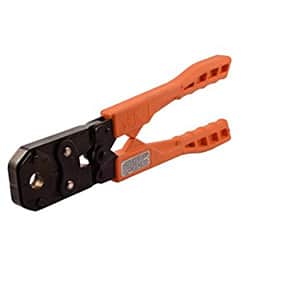 SharkBite 23251
PEX Crimp Tool for Easy and Quick Crimping
Standard: ASTM F1807
Size: 1/2, 3/4
Material: Durable steel
Check Price
The Sharkbite 23251 PEX crimp tool is manufactured according to US standards and comes in two sizes, with one tool and no interchangeable dies required. This lightweight tool is easy to carry and use.
This PEX crimp tool is a preferable choice for plumbing projects at home with PEX and copper pipes, and you will undoubtedly find it to be useful . It is healthy and safe since it does not require any glue, solvents, and solder. Thus, it keeps the dangerous chemicals outside of the plumbing system and ensures a risk-free working experience.
It also prevents fire hazards as it does not need any fire or flame to work with. The particles of copper do not enter the water stream and provide healthy water without copper contamination. It is versatile, and you can use it for both wet and dry systems. People often use it for its benefits, even besides the crimping tools.
Features
Go/no-go gauge
Includes unique push-to-connect technology
Performance certificate of 200 PSI and 200-degree Fahrenheit
Dimensions: 16.75 x 5 x 1.5 inches
Weight: 3.15 pounds
Standard: ASTM F1807
Size: 1/2″, 3/4″
Material: Durable steel
Pros
Protects from fire hazards because it eliminates the need for an open flame to operate
Works equally for PEX pipes in both wet and dry connections
No risk of copper traces in the water
Flexible, reliable, and easy to install
Cost-effective with a variety of tools
Push-to-connect technology makes the process quick and easy
Cons
Unable to work for high compression loads
No interchangeable dies
3. IWISS KG1096 – PEX Clamp Cinch Tool
Best Price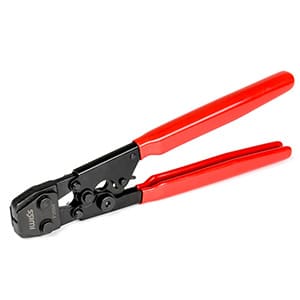 IWISS KG1096
PEX Crimp Tool for a Leak-Free Installation
Standard: ASTM F2098
Size: 1, 3/8, 1/2, 5/8, 3/4
Material: Metal
Check Price
IWISS KG1096 is an efficient clamp and cinch tool which works for multiple purposes. It is a universal tool for motorcycles, yachts, and fuel lines and gives durable and professional PEX clamping operations. Additionally, it provides high precision in operation because the internal teeth are processed with wire EDM cutting.
The accuracy and precision of this tool make it highly valuable and one of the best options on the market. It can be used with ASTM F2098 stainless steel clamps of any brand, and it works with clamps that are 3/8, 1/2, 5/8, 3/4, and 1 inch in size. Its rubber-coated handle makes it comfortable to use.
While working with IWISS KG1096, the clamp should be of the material and dimensions as prescribed. The surface should be free from any dust and particles for effective operations. If you need a professional clamp tool, then IWISS KG1096 might be an option you want to consider.
Features
Factory adjusted calibration
Rubber-coated handle
Dimensions: 12.56 x 9.72 x 1.22 inches
Weight: 1.5 pounds
Standard: ASTM F2098
Size: 1″, 3/8″, 1/2″, 5/8″, 3/4″
Material: High-quality steel
Pros
Durable due to integrated mechanical property of steel, also rust protected
Long service life
High precision level with reliable cinch results
Comfortable usage due to the rubber-coated handle
Ratchet safety-function gives fast installation
Cons
Spring can break
Costlier compared to other tools
4. IWISS 1234W – Angle Head PEX Crimp Tool
Best Set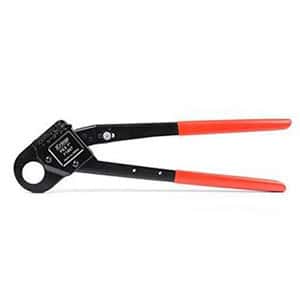 IWISS 1234W
Angle Head PEX Pipe Crimping Tool for Copper Rings
Standard: ASTM F1807
Size: 1/2, 3/4, 1/2, 3/4
Material: High carbon steel
Check Price
IWISS 1234W has a design with an angled type head and foldable handles. These are a great solution to solve your plumbing renovation issues when there is a pipe installation problem for confined or hard-to-reach places. The angle-type head design helps to give access to the pipes in narrow or cramped spaces.
The crimp tool's jaws are pre-set and have a notch for future calibration if needed, even after prolonged use. This means that if the tool loses its tension, it can be easily adjusted to its original state, ensuring it continues to work effectively.
The plumbing tool has a scientific locator that gives precision to fix the metallic crimp with high accuracy. It is an effective pipe fitting tool, which works on drinking water systems, heating systems, and sewerage pipe systems.
Features
Angle-type head design
Foldable handles
Well polished jaws
Dimensions: 15.35 x 4.33 x 1.42 inches
Weight: 2.65 pounds
Standard: ASTM F1807
Size: 1/2″, 3/4″, 1/2″, 3/4″
Material: High carbon steel
Pros
Pipe installation in confined places is easy due to the angled head
You can save labor by utilizing the foldable handles for easy crimping
Reliable and damage-free pipe connections due to polished jaws
Scientific locator on crimper prevents damage to the copper rings
Factory adjusted crimper that supports calibration after long usage
Its build ensures that it is easy to use
Cons
Requires high force to close handles for crimp fitting
Straight handles are more useful in some cases
---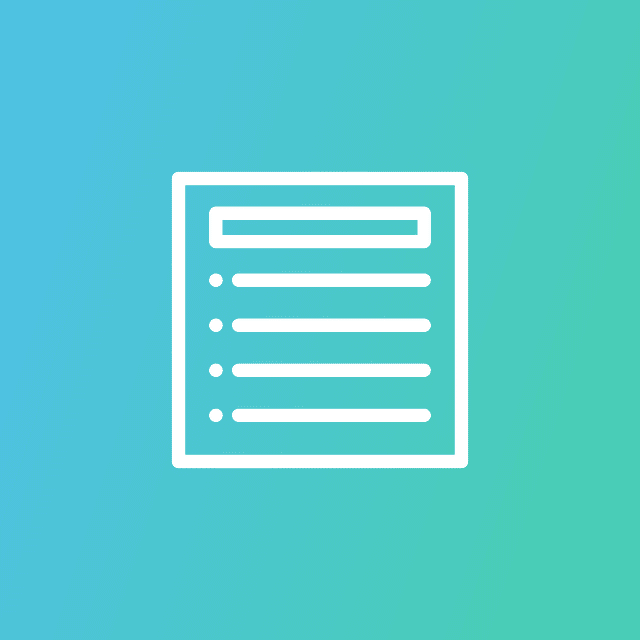 PEX Crimping Tools 101: How to Choose the Best PEX Crimping Tool for a Successful Plumbing Project
It's important to note that different types of sealing jobs may require different types of PEX crimpers. The list above includes PEX cinch tools, which are versatile and suitable for various purposes. However, it's important to remember that different plumbing systems and requirements may necessitate different models and styles of PEX crimpers.
One such tool is the PEX crimper. Various sizes, shapes, angles, and lengths of the PEX crimping tool are available. Each difference in its size, length, and design causes a difference in performance. The small PEX crimp tools have their own function, and the larger size has its own usage.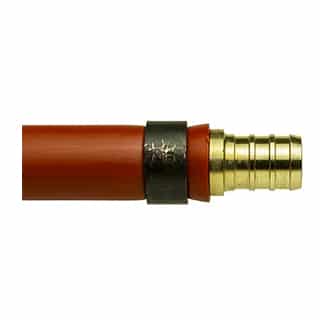 Similarly, different designs have different functionalities. These small variations can have a bigger impact and may facilitate the job you want to perform. The following list will let you know about the different things you can check out before making a selection for your preferred PEX crimping tool.
First of all, you need to understand what work you need to do. Then, you should know which PEX pipe size you are working with. Do you need it for plumbing work at home or commercial use?
Tool Length
The length of the PEX crimp tool is crucial for its effective use, regardless of its type. Different tasks require different lengths of PEX crimp tools. The size of the PEX tool is available in various lengths to cater to the crimping needs of different pipe sizes.
You have to decide whether you will use the PEX cinch tool in a household setup or a commercial setup. You must know if you need a tool that can reach distant places or simply a tool that will reach pipes that are closer. The PEX tool and its variations in handle length will surely do the job for you. It is available in both long handle varieties and shorter ones to facilitate any job requirement.
Clasp Sizes
Various plumbing works and PEX pipes need different clasp sizes. Luckily, PEX crimping tools are available with varying sizes of clasps. The clasps allow you to secure the tool around the pipe. The right clasp will allow for a better crimp job – the better the fit, the tighter the seal.
Normally, PEX crimping tool clasps are between the sizes of 1/4 inch to 1 inch to cover most pipes with varying diameters. This range will also help you best select the tool you most need. You have to see where you need the PEX crimps for.
If you need it for home purposes, you will need a specific size. Similarly, suppose you need it for commercial work. In that case, you need a wider variety of clasp sizes to ensure that the PEX crimp tool can fit into PEX pipes of all sizes.
All in all, there is a wide variety for you to choose from that will get the job done without a hassle.
Calibration
Over time, PEX crimpers may become stretched out or lose their original shape and size, which can affect their ability to create a tight seal. To ensure that your PEX crimp tool continues to work effectively, it's important to choose a tool that can be calibrated and adjusted as needed. There are several different tools available specifically for calibrating PEX crimpers, which can help you keep your tools in good working order for years to come.
Some PEX crimp tools already come with a calibration tool in the package of PEX crimp tools. Meanwhile, for others, you need to buy a separate calibration tool according to your PEX crimp tool and its specific requirements, if there are any. There is no use of a PEX crimp tool if it isn't calibrated.
So, making sure that you have a calibrated device can be as important as the selection of the device itself. A calibrated PEX crimp tool ensures that the seals will be leak-free and tight.
Gauges
This is a very special feature that is only available on select PEX tools. The feature lets you know whether a particular PEX tool will work on the size/diameter of the pipe you are working with or not. It will help save your time and money on buying tools that won't help you. Rather, you will make sure you get the exact tool you're looking for.
This feature does bring ease to the customer; however, it is only available on a few select PEX crimping tools. Investing in one won't do you any wrong! Such a tool would help you out in the long run, and it will also last for a long time.
Ease of Use
Plumbing is already a complex, intricate job. You should bring ease to yourself by selecting tools that will help you out rather than making you struggle even more. As PEX crimping tools are available in different sizes and models, you have a variety to choose from. Select what you think will work the best for you or for the tasks you regularly perform. But always ensure that they are easy to use.
A simple tool is easily able to do the job for you. There is no need for very fancy or convoluted assemblies if a simpler model can do your work. However, depending on your task, you might need certain tools that deviate from this thinking. But it's better to see the simplest options first before moving onto bulkier or complex tools.
Final Thoughts
After a long discussion about which PEX crimp tools give the most value for money as well as what are the features to consider while buying a PEX crimp tool, we have come to a conclusion.
The IWISS FA1807 is considered the top tool on the list for several reasons. It is versatile, durable, efficient, and easy to use, making it a great all-around plumbing tool suitable for various tasks.
Three interchangeable jaws/clasps have made this possible. It also has a crimp ring removal tool that can remove variable-sized copper rings: ½ inch and 1-inch copper rings. It is also very stylish and attractive-looking as it comes in a combination of two colors, blue and black. The construction material is also of very high quality. It is durable, high-quality carbon steel.
You can go through the list and choose the ideal option according to your needs and requirements. Be sure to read through our buying guide, which should help you narrow down the choices further according to the features you need in your crimp tool.
As an AI language model, I am not able to make a personal decision. However, I hope the information provided in this article has helped you in making an informed decision about which PEX crimp tool is best suited for your plumbing work. If you have any further questions or need more information, feel free to ask.
---
Video Tutorial: How To Calibrate Your Ratchet Clamp Tool
After being used a couple of times your ratchet clamps will probably start to lose their calibration and the jaw and the gap between the jaws will start to grow. The perfect gap length between your jaw gap should be about 1.3 millimeters. Every ratchet clamp tool comes with a gauge to let you know how close the gap in between the jaws is. See the video for full information.
Video Tutorial: How To Use Pex Crimping Tool
---
Pipe Volume Calculator
Pipe Volume Calculator

Inch Calculator
---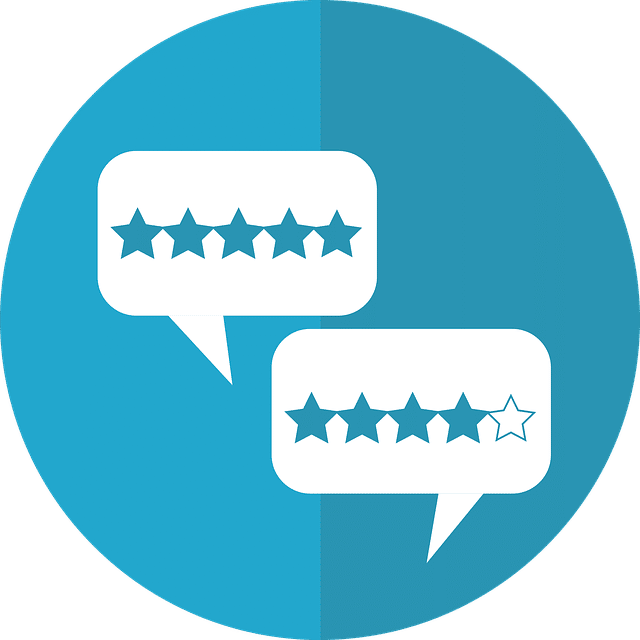 Customer Reviews
Peter: IWISS FA1807 PEX crimp tool liked their versatility. Very comfortable in the hand, a large lever for power work, firmly holds the part. The crimper is made of High carbon steel, very durable. The positive qualities of this tool are many, so it is always in my toolbox. This crimper is great for the home handyman as well as professional use.
Michael: Great set of clamps SharkBite 23251. Been using it for three years now. I think every plumber should have a tool like this.
John: I'm a plumber and I use the IWISS FA1807 crimp tool every day on my job. They break once every two or three years and I buy new ones. In-home use, these crimpers will last much longer.
Mike: PEX crimper IWISS KG1096 for both home and professional use. I have been using them for two years and they are as good as new!
George: Great and reliable crimp tool – IWISS 1234W. I've been using them for a year now, almost every day. I recommend it.
---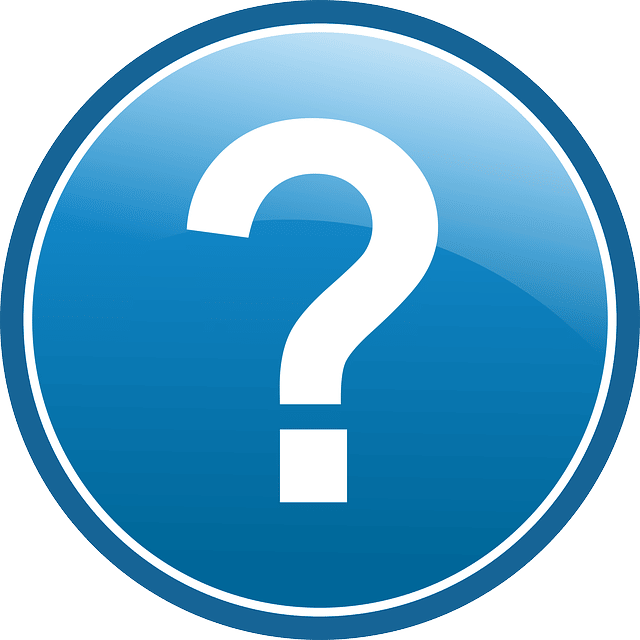 FAQs
Can I crimp PEX pipes with pliers?
You can use any crimping tool that is suitable for the job. PEX pipes require specific tools, and a PEX crimping tool would come in handy for you to achieve the desired result. The aim is to make sure that the seals are tight and leak-free while also ensuring ease of use. These tools are specially designed to securely attach the fittings to the pipe, creating a strong and leak-free connection.
How do you adjust a PEX crimping tool?
When you use a PEX tool for a long time, it can get stretched out or lose tension and won't fit well onto the pipes anymore. This causes issues with the crimping process. You can easily recorrect the tool by calibrating it or using other adjustment methods and gauges that will help restore your tool's function.
Gauges will help you avoid using the tool on pipes that are not of the suitable diameter or out of the capacity of your tool. The calibrating tool may come in the package with the PEX crimp tool, or sometimes, you might need to buy it separately. But whatever the case may be, calibration is simple and straightforward using this calibration tool. It ensures an easy fix for your crimping tool.
Where is PEX not allowed?
You shouldn't use PEX in residentials, where hot water comes out of the water heater. That is what I've been told by people who claim to know about PEX plumbing systems. They say you should lay down a minimum of three feet of copper first and then switch to PEX there or later. It seems they are concerned about the connection with the water heater, leaving PEX permanently heated by its contact with the water heater.
Suppose 140-degree hot water was too hot for PEX to handle safely in the long term. In that case, after it cools off for three feet, its temperature still won't drop by much, making it hot and a hazard regardless.
PEX is not allowed or used in commercial, residential, or industrial buildings where there is a risk for fire. Other issues that you might encounter might be related to architecture preferences as well as areas and codes. Normally, people will lay down copper pipes first before continuing with PEX to avoid troubles with fires. Simply, PEX is not able to handle the heat in the long term, and it retains this heat for long periods as well.
Why do PEX fittings fail?
PEX fittings can fail for a variety of reasons, including:
PEX fittings must be installed correctly to ensure a secure and reliable connection.
PEX fittings may be exposed to corrosive materials, such as chlorine or other chemicals, which can cause them to fail or leak.
Some PEX fittings may be made of inferior materials or may not be manufactured to the necessary quality standards.
Can PEX be used for air?
Yes and No. PEX is not used for air distribution systems, it is possible to use it in certain applications such as compressed air systems with low pressure. PEX tubing does not have the same pressure ratings as traditional metal pipe and fittings for air systems and would need to be properly rated for the specific application.
Does PEX handle high pressure?
The pressure rating of PEX can vary depending on the source and the specific type of PEX pipe. It is important to consult the manufacturer's specifications or guidelines for the specific pipe to determine the safe pressure range. PEX with a high-pressure rating and can handle up to 160-180 psi (pounds per square inch).
What temperature does PEX burst?
PEX can withstand temperatures up to 180-200 degrees Fahrenheit. The material will start to melt if temperatures get any higher. The temperature at which PEX will burst can vary depending on the manufacturer and the specific type of PEX pipe. It's important to consult the manufacturer's specifications or guidelines for the specific pipe to determine the safe temperature range.
---
Just Read: Benefits and Disadvantages of PEX Plumbing. PEX vs Copper vs CPVC
Reference: