Last updated:
18 Sep 2023
GordonsToolsBlog is reader-supported. When you buy through our links, we may earn a commission at no cost to you.
A laser distance measurer is a useful tool for a variety of tasks. You don't need to be a painter to benefit from it; carpenters, drywall installers, and anyone who needs precise measurements can use it. Compared to traditional tools like tape measures and squares, laser distance measurers offer greater accuracy and efficiency.
Laser measuring devices are known for their accuracy and precision, which is why they have replaced conventional tools. Traditional measuring tools are susceptible to human error, but with laser measuring devices, you can avoid such errors.
Laser measuring tools have revolutionized the world of measures. Such a tool is the single solution to all measuring problems. Not only does it measure with great accuracy but also keeps track of all your measurements . It can also employ various measurement methods and is highly versatile. This means that no matter what you wish to build, your dimensions will never go wrong.
Another attractive feature is the ease of operation. There is no hassling around with tape or fumbling with complicated measures. All you need to do is to place the device correctly and then press the button to measure, it's that simple! The results are unsurpassable and have consistently excelled those obtained conventionally.
It can get problematic at times to pick a decent tool from such a vast repository. Stores and online shopping spots are filled with models, each better than the other in a certain way. To help you solve this problem, we have gathered our buyer's guide and top 5 picks for the best laser measuring tools out there. Hang tight and let's explore the top models available in 2023.
---
The Best Laser Distance Measurer Reviews
1. Leica DISTO D1 – Bluetooth Enabled Laser Distance Measurer
Best Choice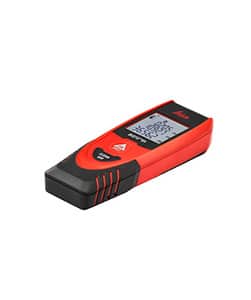 Leica DISTO D1
Laser Measuring Tool That Money Can Buy
An unparalleled DIY model accentuated by an exclusive designer app, perfect for renovating your house. This is the best option for those who are willing to invest a sum for quality, accuracy, durability, and functionality.
Check Price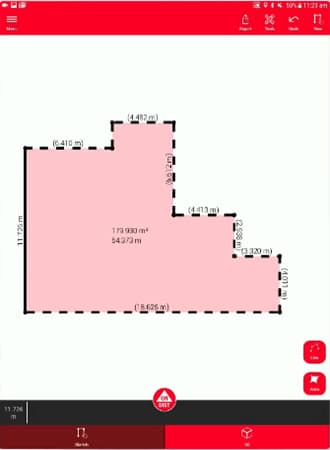 The Leica DISTO D1 is a reliable and straightforward laser measuring tool that doesn't compromise on precision. It can measure up to 120 feet, making it a popular choice among both DIYers and professionals. Its two-button design is easy to use, yet provides accurate measurements. It's especially useful when measuring distances on walls – simply press a button, and you'll get an instant measurement.
Leica D1 comes with a class II laser and has a minuscule output of 1mW. It is highly accurate, being able to measure even the smallest gaps (1/16 inches) with extreme accuracy. DISTO D1 also comes with Bluetooth connectivity which allows you to use the tool on the go. This also allows users to integrate their readings and data with the Leica Disto sketch app. This app allows you to design floors and graphically use your readings.
The app is available on both iOS and Android, meaning that the tool's functionality can be extended to these devices. It is a decent, portable option, with one slight drawback: it can only measure distances up to 120 feet which are less than competing models. Overall, this is an excellent DIY option with many solid features in its arsenals. One can easily overlook the distance limit when one considers the excellence of the Disto app. I would recommend it. I'd say spend the money go and get one.
Features
Accuracy Line: 1/16 inches
Range (up to): 120 feet
Power: Battery-powered, non-rechargeable; 1mW
Outdoor Use: Yes
Bluetooth: Yes
Outdoor Use: Yes
Camera: No
Pros
Compact and portable model
The Disto app allows you to put the app's readings to practical use
Highly accurate, can measure distances as short as 1/16 inches
Leica DISTO D1 is a simple, yet professional-grade model, although suited better for DIY purposes
Cons
The distance range is lower than competitors, capping at 120 feet
The model lacks detailed professional features
2. Bosch Blaze Pro GLM165-40 – Laser Distance Measurer for Precise Measurement
Also Great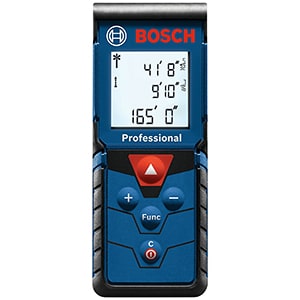 Bosch Blaze Pro GLM165-40
Laser Distance Measure with Color Backlit Display
Range (up to): 165 ft
Bluetooth: No
Power: 2 AAA batteries
Check Price
I found another tool that I think you should check out. It's the Bosch Blaze Pro GLM165-40, a highly accurate and reliable laser measuring tool. It has an impressive range of up to 165 feet and can measure even the smallest gaps as short as 1/16 of an inch. This model is user-friendly and only requires the push of a button to get precise measurements.
Blaze Pro GLM165-40 is ideal for outdoor use. It is backlit, meaning that the screen can be read with eases even in darkness. It is also compact sized, you can carry it around in your pocket with ease. Its readings are extremely accurate and they are adjusted as you move your position. This feature is called liver measuring, which means that when you take a reading and then move towards or away from the point measured, the reading will update.
Measuring the area of a space can be made simple with the auto square function of laser measuring tools. With just a press of a button, you can get an accurate square footage of the area. Additionally, tools like the Bosch Blaze Pro GLM165-40 are highly durable and consume very little power, resulting in a long battery life. This model also includes a hand strap, target cards, AA batteries, and a pouch for convenient storage and transportation.
Features
Accuracy Line: 1/16 inches
Range (up to): 165 feet
Power: Battery powered, non-rechargeable; 1mW power
Outdoor Use: Yes
Bluetooth: No
Camera: No
Pros
Highly accurate model
Portable, fits perfectly in the pocket and comes with both a pouch and a hand strap
The backlit screen makes reading easy
Offers live measurements
Helpful auto-square function
Cons
Lack of Bluetooth connectivity
There is no connectable application
3. DTAPE DT50 – Shockproof Laser Measuring Tool
Best Price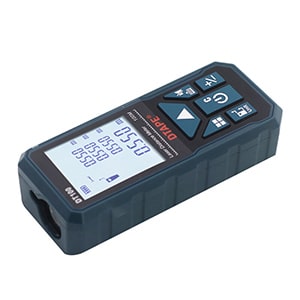 DTAPE DT50
Portable Shockproof Laser Measuring Tool for Heavy Duty Use
Range (up to): 165 ft
Bluetooth: No
Power: 3 AAA batteries
Check Price
The DTAPE DT50 is a strong contender on this list, boasting a myriad of impressive features. Like its competitors, this model is highly accurate, with a least count of 1/16 inches and the ability to measure distances up to 165 feet. It also offers readings in three different metrics: meters, inches, and feet, which are displayed on a backlit LCD screen that makes it easy to read even in low light conditions.
This laser meter is ideal for use in places where silence must be observed, i.e. libraries. Its mute button will turn off the measurement beeps in these areas and help you work without disturbing people around you. It is a waterproof, dustproof, and durable model, it also comes with a two-year warranty which expresses the manufacturer's trust in the product.
This measuring device, covered with a hard rubber casing is ideal for using outdoors. DT50 also comes with a hand strap and has an excellent grip. DTAPE DT50 measures more than just linear lengths, it can calculate areas, volumes, Pythagorean measures, etc. It contains 20 slots for group data memory and allows you to delete data manually. It also shuts down automatically after 150 seconds of inactivity, preserving power.
The device lacks Bluetooth connectivity or applications that go with the device's data. But this deficit is more than made up for by the tons of features that the DTAPE offers. It's a cheap little laser distance measurer but it's pretty accurate for what.
Features
Accuracy Line: 1/16 inches
Range (up to): 165 feet
Outdoor Use: Yes, ideal because of its shockproof build
Bluetooth: No
Memory: 20 slots for grouped data
Camera: No
Warranty: 2 years
Pros
Highly durable, shockproof model, ideal for outdoor use
Offers three different metrics and various measurements
It comes with a 2 years warranty period
There are 20 groups of memory slots
Cons
There is no Bluetooth connectivity
There are no applications that serve alongside the model
4. DeWALT DW099S – Laser Measure Tool for DIY Projects
Best for DIY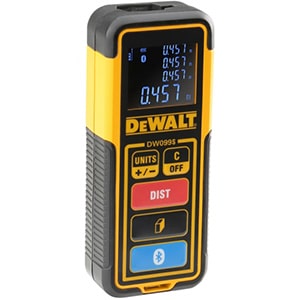 DeWALT DW099S
Laser Distance Meter for Multi-purpose Use
Range (up to): 100 ft
Bluetooth: Yes
Power: 2 AAA batteries
Check Price
DeWALT DW099S is ideal for making measurements and performing simple addition and subtraction operations. The model can measure distances up to 100 feet, with a precision of 3/32 inches. This number, though lower than rival models, is still impressive. Let's say that you hate math it was always your nemesis in school and you despise it because math gives you a nightmare when you go to sleep at night any numbers. This device was made for you. In the little corner is a little picture that looks like a cube you just press it and it gives you a square.
If you're a little bit off maybe you're off the edge the angle finder going to calculate the degrees and it will give you the true distance from point A to point B down to the sixteenth of an inch. The model is ideally suited for making linear measurements. DeWALT DW099S can help you estimate the flooring or paint required to cover a surface with great accuracy. It also has an efficient consumption of power at 1mW. DW099S comes with a warranty period of 3 years, which is sufficient to suggest that the product is durable.
The DeWALT DW099S is a great option for those on a budget who still want a quality laser measure. It offers Bluetooth connectivity, making it easy to transfer measurements to mobile devices. It's accurate, functional, affordable, and durable, making it a good choice for DIYers and professionals alike.
Features
Accuracy Line: 3/32 inches
Range (up to): 100 feet; lowest, suited for DIY
Outdoor Use: Not Recommended due to less range
Bluetooth: Yes
Camera: No
Warranty: 3 years
Pros
Bluetooth connectivity
3-year warranty
DeWALT DW099S can measure linear dimensions with great accuracy
Ideal for DIY operations
Cons
Lacks several options present in higher-end models
Only measures up to 100 feet
5. Bosch Blaze GLM400CL – Outdoor Laser Measure with Camera for PRO
Best for Pro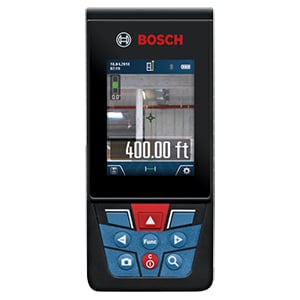 Bosch Blaze GLM400CL
Outdoor Laser Measure with Camera & Li-Ion Battery for Professional Use
Range (up to): 400 ft
Bluetooth: Yes
Power: 3 AA batteries
Check Price
Bosch presents another stunning contender for this top 5 list. This model easily surpasses the rest in outdoor usage and is by far the most practical in this regard. This tool can measure lengths up to a whopping 400 feet, which is higher than all of the other models. It also enjoys a flawless accuracy of 1/16 inches which is not compromised even at longer distances.
Blaze GLM400CL comes equipped with a high-resolution camera that allows you to spot the laser dot from afar and snap a shot of it too. Bluetooth connectivity allows you to integrate the device's measurements with the exclusive Bosch MeasureOn app. The model can measure much more than linear lengths, it can calculate areas, volumes, and Pythagorean dimensions, etc.
It features a class II laser and operates at minimal power, less than 1mW, and is rechargeable – another unique feature on this list. Its LCD is backlit and easy to read, be it light or dark. It comes with a micro USB cable, battery charger, hand strap, and pouch. The models provide an all in one package for outdoor laser measurement tools.
While images may be too large to transfer, the data can be easily managed through the MeasureOn app. This model is highly versatile and offers a wide array of features, many of which are unique to this particular laser measuring tool on our list.
Features
Accuracy Line: 1/16 inches
Range (up to): 400 feet; highest on list
Power: Battery-powered, rechargeable; less than 1mW
Outdoor Use: Yes
Bluetooth: Yes
Camera: Yes; high resolution
Pros
Measures distance up to 400 feet with an accuracy of 1/16 inches
Comes with Bluetooth connectivity and can be integrated with the Bosch MeasureOn App
Equipped with a high-resolution camera
Ideal for outdoor use
Cons
Lacks shock-proof features essential for outdoor models
Pictures are too big to be transferred
---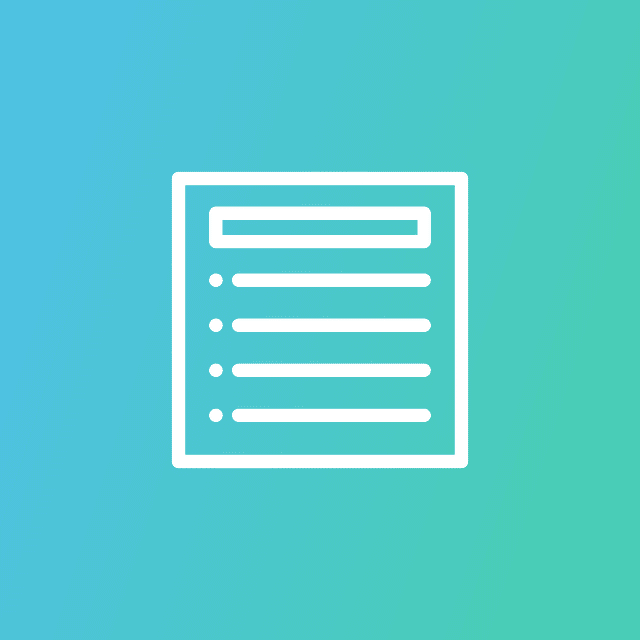 Measuring Made Easy: How To Choose The Best Laser Distance Measurer?
There are a lot of things to consider when buying a precise measuring device. A laser measuring tool is a one-time investment and hence it is important to make an informed decision. You need to consider a heap of factors before deciding your pick and even then the financial aspect must be addressed. We have made a brief rundown of all the necessary features for you here:
Accuracy Line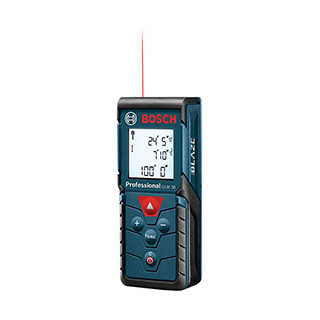 Accuracy is one of the primary advantages of laser measuring tools over conventional instruments, but they do have some limitations. However, these limitations are usually minimal and negligible. Most of the devices discussed on this list have an accuracy limit of 1/16 inch, which is very precise and can deliver accurate results even down to this fraction.
Range (up to)
The range is defined as the maximum distance to which a laser measuring tool can measure. This varies from model to model and is generally higher in outdoor models. DIY models such as DeWALT DW099S have a shorter range, i.e. only 100 feet. This makes them unsuitable for outdoor use, but you're good to go indoors. High-end models like Bosch Blaze GLM400CL offer a greater range, up to 400 feet, but at a higher price too.
Laser Diode Class
Most of the models mentioned on this list are equipped with class II laser diodes. These are enough to get the job done, and are very accurate as well. Remember not to buy a model with a lower class laser diode.
Power
With the sole exception of Bosch Blaze GLM400CL, all models mentioned on this list consume 1mW power or more. The said product is the only one using less than this amount and that too from rechargeable batteries. Most laser measurers work via non-rechargeable battery cells but the Bosch Blaze GLM400CL has a rechargeable battery.
Operating Temperature
Measuring tools that can be used outdoors must be able to withstand extreme temperatures, both hot and cold. Only the most versatile models have the resilience to do so. The models discussed above have such capabilities, with the DTAPE DT50 being shock-proof. While it is generally recommended to avoid using these tools in extreme conditions, it is best to have a tool that can handle it if necessary.
Dimensions
Most of the models mentioned on this list are pocket-sized. They can be easily placed in your pocket and carried around without any duress. Larger models have been omitted because they are not so portable. The whole idea behind these laser measurement tools is the ease of operation.
Smaller sizes allow for that ease of use and let you use the measuring device in multiple contexts. Most of the models on this list also come with straps and pouches, meaning that if you can't carry them in your pockets, you can still have them with you.
Weight
Ideally, a lightweight build with heavy-duty functions would be your choice. What good would a laser measuring tool be if it were heavy? The whole notion behind these tools is how easy they make your work. Lightweight frames are just another part of this jigsaw puzzle. Models such as Leica DISTO D1 have a minimalistic design but strong functionality. How? Simple, they use Bluetooth connectivity to integrate with relevant apps. This means that your measuring tool remains lightweight and easy to use, and you get to do all the "pro-stuff" on mobile applications.
Outdoor Use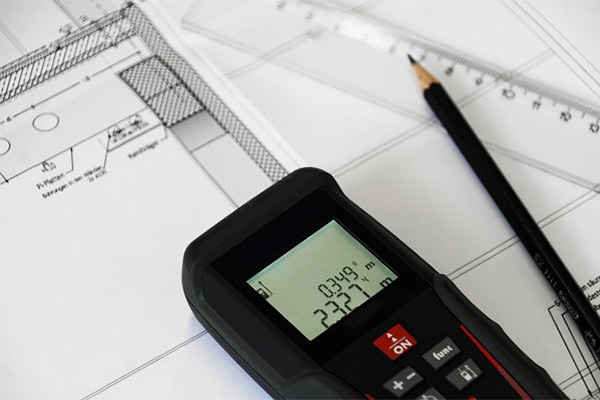 For a model to qualify for outdoor use, it must be able to measure long distances and bear environmental stresses. Bosch Blaze GLM400CL is perfect for taking long-distance readings. It can make linear measurements as far as 400 feet and that too with striking accuracy.
It is also equipped with a camera so that you can focus on the laser pointer and take snaps of your measurements. For a perfect shock-proof solution, we recommend that you turn to DTAPE DT50. This model is waterproof and dustproof, in short, it is the ideal outdoor gadget.
Bluetooth
Bluetooth integration is important for two reasons. Firstly, it helps to reduce the load on the device itself, both in terms of the work it needs to perform and the weight of the device. By dividing the task between the laser distance measurer and a cell phone, the design of the tool can be kept minimalistic and simple.
Leica DISTO D1, for example, is a simple tool with only two buttons for measurements. However, the true potential of the measuring device lies in its Bluetooth connectivity. Via this link, it integrates with the exclusive Disto app, where you can use a graphical interface to perform advanced tasks.
Memory
Laser meter tools also store the data recorded. You don't have to scribble down every reading on a notepad, only to forget which one was which. Some models have a built-in memory to help you out in this case. DTAPE DT50, for instance, comes with a 20-slot memory which allows you to store 20 sets of data. These sets are grouped data, i.e. the various dimensions from one area or object. You can also delete these entries manually when you don't need them.
Camera
Bosch Blaze GLM400CL comes equipped with a high-resolution camera. This camera can zoom in to staggering lengths and photograph the laser dots used for measurements. The camera makes the digital laser measurer much more functional and accurate. This way, you can ensure that the laser hits the right spot and your measurements are accurate. With a model lacking this feature, you'll need a very keen eye.
Affordability
A tool is only good enough for you if you can buy it. The higher-end models have much to offer but cost a lot too. You must ask yourself: how much do I need? You might have no use for some advanced features, especially if you want to use the tool for DIY.
Warranty
A manufacturer's warranty is a reflection of their confidence in their product. If a manufacturer offers a strong warranty, it can give you the confidence to purchase their product without fear of defects or malfunctions.
Final Thoughts
Laser measuring tools have gained popularity over the years because of their functionality and ease of use. These tools help you plan your house's renovation or to make accurate measurements for installing equipment. Laser measurer have rendered conventional measures obsolete. We hope that this buyer's guide helped you make an informed and right choice. If you know the best laser measurer you can recommend, hit us in the comments section below and we can have a little chat about them.
---
Video Tutorial: How to use Leica Disto Sketch Plan App
---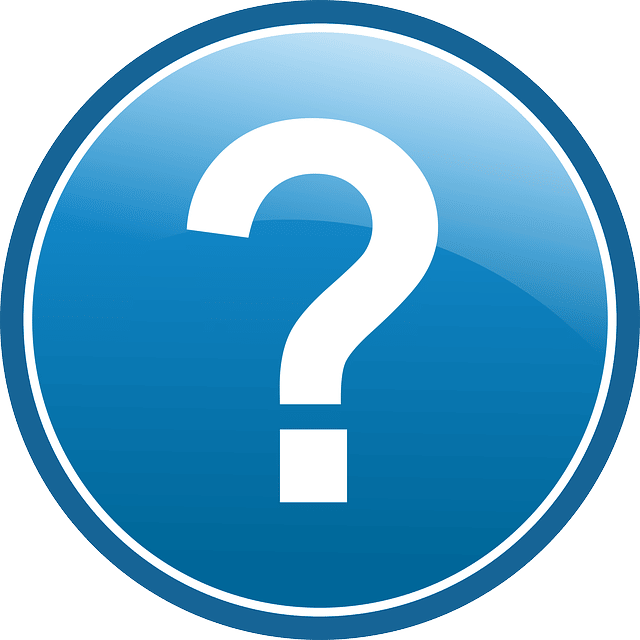 FAQs
How do laser distance measuring devices work?
Laser measuring tools use laser beams to measure distance. When the laser hits the target, the device notes the distance. The device can then use the reading to calculate area, volume, etc.
How accurate are laser distance measurers compared to regular tape measurers?
Very accurate. Conventional means have two serious flaws: they may construct poorly, and the ever-present risk of human error. Laser measuring tools have neither of these issues and hence deliver the best results. They are accurate to fractions of an inch (mostly 1/16 inches).
Will a laser measuring tool measure the distance to water?
This is not advisable. Water is a fluid medium and will refract the laser beam unless placed directly above it at a 90o angle (for depth measurement). You can always place a target before the water body and measure the distance to that tag.
---
Reference: