Last updated: 25 Oct 2021
A PEX plumbing and why I've chosen this plumbing system for most of my builds. You know there are three main plumbing systems in American houses:
Copper
The gold standard has been around forever a lot of builders swear by it. If we have a zombie apocalypse you're still going to be able to get copper fittings afterward impressive system a lot of builders won't use anything but.
CPVC
A lot of production builders have moved to this. Much less cost initially than copper. Certainly less commodity base than copper. I used it for quite a few years actually when I build on the Northeast and had a success of it.
PEX
However the last 15 years or so I've used almost exclusively PEX. Now there are three different types of PEX: PEX A, PEX B, and PEX C. This is not an ad I'm not being sponsored by anybody I'm just trying to give you good information on both the positives and a few negatives from all these plumbing systems. Let's get right into it. PEX originally developed in the late 60s in Germany came to the European market in 1972. Used extensively throughout America. The biggest reason why people have moved from copper to PEX, in particular, is cost. Much less expensive piping than copper and fittings and labor are gonna generally be less than copper as well. So overall you're gonna get a less expensive build by switching to PEX compared to copper. Now certainly there are some benefits and there are a couple of downsides.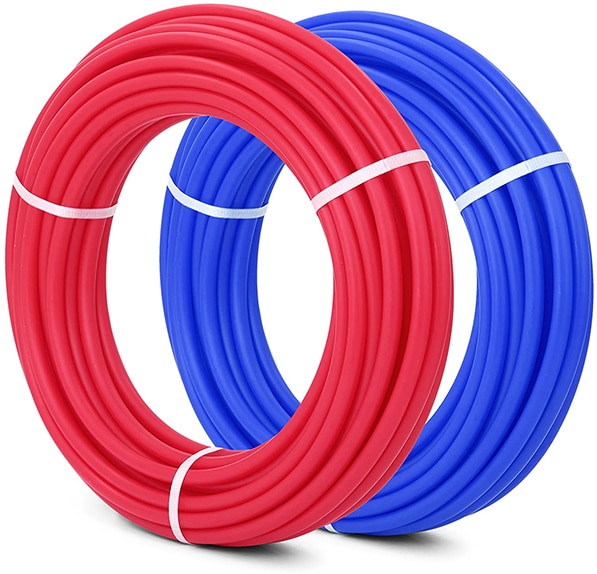 Let's run through all the benefits of PEX:
Really long runs. PEX pipe is flexible. We can home run things in all kinds of ways the snake through the house. Reduced fittings mean better reliability but it also means that we're gonna have less pressure drop. Because we can bend pipe we're not gonna have all the bends that we're gonna have in a copper or CPVC system. And every time we get a bend we've got some potential for pressure drop and reduce flow.
Another big benefit of these flexible systems like PEX is you're gonna have much less water hammer in your system. When your washing machine starts and stops filling when you turn off a faucet quickly that water hammer can translate in a pipe movement hitting the framing in your house and that's called water hammer. You get much much less of that with a flexible pipe.
Next big benefit of PEX compared to copper, in particular, is that you're not going to get calcium deposits sticking to your PEX where that can happen with copper you need to be cautious about those pipes squeezing down over time when you've got metal piping in your house.
And the last big benefit that I like about PEX compared to some other systems is the ability to withstand some freeze. You know this PEX piping because it's got some amount of elasticity. We could have frozen water in this line the pipe could expand without bursting or without cracking whereas if you get a frozen pipe when it comes to seeing PVC or copper you're gonna get a leak you're gonna get a burst. So there are some definite benefits here. And as well because of that same flexibility we talked about if we were to get a kink we get too tight of a bend. We can get that kink out of your PVC by adding some heat.
Why is PEX plumbing bad?
If you read the Internet of course there are lots of horror stories about PEX. I don't believe most of those but there is a certain amount of risk when you're using a PEX system.
It's possible that the company that makes the fittings could go out of business someday and it'd be harder to get a fitting. You also probably have some amount of risk of using a plastic fitting in your water supply system especially if your municipality uses too much chlorine in the water. Chlorine can break down PEX. But I'll tell you I've been using it for 15 years I was building several hundred houses a year with PEX and I only had one fitting leak over that period. So generally speaking I found very very good reliability and I've never had a complaint about water taste or any of the issues that you might read about on the internet. I'm a big fan of PEX I think it's a great system.
As we're talking about this I want to point you to kind of the Godfather of hot water systems and distribution Gary Klein. He's the guy that's gonna help you do the architecture on your plumbing system. And in fact, he claims that you can get hot water almost anywhere in your house without wasting more than one or two cups of water down the drain before it gets hot. Very impressive guy. I like to follow his practices.
Related review: The Best PEX Crimp Tools. Review & Buyer's Guide