Last updated: 25 Oct 2021
I get lots of questions about greasing and grease in the email. So I'm going to tell you 12 things you probably need to know when you're picking out grease for your equipment.
How grease works
Grease is made to weep out oil and you have a thickener in there. When a manufacturer makes grease it takes a base oil and adds a thickener like lithium or calcium or polyurea and the viscosity of that initial base. So it takes that's going to be the base oil that weeps out. That you know is in simple terms you can think of as like a 5w30 an engine oil that consistency oil that's going to come out or for a heavier machine we might use like a very heavy oil that might think of like a 90w or like a gear oil that's going to come out.
There are many different choices for grease
And there's a number. If you look at what we would have available worldwide there'd be 34 different kinds of grease. And most of those are gonna be specialty products. But even when you go into a store you're looking at probably a dozen brands with a few different grades or types of grease at the store and you're gonna feel probably intimidated. And there are a few simple things that we can tell you that you're gonna be able to eliminate. A lot of those greases and especially if you need grease for a compact tractor or a lawnmower, maybe one or two greases you should be looking at. You can forget the rest of them.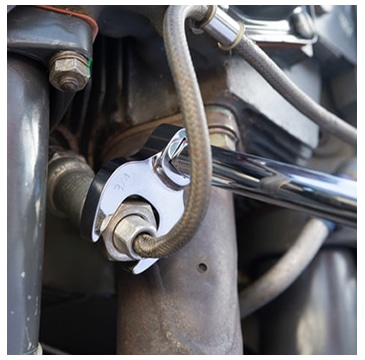 Viscosity is important
When you're looking at a compact tractor you're gonna have pins and bushings you should probably be looking at a base oil viscosity of 100 centistokes (cSt) to 200 centistokes. The pins and bushings are small there's not a ton of wear or ton of pressure. And you don't want to use a thick base oil on a small machine because it just creates extra friction and it's going to take more power to get that bearing to turn or it's not gonna provide the proper lubrication it might not work around a pin that doesn't have a lot of pressure on it.
Shear strength is also important
Grease gonna get pushed out of a pin or bushing and if it has a high shear strength it's going to stay adhesive to that steel and stay in that joint is one indicator where you probably should get better greases. If you're going onto your tractor and you're seeing long streaks of grease that's running onto your pins and bushings that's probably telling you that your grease isn't very stable a grease that you're using. So in that case I would go and look for a little better grade of grease. And I'm not saying you have to go and find a fully synthetic grease that's gonna be very expensive. You can still be looking at a mineral base grease with a lithium complex or lithium base grease.
Be careful buying the cheapest grease
The typical approach to greasing. When times were tough you use the cheapest grease you could find and then when you were feeling a little bit better about farming you bought the 4-5 dollar to grease. And the difference in them is the additives that are in the grease. So when you have a very cheap grease you're not going to have corrosion inhibitors you might not have oxidation stabilizers or different things like that. On a lawnmower, you don't need a 20 dollar tube of grease. But you still want in my opinion a good string of additives in that grease that you have corrosion protection and oxidation protection.
Lithium-based greases are the most common, and adequate for most applications
Most of the grease's when you go into the store are going to say lithium on them. And that refers to the thickener that's in the grease. Lithium is one of the best all-purpose types of greases you can get. And there are different grades to lithium. I would go to the store and look for a lithium grease that's probably 3-5 dollars a tube. It should say on the box anti-corrosion or water-resistant.
If grease washes out and you don't have a corrosion inhibitor in the grease you're gonna get rust and your bearings going to fail or your bushings going to go out.
Greases with molybdenum are preferred in many agricultural & industrial applications
A lot of farmers like to use molybdenum (moly) grease. Moly is great for pins and bushings. It's not a great wheel-bearing grease typically like on a hay baler or even like a skid loader. A skid loader has a lot of bearing that is taking a lot of pressure. Back and forth pins bushings where they're going to give you a lot of work especially in a construction setting and that's where you're gonna want to see a moly grease.
Polyurea greases are premium products that fit a lot of applications
The last couple of years has been a big push on polyurea grease. And polyuria base grease is a great grease for life bearings. Because it is a very thermally stable product it's oxidatively stable and weeps out oil at a very consistent pace but it's not compatible with any other grease. And when we say it's not compatible we don't mean that it's going to create an acid or something. If you use polyurea grease with a number two lithium grease then you'd have a situation where that polyurea is going to dry out that lithium and you might get very limited protection.
Synthetic greases are top of the line, but not required for small equipment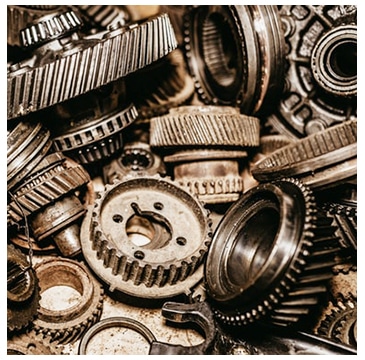 With a compact tractor in my opinion you're not going to be required to use a fully synthetic grease. Full synthetic greases are great in high-speed bearing spindle bearings and different things like that have tight tolerances or temperature restrictions. On a compact tractor, you're just not going to have that requirement. When you get to a round baler and you look at that machine shafts are turning everywhere and those are gonna be a lot of high-speed bearings and in that case, you're worried about two things temperature and the speed of that bearing. So in that case you're probably going to want to switch for full synthetic grease. A full synthetic grease does stay a lot more consistent and how it weeps out oil and gives lubrication is your bearings gonna be running at a lesser temperature for a longer period.
As mentioned earlier, it's best not to switch grease types often
Anytime you're switching grease make sure what the manual is telling you. You need to stay pretty consistent with what you're using.
Most of us don't have to change greases for the different seasons
If your weather isn't cold if you're on a pretty consistent level (40 degrees Fahrenheit up to a
100 degrees) you probably don't have to worry about the type of grease you're using year or month a month or somewhere to winter. If your temperature fluctuation isn't super huge you can buy one grease and stick with it for the year.
Grease on a regular basis
The most important thing in greasing is greasing. It's more important to grease regularly probably than it is the type of grease that you use. So regular greasings will make your equipment last a lot longer.
You Need To Know About:
The Best Grease Guns. Review & Buyer's Guide