Last updated:
18 Sep 2023
GordonsToolsBlog is reader-supported. When you buy through our links, we may earn a commission at no cost to you.
Proper lubrication is crucial for vehicles to function smoothly, just as blood is essential for the human body to operate. Grease acts as a healing agent for various parts of a vehicle, preventing heat and pressure resistance. It plays a critical role in protecting mechanisms such as bearings by removing moisture to prevent corrosion. By ensuring your vehicle is properly lubricated with grease, you can help extend its lifespan and avoid costly repairs.
Also, grease is useful to drive your vehicle's machinery properly and for gate bearings, bushings, and pivot points. The most specific grease function is to remain in contact with all the joint parts of the vehicles and lubricate them. This can be fruitful only when there is no leaking out under gravity and centrifugal action.
The most amazing feature of a grease is that it retains its properties even under shear at all temperatures . This means that it keeps the machine going smoothly without creating any resistance and does not let the temperature rise while the machine is working.
The vast array of oil and grease products available on the market can be overwhelming, making it difficult to determine which one is right for your needs. With so many options to choose from, even experienced grease users can become confused. However, by educating yourself on the different types of grease and their intended uses, you can make an informed decision and select the best product for your specific application.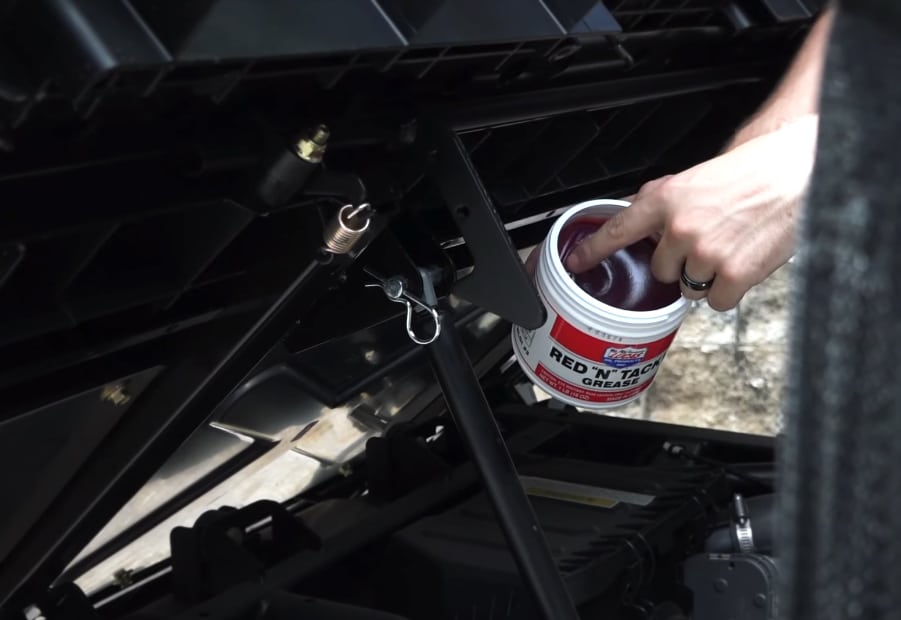 This research analysis is meant for you if you are looking for suitable grease for your vehicle, tractor or machinery. We have compiled this well-versed analysis just for your help. So, stay tuned to carve out the right grease for your usage at the end. Let us have a look over this detailed review of greases.
---
The Best Lubrication Grease Reviews
1. Royal Purple 01312 – Ultra Performance Multi-Purpose Grease
Best Choice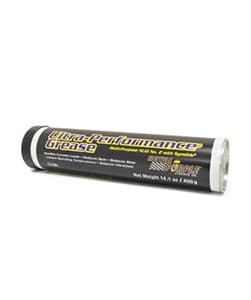 Royal Purple
High Performance Multi-Purpose Synthetic Grease
Excellent grease against oxidation resistance, Royal Purple prolongs the service life of vehicles. Royal Purple NLGI No. 2 performs equally well in both warm and wet weather conditions.
Check Price
Placed at number 1, the Royal Purple is a multi-purpose and multi-service grease that is truly an aluminum complex. This synthetic grease is not only useful for increasing the bearing life but also the equipment's reliability.
Also, the Royal Purple ultra-performance grease satisfies all your requirements ranging from lubrication of bearings to U-joints and water resistance to the emulsion as well as a washout. Capable of performing smoothly even under extreme pressure, this grease is stable even at high temperatures.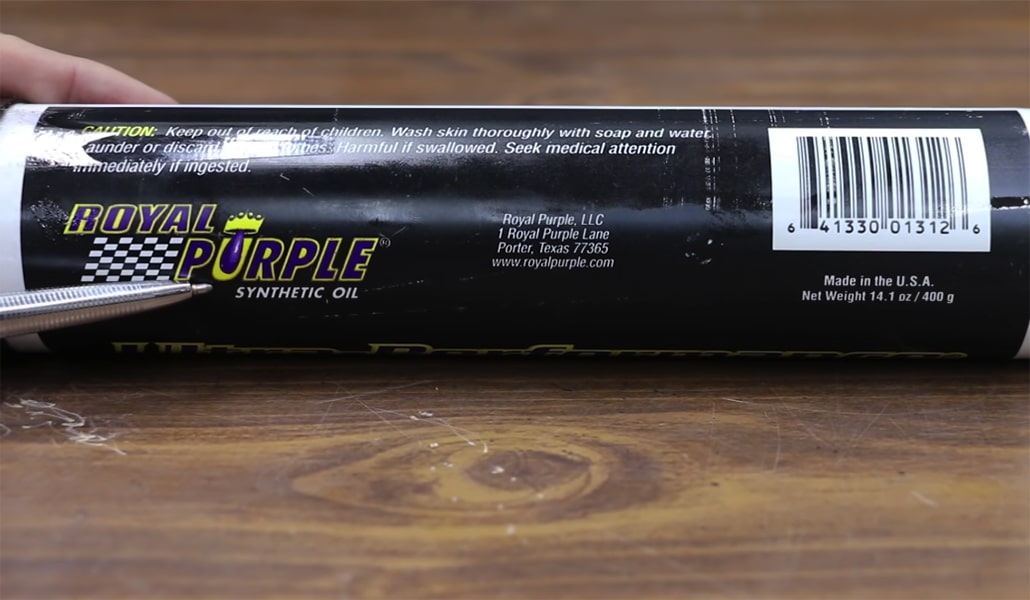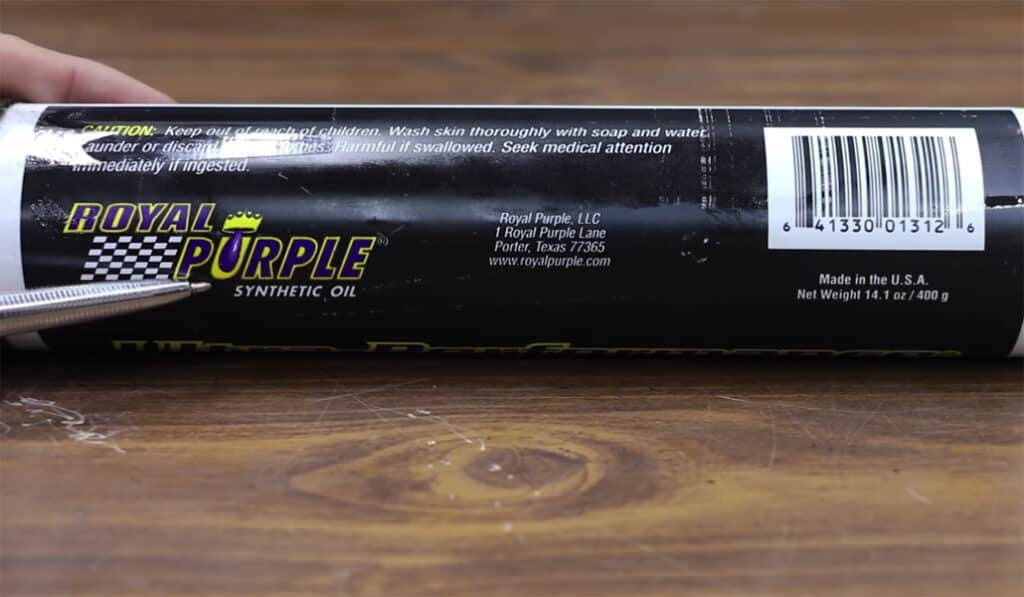 Synthetic grease is an excellent lubricant for bearings and joints, helping them function smoothly while keeping them cool. This high-performance grease also helps reduce noise, even when machinery is operating at high speeds. In addition to its lubricating properties, synthetic grease provides exceptional resistance against oxidation, prolonging the lifespan of your vehicles and machinery. By using synthetic grease, you can ensure your equipment operates efficiently and reliably.
There are two main problems with this grease: the purple color of the grease runs out of the grease gun, and the other problem is that the grease is not much sticky. So make your mind prepared for cleaning the floor and changing the grease after some time.
Despite having some problems, this ultra-performance grease is truly a great option for you to lubricate your vehicles and prolong their service lives.
Features
Type: Synthetic
Container Size: 14.1 Ounce
Temperature Range: up to 430° F
Water resistance: To emulsion and washout
Color: Purple
Oxidation resistant
Made up of non-corrosive Synerlec additive technology
Pros
Stable at high temperatures
Keep the bearings smooth, cool, and quieter
Excellent pressure bearing capacity
Suitable to lubricate bearings, U-joints, and general-purpose use
Cons
The purple color is not stable
Grease separates quickly
Not suitable to use for splinted shafts
2. CRC Driller Red Grease – Extreme Pressure Grease
Also Great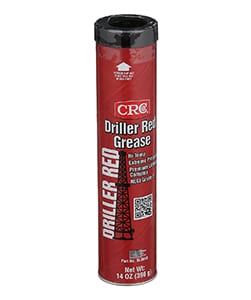 CRC Driller Red Grease
Lubrication Grease for Low-Friction and High-Protection
Type: Lithium
Temperature Range: up to 400° F
Water resistance: Yes
Check Price
CRC grease is the ideal choice for lubricating your vehicles, thanks to its exceptional ability to withstand extreme pressure and temperature. This high-quality grease provides optimal sticking capacity, ensuring your vehicle operates smoothly and reliably for the long term. By choosing CRC grease, you can help protect your vehicles from wear and tear, and extend their lifespan.
CRC Driller Red grease is highly equipped with superb corrosion and resistant protection . It provides maximum stability against wet conditions. Are you afraid of bad performance by your vehicle due to extensive travel, load, and wear? Don't be worried. With CRC extreme pressure grease, use your vehicle freely in every condition because this grease extends your vehicle's performance.
Geared with Lithium, this grease can resist the melting point even up to 400 F degrees. No worries, even if you are living in extremely cold conditions. This grease works equally well in extremely hot, extremely cold, dry and wet conditions. Some due problems with this product include that this grease is too sticky in texture that sometimes it doesn't come out of the gun. Moreover, it stays not longer than one year in the applied area.
While it may have some minor drawbacks, this sticky grease is undoubtedly one of the best options available for lubricating your vehicles, machinery, and other equipment. Its outstanding performance and ability to help extend the lifespan of your vehicles make it a popular choice among professionals and hobbyists alike. By using this grease, you can help ensure your equipment operates smoothly and reliably for years to come.
Features
Type: Lithium
Container Size: 14 Ounce
Temperature Range: up to 400° F
Water resistance: Yes
Color: Red
Corrosion protection
Extreme pressure and temperature resistance
Pros
Extensive pressure and temperature bearing capacity
Suitable for all hot, cold, dry, and wet conditions
Provides ultra-superb surface protection
Equally good for road and marine vehicles
Cons
No nozzle or spray included
Sustain only one year
3. Plews & Edelmann LubriMatic 11390 – High-Performance Red Grease
Best Price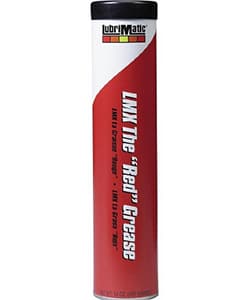 LubriMatic 11390 LMX
High-Load and High-Temp Red Grease
Type: Lithium
Temperature Range: up to 510° F
Water resistance: Yes
Check Price
LubriMatic grease is a versatile lubricant that can be used in multiple vehicles, making it an excellent choice for professionals and hobbyists. This high-temperature grease is designed to perform exceptionally well under extreme conditions, ensuring your equipment operates reliably even in the toughest environments. Featuring strong sticking and high corrosion resistance properties, this grease provides everything you need to keep your vehicles and machinery running smoothly. By choosing LubriMatic grease, you can help protect your equipment from wear and tear and extend its lifespan.
Works fairly well for extreme hot and cold conditions. Even if you are running your vehicle continuously for hours, LubriMatic 11390 grease doesn't let the heat level rise and doesn't create any friction.
LubriMatic LMX grease occupies all these said requirements with the optimum quality if you need high temperature, water, and corrosion resistance. Keeping in view the amazing features like strong resistance traits, this grease still serves the best greasing services when compared with others.
The most prime problem with this product is that though it is recommended for temperatures higher than 500 degrees, unfortunately, it starts melting below 200 degrees temperature. Also, the sticking ability is not good. Keeping in view the amazing features like strong resistance traits, this grease still serves the best greasing services when compared with others.
Features
Type: Lithium
Container Size: 14.1 Ounce
Temperature Range: up to 510° F
Water resistance: Yes
Color: Red
Corrosion, heat, and water-resistant
Pros
Surface protection during hot, cold, dry, and wet conditions
Recommended for disc brake wheel bearings, suspension systems, universal joints, steering linkages, and chassis
Cons
Starts melting at temperatures even below 200 degrees
Low sticking capacity
Quickly gets separated from oil during vehicle running
4. Schaeffer 219 SynForce Green – Synthetic Water-Resistant Grease
Best Pro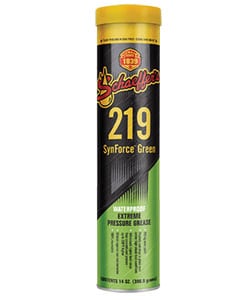 Schaeffer 219 SynForce Green
Synthetic Water-Resistant Extreme Grease For Marine, Powersports and Trailers
Type: Synthetic
Temperature Range: up to 250° F
Water resistance: High level
Check Price
Manufactured by Schaeffer Manufacturing Co, this is the best synthetic water-resistant grease for making your vehicles and machinery run smoothly. With its sticky and superb pressure-resistant properties, this synthetic grease is just the perfect match for your vehicles, power sports, and even marine trailers.
Schaeffer grease is a versatile lubricant that can be used in a wide range of applications, from sports bikes and cars to household machinery and equipment. This high-quality grease provides consistent lubrication across all types of vehicles and machinery, ensuring optimal performance and reliability. Schaeffer grease is specially formulated to perform exceptionally well under extreme pressure and temperature, making it an ideal choice for demanding environments. By choosing Schaeffer grease, you can help ensure your equipment operates smoothly and reliably, no matter the application.
If you want to prolong your vehicles and machinery's service life, this grease would be the best option to give the optimum level of satisfaction. Schaeffer 219 green grease provides the optimum wet duty performance with extra-durable cohesiveness and adhesiveness. Its sticking power is superb. Therefore, it is the perfect blend for marine equipment, ATVs, UTVs, snowmobiles, etc.
The main problems with this grease are that it is too much expensive. Also, it is more suitable for wet conditions that run off the road. This grease is the best companion for your vehicles and machinery under dry and wet conditions.
Features
Type: Synthetic
Container Size: 14 Ounce
Temperature Range: up to 250° F
Water resistance: High level
Color: Green
High heat and pressure compatibility
Stable under pressure
Corrosion-resistant
Pros
A perfect solution to lubricate vehicles under dry and wet conditions
Very much convenient for those who live in non-arid areas
Meets the extreme performance standards of the National Lubrication Grease Institute
Highly recommended for bearings and chassis applications
Perfect match for UTV's, ATV's and boat trailers
Cons
Too expensive
More suitable for off-the-road vehicles
5. Starbrite – Multi-Purpose White Grease
Best Protection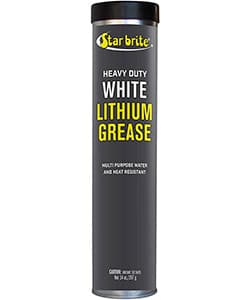 Starbrite
White Lithium Grease for Max Surface Protection
Type: Lithium
Temperature Range: up to 385° F
Water resistance: Yes
Check Price
A perfect blend of smooth and sticky lithium complex grease is another ultra-performer for your vehicles' lubrication. Because of heavy loads and corrosion resistance traits, this grease is highly suitable for agricultural, industrial, and automotive vehicles and machinery applications. You tend to see it used in big tubs in workshops.
Starbrite grease is an exceptional lubricant that features excellent water resistance and washout properties, making it an ideal choice for use in harsh environments. This high-performance grease also boasts excellent mechanical stability and a prolonged storage life, providing you with a cost-effective solution that requires fewer applications. By choosing Starbrite grease, you can enjoy its exceptional sticking power and superior protection for an extended period, making it a smart investment for any vehicle or machinery owner.
Also, Starbrite white grease is enriched with high stability and durability features, making it super-high temperature compatible. Besides being good for your private vehicles, this grease also serves the best quality to sliding surfaces and open gears.
Despite having perfect traits, there are some problems with this grease, which constitute its low sticking capacity. Also, it gets melt in heavy temperatures.
Though it contains some problems, you would get this for your lubrication-related tasks if you look at its extensive properties.
Features
Type: Lithium
Container Size: 14 Ounce
Temperature Range: up to 385° F
Water resistance: Yes
Color: White
Corrosion and heat resistant
Excellent mechanical stability
Pros
Works well in all weather conditions
Cost-effective
Good for sliding surfaces, wheel bearings, and open gears
Highly suitable for agriculture, automotive, and industrial usages
Cons
Less sticky
Gets melt under high temperatures
---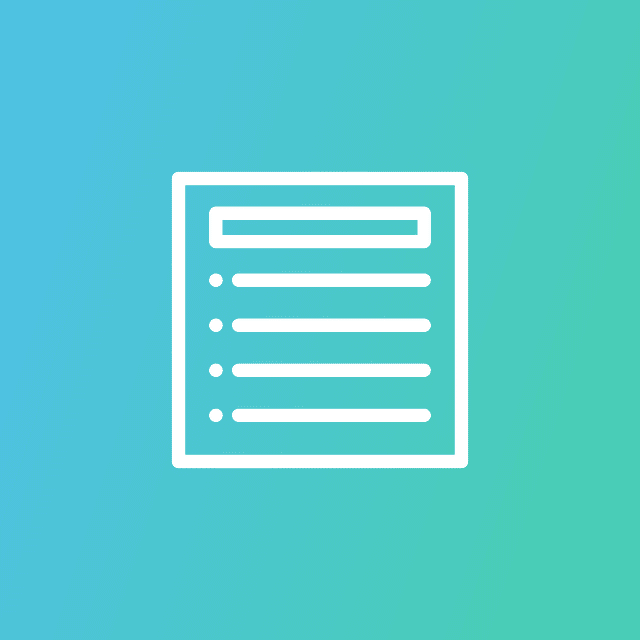 Lubrication 101: How To Select High-Quality Grease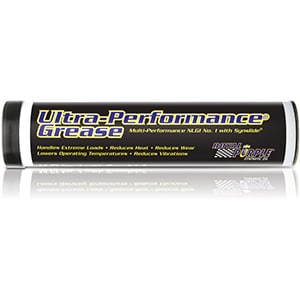 Nobody wants to have any problem with their vehicles, especially when they are under extensive and continuous usage. Of course, to keep the circle going, one needs to be vigilant, and for ensured vigilance, smart products must be used. Do you have extra time or money to buy the same product again and again? Certainly no. So, you need to choose the right product for yourself to use for a longer time.
When it comes to selecting the right grease to lubricate your vehicles and machinery, it's essential to do your research. The right lubricant can help protect your equipment, save you time and money, and keep your vehicles running smoothly for longer.
Don't take shortcuts when it comes to the health of your machinery. Instead, invest the time to find the right product that meets your specific needs and requirements. By choosing the right grease, you can help ensure the longevity and performance of your equipment, saving you time and money in the long run.
Therefore, invest smartly. Because you wouldn't want to buy a new vehicle just due to the use of cheap and low-quality grease. Are you looking for suitable grease? Then you need to consider the following factors thoroughly.
The basic features of good-quality grease:
Protects against corrosion
Prevents fluids and contaminants from penetrating from the outside
Evacuates particles resulting from wear and tear
Performs an energy-saving function – by reducing friction
Distributes heat and enhances thermal equilibrium
High-Temperature Compatibility
The main function of grease is to keep the wheels going even under stiff heat and temperature, and for that reason, there must be high heat compatibility in the grease that you are looking for in your purchase.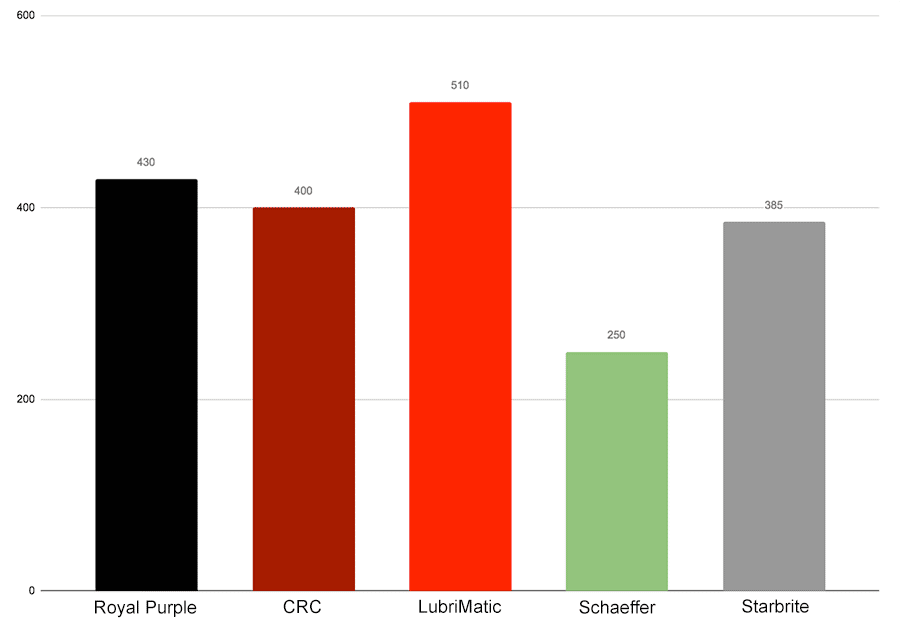 There are some greases with low-temperature compatibility and can thus get melts quickly when your vehicle is running. Also, sometimes the heat melts and separates the grease and badly damages the vehicle or the machinery in which you are applying this grease.
Keeping in view the requirement of high-temperature capacity, LubriMatic 11390 is a grease that is high temperature capable. This grease is also part of our list of top 5 greases and contains many traits, with being the high heat capacity at the top-one trait. LubriMatic red grease is a multi-vehicle usage capable and can be used for off-the-road and on-the-road vehicles and pressure extremes, shock loads, and high-wear situations.
While this grease may be advertised to have a heat capacity of up to 500 degrees, it's important to note that it's best used at temperatures around 100 degrees. For optimal performance and results, it's recommended to use this grease at lower temperatures initially and gradually increase the heat over time. This will help ensure that the grease is properly distributed and able to provide the desired level of lubrication and protection. Always follow the manufacturer's recommended guidelines to ensure the best results and avoid potential damage to your equipment.
Water Resistance
Another important feature to be considered while purchasing grease is water resistance. Certainly, every vehicle and machinery has to go through water, whether in dry or wet conditions; water-resistance property is the essential part of powerful grease.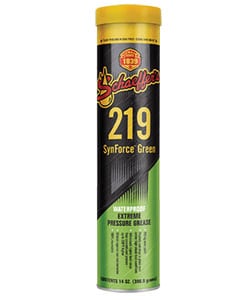 One more point to be remembered in this regard is that if you would forgo this water resistance feature while buying grease, it wouldn't long last. With low water-resistance property, the grease would start separating and would do more harm to your owned vehicle or boat.
Some greases have high water-resistance capacity. Schaeffer 219 SynForce Green grease is the one that is enriched with the water-resistance property. Because of its high resistance to water and emulsion, this grease is highly recommended to be used in boat trailers and likewise.
Corrosion Resistance
Corrosion resistance is also a vital factor that must be examined thoroughly before buying grease for your machinery and vehicle. To avoid the corrosion in your vehicles and machinery that is usually caused due to wet conditions, greases are used.
Credible greases have the extensive trait of corrosion resistance because of which they are highly appreciated while using in your vehicles and machinery, especially in the boats. As grease's main feature is to keep the lubrication in the vehicles alive, it fights well against corrosion. Therefore, corrosion resistance must be the prime property when you look to purchase grease.
Starbrite is highly corrosion resistant and is used to satisfy multiple purposes like lubrication of your vehicles, boats, machinery, etc.
Extreme Pressure Compatibility
If you are using your vehicle and machinery aggressively and for long and long hours, your vehicle and machinery must be having extreme pressure conditions. For the smooth running of your vehicle and machinery, you must purchase and use that grease which has the property of extreme pressure compatibility.
CRC Driller Red Grease is the grease that occupies the feature of extensive pressure compatibility. This means that it works very smoothly under extreme pressure. Using CRC grease in your vehicle and machinery moves freely and on longer journeys without any fear of friction.
Final Thoughts
For the smooth running and long life of your vehicle and machinery etc., timely lubrication is needed. Grease not only enhances the smooth working capacity of the vehicles elongates the service life of your vehicle. As the main purpose of using grease is to increase the vehicle's quality and competitiveness, it must be picked very prudently. Because if you choose some poor quality and cheap grease, it will get off its place and damage your machinery.
Read the operating instructions before working with grease. The main rule when working with grease is not to add too much or too little. Because too much grease creates pressure and makes the bearing work much harder. Increased friction and pressure cause the temperature inside the bearing to rise. Insufficient grease reduces service life by not creating a sufficient film and leads to premature wear.
Important: It is not recommended to mix greases of different manufacturers and different compositions!
When it comes to selecting the right grease for your vehicle or machinery, there are several key factors to consider. Look for products that offer high-temperature capacity, strong corrosion resistance, excellent load resistance, extensive water resistance, and reliable performance in cold weather conditions. By choosing from our top recommended products, you can feel confident that you're making a wise investment in the health and longevity of your equipment. Don't compromise on quality – trust our expert recommendations to help you find the best grease for your needs.
---
Video: Lithium vs Silicone Grease? Which To Use?
---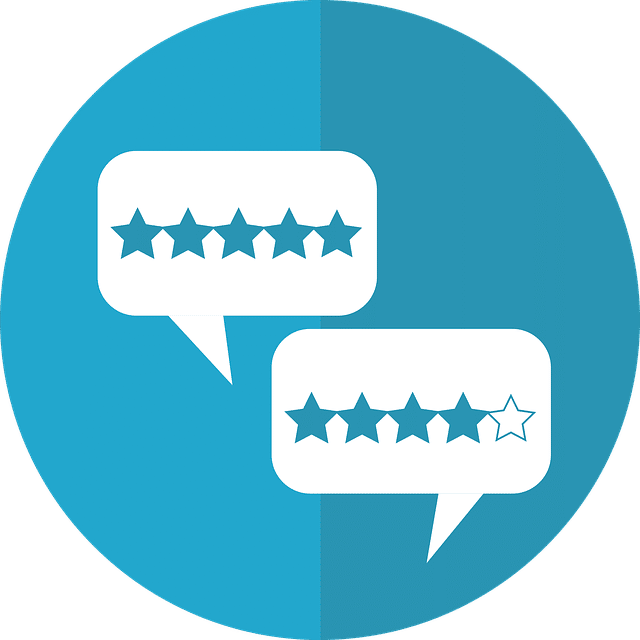 Customer Reviews
Carl: I liked the Royal Purple grease very much, I've been looking for something like this for a long time. Its viscosity and lubricity are very good. Ideal for sleeve bearings and tension parts. Has good water repellency.
Bob: CRC – Extreme Pressure Grease is an excellent grease. I use it regularly on my tractor and my son uses it on his bicycle. I recommend it.
Paul: LubriMatic 11390 A good lithium red grease, it is a level 2 grease (NLGI – 2). I used this grease on the gears of my home milling machine. Gears started to shift smoothly and with less effort, and gear noise was noticeably reduced.
Mike: Schaeffer is a good gear lubricant, does not wash out with water, fairly thick. My impressions are very good. I recommend it.
---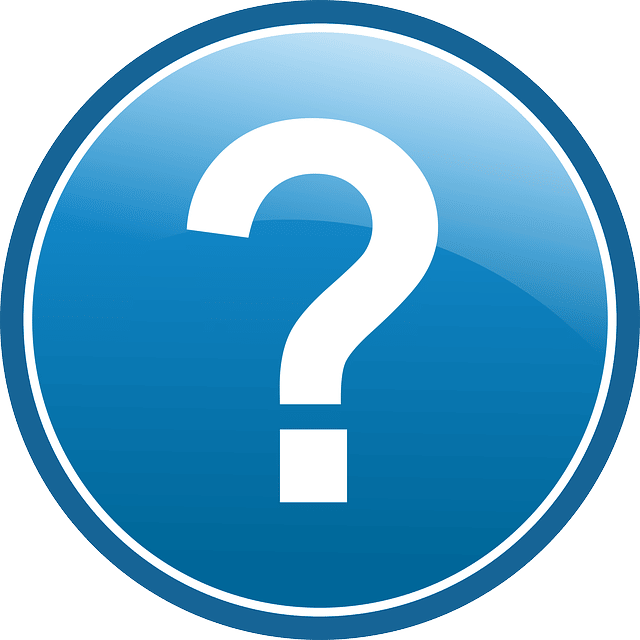 FAQs
How does grease work?
Grease is an effective lubricant that is used in a wide range of mechanical systems to reduce friction and wear and to protect against damage. Grease is made up of oil, additives, and thickener that is used to reduce friction and wear in mechanical systems.
It is released when the thickener comes under pressure. The resultant oil satisfies all the lubrication purposes. The oil in grease is chosen for its ability to lubricate and protect against wear and to provide a low coefficient of friction. The thickening agent helps to hold the oil in place and prevents it from dripping or leaking out of the system.
When grease is applied to a mechanical system, it works by providing a thin film of lubricant between moving parts. This film of lubricant helps to reduce the amount of friction between the parts and prevents them from wearing against each other. The grease also helps to seal out dirt, dust, and other contaminants that can cause wear or damage to the parts.
Where is the grease used for?
Grease is used to lubricate the vehicles, and other mechanisms, especially when a lubricating oil would not stay in position. Grease moisturizes the mechanisms and protects them from rust, high pressure, high temperature, and prolongs their service lives.
Can grease be used as a lubricant?
Yes, grease is a lubricant composed of thick oil and is widely used for the lubrication of gears, bearings, and many other features.
What are the types of grease?
Different types of grease include Aluminum complex grease, Bentone grease, Calcium grease, Lithium (12-hydroxy stearate) grease, Lithium complex grease, and Sodium grease, etc.
Can you leave grease in a grease gun?
Though it is of no harm if you leave unused grease in a grease gun, release the pressure from the grease by drawing the handle back and locking the spring in the compressed position. But it is generally not recommended to leave grease in a grease gun for an extended period of time.
How long can you use grease?
The shelf-life of grease varies from type to type, but normally you can use it for five long years.
Can greases be mixed?
Since mixing two different greases, the resultant mixture may be hardened or too softened. Therefore, it is always recommended not to mix two different greases. Because the resultant material would be useless.
Different types of grease are formulated with different base oils and thickening agents, and mixing them can cause the properties of the grease to change. This can potentially cause the grease to become less effective as a lubricant.
In some cases, it may be necessary to use a different type of grease in a mechanical system, such as if the original grease is no longer available or if the mechanical system requires a different type of grease. In these cases, it is important to completely remove the old grease before adding the new grease to ensure that the two types of grease are not mixed.
---
Further Reading:
12 Things You Need To Know When You're Selecting a Grease
Reference: