Last updated: 7 Sep 2021
A tape measure is just a tape measure or is it a multi-function swiss army knife tool? How do you know which tape measure is going to be best for you and for what you're trying to do? In this post, I'm gonna give you three important things to consider before buying one of these.
Intended use
And this is probably the most important thing to consider. Most of the tape measures at the hardware stores nowadays can be broken up into two major categories. The first is metal tapes and the next is fiberglass tapes.
Metal tapes now are generally smaller and they come in a variety of different sizes. They're more commonly used for basically any other task that doesn't require you to lay out large areas. Metal tapes as you can imagine then are not very durable because they're metal they hate the weather and they hate the mud.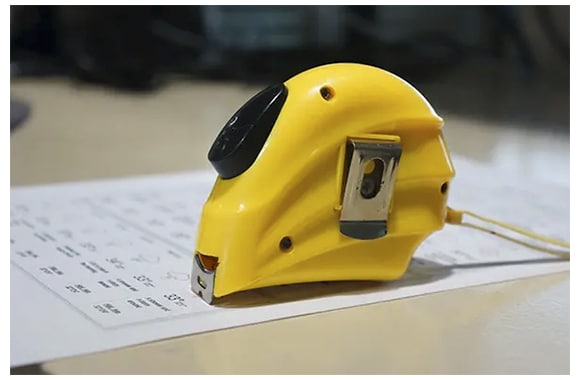 Fiberglass tapes are generally larger than all the tape measures and they're used for larger layout tasks like laying out a house on a lock or laying out footings or foundation. Fiberglass tapes are when it comes to durability last a lot longer because they're not metal they're fiberglass.
And they can handle the elements so much better which makes them a great choice being out and playing in the mud. Just knowing what conditions are you're gonna be in and what types of tasks you to be doing is going to help you to decipher if you're needing metal tape or something larger for larger layout tasks like fiberglass tape.
Function
How well does it work? This is going to be a bit of a trial and error because sometimes you just got to get your hands on it to be able to feel which tape is going to work better for you. Go to the hardware store look at the list of tapes that are out there grab them put them in your hand get a feel for him which one feels better in your hand, which one locks better which one retracts better.
And for fiberglass tapes specifically which one rolls up better sometimes, the rolling mechanism doesn't work very well and they can get stuck. One of the other things I keep in mind is to stand out. The standout is basically how far can you put the tape measure out how far can it stand by itself before it breaks.
Personal preference
Personal preference includes ergonomics. The bottom line you have to like is it has to feel good in your hand. So when thinking about personal preference also then you can think about the size. For somebody with bigger hands maybe a 35″ is good but for me, it's just massive it's very uncomfortable. There are still a little 16″ and I love this tape size for little projects inside our house or right here in the shop. And for everybody else, there's this a little six-footer.
Final Thoughts
As you can see there are many different sizes and shapes but it's got to feel good in your hand. I hope you've liked this post and it gave you some insight and some help and choosing the right tape measure. I encourage you to go out to the hardware store get your hands on some feeling. And I'd like to know what your favorite tape is leave me a comment. Let me know what measuring tape you prefer and why you like it.
Related review: Best Laser Measuring Tools. Review & Buyers Guide