Last updated: 1 May 2023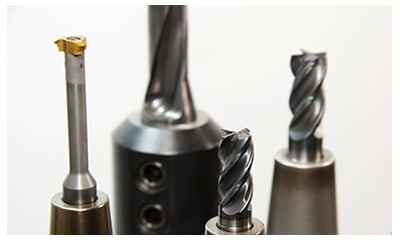 In order to tackle big projects efficiently, it's essential to select the appropriate power tool accessories, just as it is to choose the right power tools themselves. With these tips, you can select the proper drill and driver bits for common home maintenance and repair tasks. Additionally, we have some innovative accessories that can assist with more specialized projects.
Choose a Drill/Driver
Some bits are made for a standard drill driver, and some are made for drilling or driving with an impact driver. An impact driver is like a drill driver but with an added twist.
There's an impact mechanism inside the tool that pounds it around. This extra turning force means it drives fasteners faster, and it's a smaller lighter tool than a drill. That extra force also means you need bits made specifically for impact drivers. They look similar to standard drill bits, but impact drill bits are made with stronger materials and a stronger shank.
You can use impact driver bits in both standard drill drivers and impact. But if you use standard bits in an impact driver they could shatter.
Standard drill bits are all made for driving fasteners. The slot in the head is referred to as the drive it's obvious by the shape of the drive which bit you'll need. But they come in different sizes. You want to make sure you have the right size so the bit won't slip or bounce in the drive and strip the screw.
Screws are numbered according to the width of the shank in millimeters. And you can match the bit to it if you keep them organized or labeled. If not, you can eyeball it. The fastener head should cover the bit at least halfway up.
Drilling Holes
Choosing the right drill bit depends on the size of the hole you need to make and what you're drilling into. In general, when you're drilling a pilot hole you want the hole to be slightly smaller than the fastener. Otherwise, match the size of the bit according to the size of the fastener shank. For common household projects, a standard steel bit will do.
High-speed steel bits are versatile somewhat stronger and will last longer. You can usually tell a bit that's made for wood by a more pointed tip that pokes into the surface to help keep you on center. And the grooves tend to be wider to channel wood shavings and dust up and out of the hole.
For metal drilling, you'll usually see that the tip is a bit flatter. And this is where you want to have a material that's designed to stand up to the heat, and friction without dulling quickly. Usually, black oxide cobalt or titanium. Sometimes you can tell by the black blue-gray or gold coloring.
Masonry bits may have a tip made of extra hardened material like carbide.
Drilling Large Holes
For larger holes, you'll want one of spade bits. The prongs on a spade bit help make a hole with clean edges. You might need to make for running conduit or wire through studs.
A hole saw cuts larger, rougher holes like you may need if you were cutting a new hole in a door for a new deadbolt or running plumbing pipes through wall studs.
A forstner bit is more of a specialty bit. But if you do any cabinetry work they create very clean precise holes as you may need for hinges.
Driving Fasteners
Here are a few specialized drill and driver bits that may be helpful to have in your tool kit:
Right Angle Attachment
A right-angle attachment helps you get in tight corners or around edges. It's useful if you're assembling something like a crib.
Screw Extractor
A screw extractor grinds into a stripped screw to create enough of a slot so you can switch the tip and back it out.
Countersink Bit
A сountersink bit will clear room for the fastener head. Instead of crushing the surface as it drives the screw. Use it on woodworking projects where you want the screw to sit slightly below the wood surface. So you can conceal it with a wood filler or a cap.
Tapcon drive
A quick change in the Tapcon (Anchor) drive is pretty unique. You can drill the hole with your impact driver then fit a sleeve over it to drive in your fastener. Anchor drive saves a lot of time changing bits. It's especially useful for advanced projects involving trusses Ledger's or Masonry.
You Need To Know About: Drilling Tips and Tricks