Last updated: 1 May 2023
It's a common question I receive, "If you could only choose 10 tools from your vast collection, which ones would you choose and why?" As I pondered this question, I considered all the various projects I've undertaken over the years and which tools were absolutely essential and irreplaceable.
Many of these tools you probably already have because they come down to the basics. This article is primarily going to be helpful if you're just getting started with your tool collection. And you might be wondering where should I spend my money what tools should I buy that I'm going to need the most up.
Jigsaw
The first tool it's an absolute must-have is one of my all-time favorites and the first tool that my grandfather bought me was a jigsaw. I've got two different ones I've got the Makita and DeWalt. I like different things about both of them but this tool is versatile.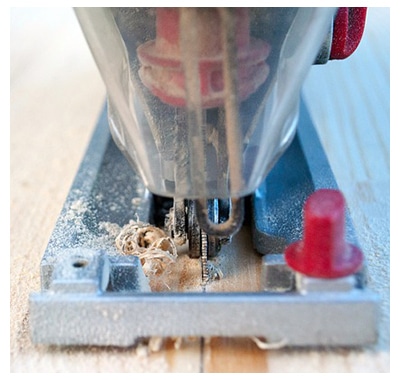 If you need to cut drywall or make holes for lighting or create circular designs on wood, a jigsaw is a versatile tool that can cut through a variety of materials.
The key with a jigsaw is the blade. There are many different blade options. The nice thing about the blades for a jigsaw is that they're really cheap compared to table saws and circular saws. They're easy to change you can quickly change them. And this is a very versatile tool.
Tip:
The key to getting straight cuts with a jigsaw is to use a straight edge using multiple clamps. Clamp your workpiece to your work area, making a straight line to where you need to cut, and then line your jigsaw blade perfectly up to the line. Pushing the jigsaw evenly against the clamp straightedge and start cutting.
Claw hammer
What the DIY project without a hammer? You gotta have a hammer, a good classic claw hammer. You can think of a thousand different uses for hammer whether. Tearing down walls, building walls, driving nails, pulling nails out it's got a million different uses. You've got to pick a good-sized hammer that is good enough for tearing down walls but also small enough that you can drive small nails up with it.
Toolset
The third tool on my list is actually going to be a tool set. No matter what project you're working on, there's a good chance that you're going to need a set of screwdrivers. I can't count how many times I've reached into my toolbox or tool cabinet for a screwdriver. Different types like flathead, Phillips, or Torx are often needed, so it's good to have a nice set with comfortable handles.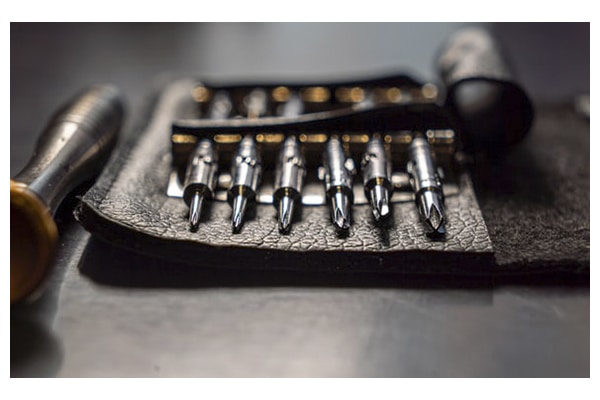 A set of screwdrivers is something that you can have for years. You have the same set of screwdrivers for 20-plus years. I recommend not going cheap, don't go buy a little cheap piece of a crap screwdriver. Give you a nice set of screwdrivers it's going to last a long time because chances are the last set that you buy or one of the last sets that you buy as long as you don't lose them. Screwdrivers are a real basic tool but again it's an asshole whenever you're doing projects around the house.
When picking out a set of screwdrivers you want to find a set for its durability it's comfortable to grip extra machine work on the tip overall quality what kind of warranty it comes with and how many different sizes the package comes with. Also, consider how much torque power you can get onto the screw.
Utility knife
Tool number four is the classic utility knife. This is a very basic tool but I can't tell you how many times I've reached into my pocket where I have a utility knife and use this to do several things. You can even cut drywall with the utility knife is the basic tool that drywallers used. There are a thousand different uses for a utility knife. Whether you're just simply cutting open a box that you're getting from Amazon or you're finishing a basement or you need to use it for drywall.
Tape measure
One of the most basic tools is going to be a tape measure. This is a must-have whether you're buying furniture for your house and you need to measure it before you bring it in or that you're finishing your basement you need to measure your walls your drywall your framing whatever you're going to need a tape measure to complete these projects.
Drill and Drill bits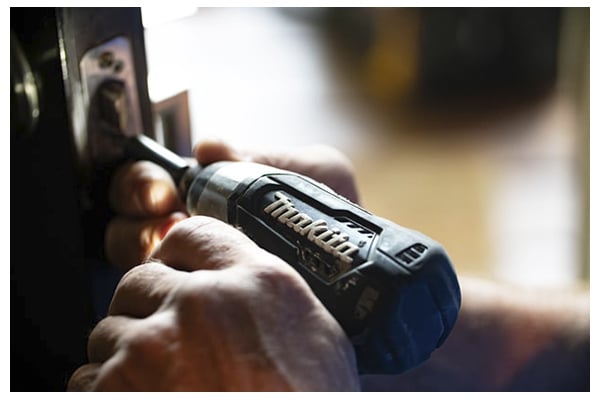 Tool number six is my favorite out of them all and probably the most use. I've owned a lot of different brands of drills over the years and have been happy with the Makita ones. I don't have a personal preference right now for whatever reason I've got a fair amount of Makita ones.
A combo drill set that includes both the impact driver and the drill is a great option, but if you can only afford one, go with the drill. The drill can be used for drilling holes and tightening or loosening screws.
One thing that is a must-have is a good set of drill bits. In tool number six is going to be a drill with drill bits. Because what is a drill without a set of bits?
Tip:
One of my favorite tips to do with the drill is to twist two wires together. Sometimes you've got more than one wire to run and a great way to keep those wires from getting tangled up is to neatly twist them together. You can easily do this with a drill by putting one into the wiring into a vise or tie it to a screw or a bolt-on your workbench and insert the other end into your drill and keep the wiring pipe then turn the drill on it's going to twist the two wires together. Allowing you a really neat wiring installation.
Socket set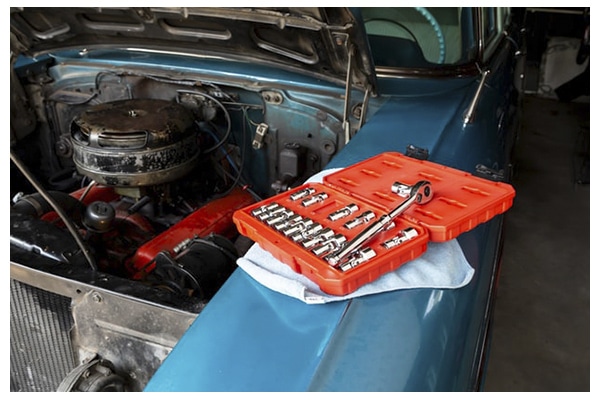 Tool number seven is going to be a socket set. You don't have to go overly elaborate with this but you do need a basic socket set. You can get a real large elaborate set it comes with lots of sockets in it and that's fine too. However, must have you need at least is the basic small set. This is something that I use quite often I take it around kind of automobile projects.
Classic socket set has your basic sockets in it, a nut driver, a little quarter-inch ratchet. This is great because you can attach these sockets to your drill or your impact driver if you have one and loosen and tighten your nuts and bolts. It comes with some Torx head and some other Phillips and flat-headed attachments as well.
Unless you're going to be doing some heavy work as a lot of mechanical work you don't need anything more than a quarter-inch socket in most cases.
Wire cutter
Another must-have to your tool collection is a set of wires. I recommend getting a complete set that has the 5 or 6 different sizes and type suppliers.
Pick a good quality set of pliers this is a very versatile tool that you can do a lot with. Whether you're doing plumbing you're working on cars and doing projects around the house there are many times you're going to need to reach in your tool bag and get you a set of pliers or set of cutters. This is going to be one of those must-have tools.
Voltage tester
It is important to know if you have a live electrical circuit before doing any electrical work. A voltage tester is a must-have tool for this purpose. You can use it to detect the presence of electricity in a plug outlet or light switch before replacing it. This will ensure your safety while working with electricity.
Tool organizer
We're down to the last item and that's going to be a way to organize and store your tools. You have to have some sort of toolbox, tool bucket, tool belt, or tool carrier to hold all your tools.
Tool belts are great because they are soft they're not going to scratch like wood floors and they also have many pockets in them that you can put all your pliers your screwdrivers. They've also got a large center pocket that you can fit your drill, your drill bits in.
You can also pick a tool bucket. The buckets are great because you can fit a lot of stuff in the center. You can get your jigsaw you can get your drill and get other large tools inside the bucket. They also have an insert that allows you to be able to put all your pliers your screwdrivers your utility knife you can fit everything on the outside with the little organizer that fits into the bucket.