Last updated: 1 May 2023
In this post, we'll discuss sandpaper, its various types, and differences. It's an interesting topic for woodworking enthusiasts and those seeking advice. Sandpaper comes in different shapes, sizes, and forms, but the most crucial aspect is its grit or grade. Remember that a lower grit number indicates rougher sandpaper, while a higher grit number means smoother sandpaper. If you're looking to achieve a specific finish on your woodworking project, selecting the right sandpaper grit is key.
Basics
If we see that the sandpaper on the back says "P40".Then P40 means it is rough sandpaper. If you start rubbing your hands on that and it's soon going to start taking the skin away. Whereas a P240 paper is a very smooth lot smoother than P40.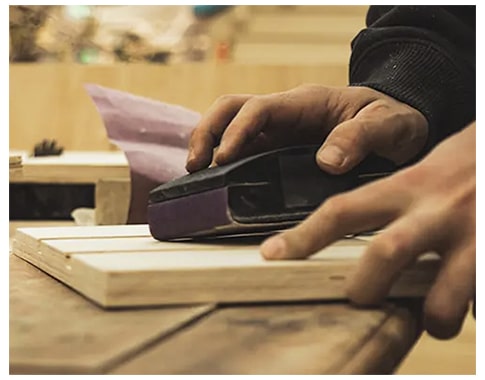 There are quite a few different grades of sandpaper. The most popular are P40, P60, P80, P100, P120, P180, P240, and P400. Honestly, when I do woodworking, I only use three types. I use 80 grit, 120 grit, and 240 grit.
Sandpaper is available in various forms, including sheets, discs, pads, and rolls. When selecting sandpaper, the color is not as important as the grit or grade, so focus on choosing the appropriate number for your needs. Different sandpaper grits are suited to different woodworking projects and desired finishes, so it's crucial to choose the right one to achieve the desired result.
P80 grit sandpaper is really good for smoothing off any edges that aren't quite flush. P80 and P120 great are good for rounding over. If my project should look quite rough, maybe quite rustic, I might make use of an 80 grit. If I want a smooth surface that I paint, I'll use P120 sandpaper.
So for a regular wood project, I would only finish it off with P120 sandpaper. Just ensuring that there are no sharp edges on there at all. However, if I was going to paint a surface after I finished it off with a 120 paper then painted it I would then rub it down with P240 sandpaper. Once this panel has had an undercoat and then you rub it down with a bit of P240 that's going to give it a super smooth finish ready for a topcoat.
Final Thoughts
Okay so let's just summarize. We've got lots of different sandpaper we've got lots of different colors and we've got lots of different numbers P40, P60, P120, the list goes on. If you're serious about your woodworking get yourself some P80 to P120 and some P240.
P80 sandpaper is gonna rub down any flaky paintwork. It's gonna help to rub down would get you some smooth edges.
P120 that's also going to help to do similar to what the P80 grit does, but it is going to give you a smoother finish. I probably wouldn't recommend this for stripping paint. But if you're going to be rubbing down between coats where you just want to smooth down some paint before painting it again P120 is good. Also good for your rough woodworking.
P240 is going to be handy for when you're painting. After you've given to your project an undercoat and then you're given out a topcoat give it a rub down with some P240 and that's going to give you a super smooth finish.
Don't be overwhelmed by the vast array of sandpaper options available – selecting the right sandpaper is straightforward once you understand the grit or grade you need. I hope this post has helped you gain a clearer understanding of sandpaper and its various types. If you have any questions or comments, please leave them in the comments box below. Thanks for reading!