Last updated: 30 Apr 2023
Painting your garage door is a great way to add some fun and color to your home's exterior. It's a popular choice for those who want to change the appearance of their existing garage door and bring a new level of freshness and elegance to their property. By giving your garage door a new coat of paint, you can transform the look of your home and create a unique style that reflects your personality.
Repainting your garage door is a simple way to improve the appearance of your home's exterior. All you require is a clear morning and a little effort, and your garage door will appear brand new. This article will serve as your go-to guide on how to easily paint any garage door.
Items That You Will be Needing
Following is a list of all the essentials that you need to ensure you have in hand before you start the task of painting a garage door:
Paintbrushes
Paint rollers
Paint Drop cloth
Dust Masks
Gloves
Paint scraper
Primer
Paint of your choice
Step ladder
Sanding sponge
Painter's tape
Step by Step Guide on How to Paint a Garage Door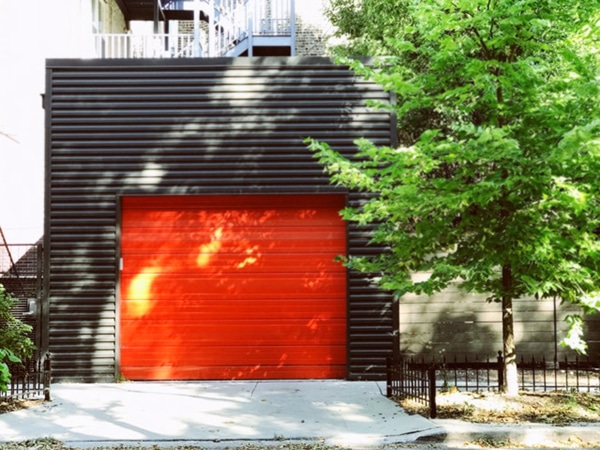 Following is a detailed step-by-step on how to cleanly and effectively paint your garage door to elevate its look and some colors.
Step 1: Cleaning the Garage Door
Living next to a roadway might cause your home's façade and garage door to get particularly filthy. Make careful to properly clean your garage door so that the dust does not mix with the fresh paint. A pail of water (or a hose if one is available) and a cloth are all that is required. You may purchase a power cleaner to clean exceptionally dirty garage doors.
When it comes to repainting a garage door, the initial step is to prepare the surface. Using a home wash cleaner, spritz the whole area of the door and wipe away any dirt or dust. Using a yard hose, thoroughly rinse the door.
Step 2: Tape the Garage Door
With the help of a painter's tape hide any knobs, trim, or glass on your garage door after it has been fully cleaned and dried.
Painter's tape is inexpensive and simple to implement. Roll it out and adhere it to different parts of the door to make even stripes that the paint won't seep past. You just require to do this across the garage door framework borders and if you're painting the garage in two distinct hues.
Step 3: Remove Any Old Paint From the Garage Door
Strip any flaky paints and peel back any corrosion with a paint remover before actually coating a garage door. To erase all of the old paint, employ a chemicals remover as well as a sanding pad, or a handheld or circular sandpaper. Preparing your garage door is laborious work, but it's vital if you desire your fresh paint work to appear its best and endure for seasons.
Step 4: Priming the Cleaned Garage Door
Begin by priming the garage door using a paintbrush. Just one thin coat is required, just sufficient to provide a substrate for the paint to adhere to. After that, meticulously cleanse the brush before repurposing it for repainting. If you're simply going to fix up the garage door with the identical color paint, you can bypass priming.
Although the preponderance of garage doors is nowadays constructed of metal, you may still have a hardwood door if you live in an older house. Several latex exterior primers may be used on any area; just ensure the primer you pick is appropriate for your garage door.
Step 5: Start With the Painting
When repainting garage doors, you may use a large brush, rollers, or airbrush to spread a latex outside paint, just as when priming. If you're going to use a paint sprayer, experiment on a wide sheet of canvas beforehand. If necessary, make modifications to the sprayer. Once the paint is on the garage door, you wouldn't want it to drip.
Begin painting the door after you're familiar with the procedure. Both the interior and exterior of the garage door will need to be painted. Allow the color to dry before applying another layer. Cover the major areas and gently paint into the edges, then go into the crevices of the doorway if you have any.
Step 6: Clean After Being Done With the Whole Process
It's essential to wash up your garage door now that this has been repainted. Cleanse paintbrushes, rolling coverings, and spraying machinery well in water until it runs clean. Brushes can be stored in cloth bags or hung to dry on nails or pegs. To prevent damaging any fresh paint, start picking up dropping sheets or tarpaulin and detach painter's tape at an angle of 45 degrees. Maintenance of the garage door helps keep it appearing new for a long time. Wipe it off now and again to keep the dirt from scratching your paint.
How Do I Calculate How Much Paint I Need?
Paint Calculator

Inch Calculator
FAQs
What kind of paint do you use on a garage door?
Any exterior applicable latex paint that can be bought from a reputable paint manufacturer is the best type of color to apply to a garage door. This is applicable for both vinyl and hardwood garage doors. Oil-based outside paint is preferable for steel garage doors, although exterior applicable latex paint can suffice.
Do I need to prime my garage door before painting?
You may not use primer, but it will help the paint adhere better. This improves the appearance of the job for a longer amount of time. Consider choosing paint with a built-in primer if you don't want to prepare the garage door.
How do you prepare a garage door for painting?
Rolling down the garage door with rough sandpaper or even a wire brush is a good idea. Using water and a neutralized detergent, clean the door. This will get rid of any dust, oil, or grime that may be preventing the paint from adhering to the surface. Before painting, make sure the frame is dried.
Can I paint my aluminum garage door?
Painting an aluminum garage has no secrets. Painting metal is pretty simple if you take the proper precautions throughout the preparatory process.
Conclusion
This tutorial was created with one purpose in mind – to give you a how-to-do guide from basics assuming that it's your first time doing the task. We hope you enjoyed having gone through this tutorial and using it to paint your garage door a new preferred shade.
Before beginning to start the painting process, it is suggested that you go through the list of items needed to not interrupt your painting process at any stage. With hopes that you enjoyed this article, we would love to get to know your comments on it and would appreciate it if you would share it with your friends who might be planning to paint their garage door any time soon.
Related Reviews You Might Like:
The Best Painter's Tape for Every Surface