Last updated: 1 May 2023
Have you ever scrubbed and scrubbed to get a sticker or price tag off of glass? Do you ever find yourself stuck with a bunch of beautiful glass jars or containers, but they have those terribly sticky and tough-to-get-off labels?
I often wonder if some companies deliberately use an extra-strong adhesive to affix their labels to their products, making them seemingly impossible to remove. Is this just a marketing tactic to ensure that you never forget which brand of mustard you purchased? As a consumer, I refuse to tolerate half-torn labels or sticky residue on my product packaging, especially when it comes to my beloved lavender rosemary-infused olive oil. It's simply unacceptable!
After trying (and nearly boiling my fingers) to remove the stubborn label with hot water, and then nearly being intoxicated with Goof-Off, I finally looked up a "natural" way to remove who-knows-what. And guess what…it works! It actually works. And it's just two simple ingredients. Baking soda and oil.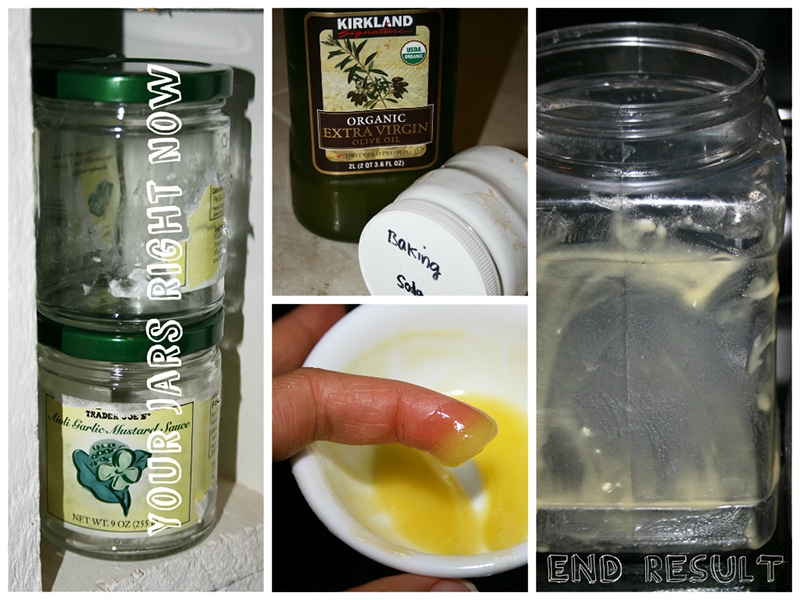 Procedure:
You want to mix the oil and baking soda with amounts that will make it pasty
Then you rub it onto the gluey jar
Rub
Rub
Rub
Rub
And rub some more
Then let it sit for 15 – 30 minutes
Scrub off with a sponge under hot water
And voila! A squeaky clean jar!
Written by May D.
Related: The Best Double Sided Tapes for Indoor & Outdoor Use