Last updated: 25 Oct 2021
If you use your table saw to cut down full-sized sheet goods you already know what the challenges are. Especially if you're trying to guide them along the rip fence and unless you have a good form of outfeed support behind your saw or you work with a helper the process can be downright dangerous. Or maybe you use an ordinary circular saw to cut up your sheet materials and they certainly work. But it's tough to get a dead-on straight cut unless you're working against a well-clamped straightedge and if you don't have a quality blade in your saw it can leave a splintery or chipped out mess along the cut edge.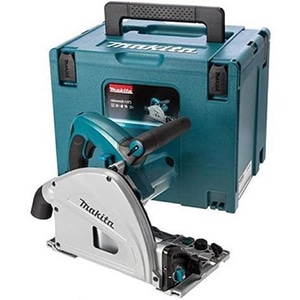 I'm sure you'll agree with me that if we're spending 70 dollars or more for quality plywood that's waste we just don't want to afford. that's why I'm a big fan of today's plunge cut track saws. Right out of the box any of these saws with their standard blades will exceed the performance capabilities of a standard circular saw. And they'll make any cut that a standard circular saw can do: rip cuts, cross cuts, bevel cuts, miter cuts, and plunge cutting.
Festool and Makita have been leading the way in track saws for many years but clearly, the category has grown. Maybe you've never had an opportunity to use a track saw before. Well in this short article I'll tell you some of the saws special features.
How it Works
The main feature of the track saw is its easy setup and use. It does exactly what you think it's going to do. Essentially it's a circular saw with a shrouded blade that follows a metal rail for making straight cuts. Saws have options for aluminum rails that range anywhere from 55″ up to about 63″ in length but you can get shorter or longer rails.
Any DIYer or homeowner can easily adjust a plunge saw. At the front of the tool, there is a cutting depth scale and a depth lock. A plunging the saw is easy as 1-2-3. There's a release lever above the trigger and depressing that release lever allows the blade down into your workpiece. It also acts as a safety for the trigger all in a lockout fashion. On the bottom of the saw, there's a groove and that fits into a channel on the track. So set the saw in place on its track squeeze the release lever and the trigger plunge it down in and it slides right along the edge of the rail couldn't be easier.
The bottom of these rails also has two rubber strips and that helps give you a positive friction fit on your workpiece. And even more importantly there's a rubber strip along the edge of the rail and that tracks the blade as you're cutting to support the wood in right in the area where the blade comes up and out of the workpiece to help minimize splintering and chip out.
Dust Collection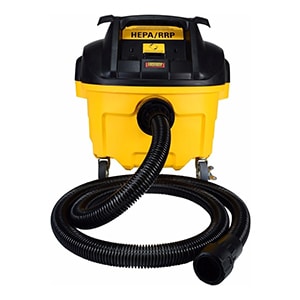 I'd like to point out a few of the special features that are unique to track saws and the first of them is dust collection. All track saws have a back-mounted special dust port that accepts a 35mm dust extractor hose. That's not a standard shop vacuum it's a dedicated dust extractor that's intended for high-efficiency tools like this.
But if you're working in a client's finish space or if you've got a sensitivity to dust or if you work in a basement shop and you don't have great ventilation dust collection can make a huge difference in terms of the pleasantness of using the tool. The dust extractor or dust collector starts when the tool is launched and switches off shortly after the tool finishes spinning and contains almost all the dust the tool produces.
Scoring Capability
Another important feature is the scoring capability. The plunge saw has a setting on it that limits the depth of cut to about 2 or 3 mm. So you can make just an easy scoring pass through the top of the workpiece the advantage there is pretty straightforward if the top layer is already cut when you go back to make a through cut the teeth rising through the cut won't tend to chip or splinter that top layer. Not all track saws have a scoring feature but this is a handy feature if you use it.
Riving Knife
Some plunge saws have such a useful function as riving knives. You can check it behind the blade. It performs the same functions as a riving knife on a modern table saw. If you cut solid wood, the riving knife prevents the wood from closing and compressing the blade on the backside. This is very important because otherwise, it could cause the saw to push you away in the middle of the cut. So if you plan to work with solid lumber or massive wood, look for a crawler saw with a wedging knife.
Tracks
Finally a few thoughts about tracks. Tracks are what bring accuracy to a plunge cut saw. And as I mentioned manufacturers offer them in a variety of lengths. But you don't need every size since the tracks have channels in them.
Manufacturers offer connector bars with screws. So you can attach tracks and four ends so you could start with one 55″ length of track for making crosscuts in plywood and then eventually buy a second track. Which you can attach and four ends to the first track.
And now you've got more than eight feet of length for making long cuts in plywood to. All the manufacturers have specialized quick grip style clamps with a special bar on the end that also fits into that tract channel. So you can clamp your track down to your workpiece or your workbench to immobilize everything while you're cutting.
Final Thoughts
So whether you need a better solution for cutting up expensive sheet materials ripping and cross-cutting solid lumber or just as a portable solution for your table saw the next time you're on the market for a circular saw give this category of track saws a closer look. They're dust collection capabilities accuracy and state of the art features have made a believer out of me. Thank you for reading.