Last updated: 25 Oct 2021
Making a big investment in Boardroom furniture can be a daunting prospect. However, if you know what you're looking for, then it will make the process a lot easier and less stressful. With that in mind, here are the top things to watch out for when reviewing the boardroom furniture on offer
Quality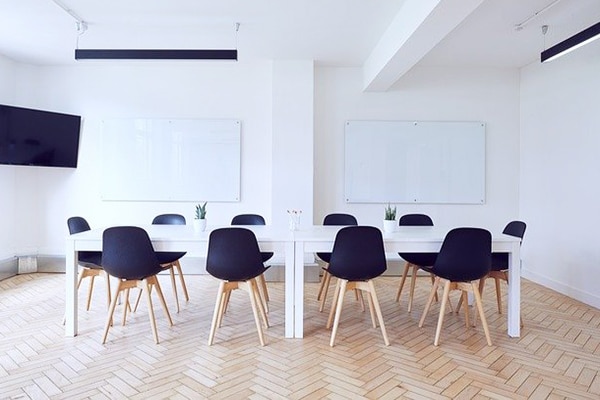 If you're going to make this investment, make it right; don't fall for low-quality pieces or examples of poor workmanship. Check the quality of the pieces you're interested in before making any sort of purchase.
Ensure that the joints are sturdy, that the finish is smooth, and that the legs are all even in length. Focusing on the quality will ensure you don't end up having to replace the furniture one or two years down the line, or that you won't have to fork out for the pieces to be refurbished.
Style
Your boardroom furniture should have a definite sense of style. After all, you are likely to be entertaining some top businessmen or women in this area. You'll want to portray a sense of professionalism and panache.
This is especially pertinent if your company works within any kind of creative industry, in which design and aesthetics count for a lot. Don't be afraid to take chances, either, perhaps with the wood or structure you choose.
Why not go a little offbeat or quirky with your choice? It'll make you stand out and will provide a good talking/focal point during any meetings.
Value
Don't opt for the cheapest set of boardroom furniture, as typically, you'll get what you pay for. Cheaper designs will be poorly made and unreliable. You may end up having to replace them in 18 months.
However, that doesn't mean you should go for the most expensive set either. The important point is to ensure that you get value from whatever you buy. If you believe you're paying a sensible price for a well-made, sturdy, and classic piece of furniture, then you should be happy with that.
If you think something is over-priced, it probably is. Try your hand at negotiating, but if it's not working out, simply look elsewhere for your furniture.
Easy maintenance
You don't have time to be varnishing your boardroom furniture every six months, so look for a set that doesn't require regular maintenance. Looking for tables with a wipe-clean surface, for example, is ideal – as any spills won't matter.
It's also important that you don't pick a wood that will stain at the slightest spill, as this could ruin your chairs or table forever; investing a waste of money. Be sure to ask when making your purchase what kinds of products you can use to clean the furniture, so you don't risk ruining its finish.
All in all, if you keep these four factors in mind when shopping for your boardroom furniture, you're more likely to make a purchase you are pleased with and think kindly of – rather than one you regret 12 months down the line.