Last updated: 19 Jun 2021
The first thing that we'll need is all-purpose cleaning vinegar. Pour the vinegar in the bucket, place the rusty tools, and cover the bucket. After about 24 hours the vinegar is starting to slowly dissolve old rust and grime off the tools and then we can go on to the next step.
We need to go ahead and remove the tools from the bucket. Rinse off the vinegar using cold water. And then we'll start to clean up the tools using steel wool we may have to upgrade to sandpaper depending on how bad the surface rust is. The vinegar does a very good job just to start the process of removing all the old rust dirt grime and so forth.
The next step will be to remove as much rust as possible off of these tools.
Usually, I'm using steel wool. Steel wool has several different types of coarseness. They have something called superfine which is indicated by four zeros and then it goes all the way up to coarse for I believe is the highest. I always use "coarse 3".
If you don't have steel wool try 100 or 120 grit sandpaper and you should have some pretty good results. The steel wool or sandpaper does a very good job at cleaning up the metal this is maybe 30-45 seconds worth.
Dremel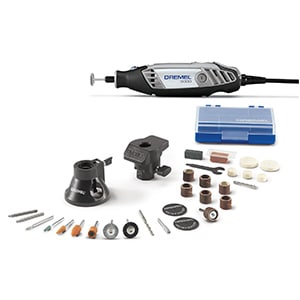 For faster work you can try is using a Dremel.
The Dremel is a useful DIY tool that does a very good job of sanding, cutting, polishing, and whatever you want to do.
If you choose to use Dremel then I recommend the following attachments: stainless steel and brass brushes, sanding paper, and sanding bands. Your successful selection of the right nozzle will depend on the degree of dirt on the tool or part to be cleaned.
After all these steps, you can cover your tool with primer and paint.
Final Thoughts
Some pretty good results just by using cleaning vinegar, steel wool, sandpaper, and a little elbow grease. I hope this is helpful, thank you for reading.